Croatia is definitely a great summer destination, with its countless beaches, sunny islands and rich culture. In fact, the Mediterranean country boasts with over 19 million visitors annually. Yet, you can still find plenty of quiet locations in Croatia – villages and small medieval towns where you can press the relax button and retreat for your perfect slow-paced travel experience.
Here is a list of our top 8 favourite places.
#1 Komiža in Split-Dalmatia
You can find this bohemian Mediterranean jewellery in the deep bay of Komiža, on the western tip of the island of Vis. Even though it recently became more popular as a beach resort and departure point for visiting the famous Blue Cave on the nearby island of Biševo, Komiža still keeps its rough-around-the-edges fishing village ambience. As a typical Croatian port town, you will find here lively harbours, sand-and-pebble beaches, a market with fresh fish and narrow stone backstreets with slender houses.
Comparing to its other "rival" – the town of Vis, which was historically associated with the nobility and recently became more popular due to being a filming location for Mamma Mia 2 – Komiža is smaller, less crowded and prides itself with its working-class fishing heritage. It is, therefore, a much cosier alternative and a good base point for exploring the rest of the wonderful remote archipelago. Here we can include the secluded Stiniva bay, the turquoise caves Zelena and Plava and the further volcanic island of Jabuka – which you can all reach by boat from Komiža.
For a unique experience, embark in a Falkuša – Komiža's traditional fishing boat from the 16th century. If you are a snorkelling or diving enthusiast, there is a spectacular undersea waiting for you. It is filled with rich marine flora and fauna and spread with relics from the period when the island was a Yugoslavian military base.
#2 Korcula in Dubrovnik-Neretva
Often referred to as the small Dubrovnik, the town of Korcula is the go-to alternative to the big buzzing city. It is located in South Dalmatia, on the island with the same name, easily accessible by catamaran from Hvar and Split (daily) or Mljet and Dubrovnik (summer only).
With its compact old-town and car-free stone alleys, Korcula is just perfect for some long strolls down its centuries-old streets. Admire the medieval squares, walls and houses, and the aristocratic stone buildings, dating back from the time when the island was under Venetian rule.
While you're there, you can pay a visit to the childhood house of the renowned explorer Marco Polo, or catch a performance of the traditional sword dance – moreska – just outside the medieval walls during the summer evenings.
The island of Korcula also lends itself to exploration. It increasingly became popular as Croatia's wine island. So if you are a wine fan, go for an enjoyable biking trip to discover Korcula's vineyards and finish your day by glazing at the Adriatic Sea with a good local wine in one of the cosy nearby coves and bays.
#3 Hum in Istria
With only 30 inhabitants and a total of 20 buildings, the town of Hum holds a Guinness Book Record for being the smallest town in the world. The whole village is basically one stone-paved street that meanders within its historic walls. Don't be fooled by its tiny size though, Hum has plenty of things to offer to its visitors.
Right from the moment when you enter through its ancient gate, you will notice there is much history conserved within the walls of this hilly town. The frescoes, old structures, and signs with Glagolitic alphabet all serve as reminders of its ancient past. Legend has it that Hum came to being as a joke of the giants who build Istria: after constructing all the towns along the Mirna river few stones remained. The giants therefore decided to build the Hum fortress using them.
Enjoy the views of Hum at their best with a local wine or a druidic potion of Humska Biska – a tincture of herbs made from a 2000 years old recipe.
As a heads up,  it doesn't take too many people for the place to become crowded. To experience its romantic setting, visit Hum off-season or stay overnight in one of its guest houses. Hum is located in the central part of Istria, at about 30 mi (50km) from Rijeka and only 9 mi (15 km) from Buzet. You can reach there by car, bus or bicycle – however you like it the most.
#4 Lastovo in Central Dalmatia
The picturesque village of Lastovo is located on the south slopes of the small island with the same name, far out in the Adriatic. Even if having only 500 inhabitants, Lastovo is still the largest settlement in the whole island. You can reach it by ferry from Split, Hvar or Vela Luka, and traversing the island's meandering roads from the Ubli port to the village. It can be a bit harsh to reach it but totally worthwhile.
Because of its beautiful renaissance architecture and amphitheatrical building style, Lastovo is a protected cultural monument. While you are wandering on its beautiful medieval streets, you can also spot some baroque and gothic houses and the famous fumari – interesting cylindrical chimneys and high broad terraces (sulari) dating from the 17th century. Back then, people used to compete at building the most beautiful chimneys, which now became a trademark of the village.
If you are a person who enjoys wild beauty and intact nature, you will love exploring the surroundings of the village. The whole island is a Natural Park, conserving lush woods, intimate lonely bays and fascinating underwater biodiversity. Also, rumour has it that from Lastovo you can see the starriest sky in Europe.
#5 Veli Lošinj in Primorje-Gorski Kotar
Tall houses and luxurious villas with beautiful public gardens are scattered along the narrow bay, surrounding Veli Lošinj's pastel-coloured harbour.
The oldest part of the town dates back since the 13th century when pirates were attacking it, this is why you will find a defensive tower here.  The sumptuous villas that previously belonged to ship owners and captains, but also the exotic plants surrounding them, brought from distant lands, give to the small town a very exuberant feeling.

For getting a different view, go paddling along the bay or have an idyllic stroll on the coastline towards the little Rovenska port, only 10 minutes away by foot. You can stop there for relaxing on its cosy beach and enjoy the fishing village ambience.
Also worth knowing is that the Lošinj archipelago is a usual habitat for dolphins, so you can sometimes spot them from the coast, especially in April and May. For a better chance, go on an organized search tour towards island Orjula and keep your eyes on the surface of the crystal clear water.
The pretty Veli Lošinj is located in the southeast of the Lošinj island, right at the foot of St. John's hill. To reach there, you can take either a bus from Rijeka, a flight from Zagreb, Venice or Lugano or the classic ferry, from Rijeka, Pula, Zadar or Susak. Once you get on the island, there are only 3 mi (4 km) to go from Mali Lošinj to Veli Lošinj, or 9.3 mi ( 15km) from the airport.
Funnily enough, the village's name is translated as "Big Lošinj", but is in fact the smaller-sized brother of Mali Lošinj ("Small Lošinj"). Initially, the situation was reversed but throughout history, Mali Lošinj developed faster and the names simply remained the same.
#6 Trogir in Split-Dalmatia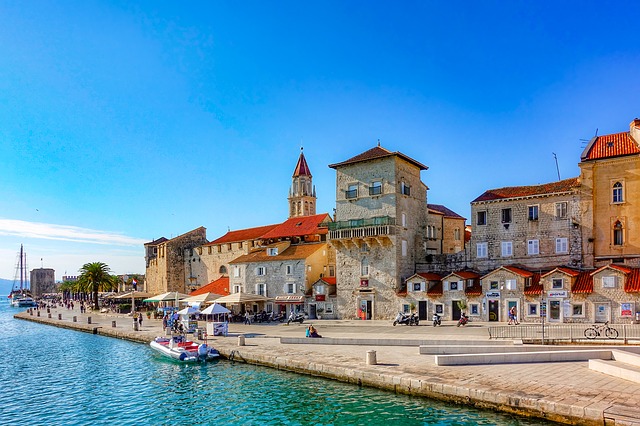 Known for its rich history and unique blend-in of Renaissance, Romanesque and Baroque architecture, Trogir is often simply referred to as the "museum city". You can find this architectural jewellery between the Ciovo island and continental Dalmatia, only 17 mi (27 km) north-west from Split and 1.8 miles (3km) away from Split airport. Yes, it is very tourist-friendly.

image by Marco Verch
The town was initially founded by Greeks in the 3rd century BC, but along the time there were Roman, Venetian and even Habsburg dominations over the beautiful coastal town, all leading to its vast history and architectural influences today.
Trogir will stay in your memory not only for its beautiful architecture but also for its picturesque bridges connecting it to the Ciovo island, for its lush Mediterranean vegetation and sunny pebble beaches. For a unique experience, take a glaze at the town from a kayak. You can grab one from the nearby Pantan lagoon, where also various rare bird species have their nests. Keep an eye open!
This World-Heritage town has only some 13,000 inhabitants, but it attracts many tourists annually. So, if you're going for a cosier experience, try visiting it off-season, it will be fully worth it.
#7 Grožnjan in Istria
Grožnjan, the charming artist town of Croatia, lies in the central part of Istria, 5 mi (8 km) southeast of Buje, on top of a hill just above River Mirna's valley.
The 14th-century Venetian town has a history of gathering here painters, sculptors and musicians since as early as 1965. With its narrow cobblestoned lanes paved with lovely stone houses and a breathtaking view over the Adriatic Sea, it's easy to see why so many artists found their inspiration in the little town. If you have a soft spot for artsy and crafty vibes, you will definitely fall in love with Grožnjan. It is abundant in art studios and galleries and, during summer, it becomes a lively venue for music workshops, jazz and classical concerts.
You can find only private accommodation in Grožnjan, but its position makes it easy to reach from other nearby Istrian locations as well. Walk or bike your way to Grožnjan from other picturesque old towns like Završje, Kostanjica or Šterna.
#8 Rastoke in Slunj, Kordun region
Rastoke or "The Small Lakes of Plitvice" is located roughly at the halfway between Zagreb and the northern Dalmatian coast, in the Town of Sluj. This means you can get there in an hour and a half drive from the capital, on your way to visiting the better known Plitvice Lakes.
Beyond its rustic beauty and picturesque waterfalls, Rastoke also treasures great ethnographic significance, showing to its visitors a different side of Croatia. Here lie two of the initially 22 watermills dating back from the 16th century, which became a trademark for the village.
You can learn how people used to make the famous Rastoke bread for the past 3 centuries (which, by the way, you can still have at the local restaurant, with the view of the river cascading around your table). You can discover how people traditionally weaved and washed their clothes,  and all about the history of the place – from the mystical legends of the watermills to the Yugoslavian war period, when Rastoke was a military focal point.
Nowadays Rastoke is nothing but peaceful, time flowing here at a very different pace. Its crystal clear rivers and long paths through its wooded areas only invite you to immerse yourself in a state of complete bliss. Anyhow, the Kordun region where this peaceful centrepiece is located, has much more adrenaline to offer. When you feel your batteries recharged try going in an adventure for a change. You can explore the area by kayaking or rafting through the canyons of the Korana or Mrežnica or go on one of the long cycling routes.  Go spelunking in the Matešić cave, do some cliff-diving and canyoning, or challenge your friends to a paintball match or a horseback-riding trip. The options are countless.
Did you visit any Croatian small towns or villages that forever remained in your heart? Let us know in a comment if you think they should make it in our list!