As we slowly move past pandemic times and into our 'new normal', the need for various gatherings, events, cafe meetups and jazz concerts starts building up. In this post, we decided to do a roundup of some of the cities in the world with the richest cultural nightlife.
From strolling the harbour to witness majestic street artists and imposing buildings, to taking part in a participative art projects, here are some of the things you can do at night in the world's most sleepless cities:
#Sydney
As the biggest city in Australia, the nightlife in Sydney is vibrant, cosmopolitan, and diverse, with a whole host of late-night activities to choose from.
Sydney's nightlife is arguably most famous for Oxford Street, a row of buzzing bars, clubs, and cafés, situated in the heart of Sydney's thriving entertainment district. This well-known area has a wide selection of varying nightlife establishments to suit every reveller, no matter their tastes.  If you want to try out something a little more upmarket, you can instead take a trip down to the waterfront areas of King Street Wharf and The Rocks. There, you can sit in a classy cocktail bar and admire the picturesque Australian coast, punctuated by the iconic Sydney Opera House.
Want to get a glimpse of cultural Sydney at night?
Sydney's cultural life is reviving at a fast pace. Some of the major events happening after sunset this month include a series of outdoor live concerts on the backdrop of the Opera House, Brazilian dance gatherings, piano concerts, Art-After-Hours programs at the Gallery of New South Wales and various performances in venues throughout the city.
# Tokyo
As an avid fan of the movie 'Midnight Diner: Tokyo stories', it's safe on my part to say that a chunk of the city's culture 'happens' during the night. Bars and izakayas (informal gathering places with snaks and drinks) fill up with people who just got off work, while students and youngsters fill up the dance clubs in neighborhoods like Ginza, Shinjuku or Roppongi.
Cultural Tokyo after sunset?
Tokyo is still recovering from Covid-19 and the city is in a state of emergency until June 20 this year. However, if you plan on visiting soon, there are an increasing number of cultural events taking place outdoors, including movie festivals and media arts festivals. Karaoke bars are open late at night if you feel like being on stage yourself.
#Amsterdam
As far as European nightlife goes, Amsterdam is famous as one of the most popular metropolitan areas in the region for partygoers and cultural enthusiasts alike. The beautiful Dutch capital offers a wide range of late-night entertainment for all interests, for tourists and locals alike. It is arguably most well-known, in this respect, for its coffeeshops and red-light district – and in both areas, you're likely to find revellers enjoying the atmosphere until the early hours of the morning.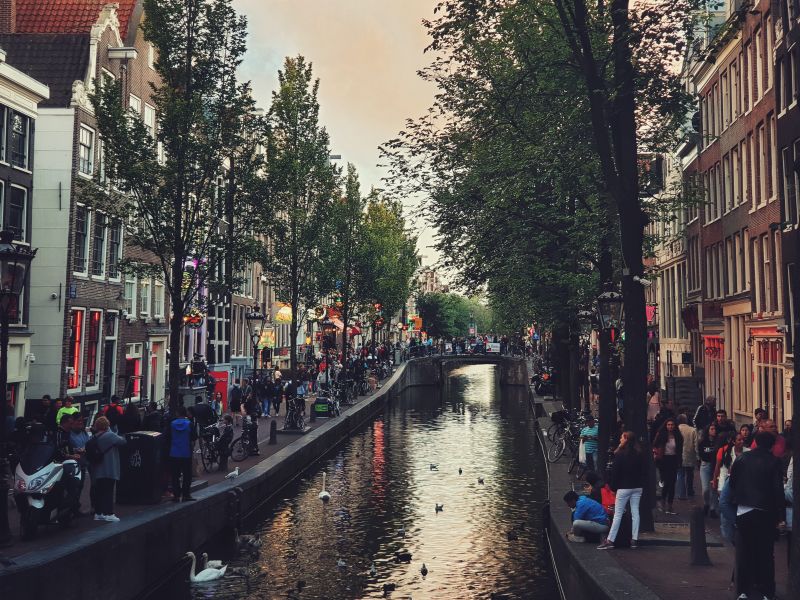 Cultural Hype in the Venice of the North
While these are both interesting places to visit in Amsterdam, if you want to get a full idea of the city's nightlife, there is so much more to experience. Amsterdam is also famous for its particularly vibrant live music scene. You  can also visit some of its internationally renowned museums at night. Amsterdam Light Festival (happening in December this year)  is a great time to take in some of the city's culture, late at night.
# Berlin

One of the world's most vibrant cities when it comes to cultural events and freedom of expression, Berlin should be on your traveling list if you are a late owl. One of the best things you can do in Berlin for free is to go on top of The Reichstag, ( parliament building), in the glass dome, where you will find an incredible vantage point over the Brandenburg Gate and the center. You can do this by midnight and although there is no entrance fee, you have to get tickets at least a day in advance.
Berlin, the land of performances
If you are a music fan, Berlin is your oyster. From jazz concerts to rock performances and classical music, the city caters for a variety of tastes, styles and moods. During summer, be a part of the Night of Museums, or the Festival of Light, with inspiring installations and burst of creativity.
These are just sprinkles of events planned out for the summer in some major cities accross the world. We would love to get your thoughts and ideas around this subject. Where do you plan on heading the following months?