Hotels don't have to be boring white cubes where you just lay your head for the night. As a matter of fact, some of the best ones we've featured here on Tourism on Edge are anything but ordinary. Planning a visit to New York? The city is teeming with unusual accommodation options.
#The Jane ($130)
The Jane is basically an old-school luxury ship on land with carpeted hallways, heavy decor, and taxidermied animals. The views of the Hudson River are immaculate, too. It almost feels like you need to be sporting a floppy hat and hand-carrying a leather trunk. Staying in The Jane feels like taking a step back through time!
#Yotel New York ($140)
The East Coast location of the Yotel chain is inspired by Tokyo, a city known for its eccentricities. The idea is to translate the trademark Japanese capsule lodging into something that fits the New York setting. It is considerably more spacious than capsule hotels that you would find in Shinjuku, but by American standards, the size of Yotel rooms are still compact. If you are one to look for efficient, tech-oriented designs, Yotel is the place to be.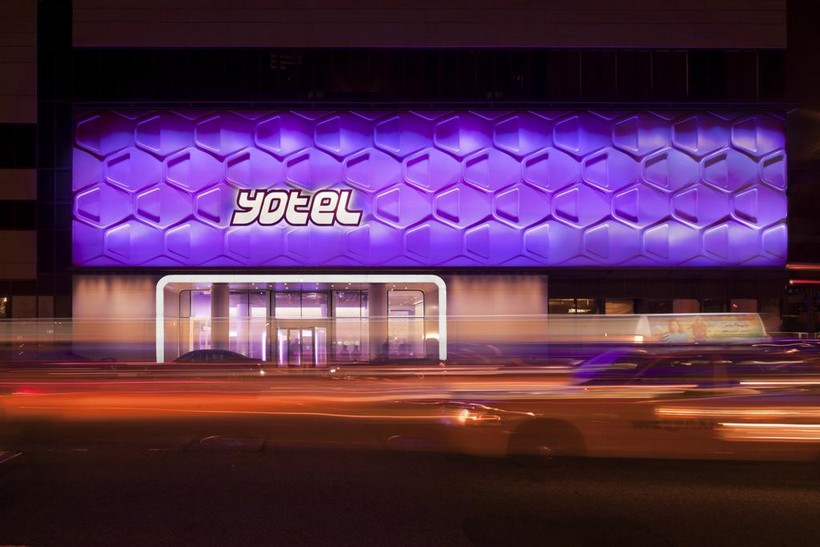 #Dream Downtown ($300)
This trendy spot in downtown Manhattan is one that's hard to miss. Dream Downtown's facade is made of semi-reflective metal, although the inside is much more inviting. Paste Magazine describes the interior as 'beach cool' and adds that there is no single theme to the hotel as it is a 'mish-mash of all different types'. Whatever those types are, Dream Downtown perfectly manages to avoid being too bland or too tacky.
#Night Hotel Theater District ($170)
The neon-lit Times Square is spectacular, but it can be downright overwhelming. Night Hotel, just a few meters away from the incessant commotion, almost calls you in with its dimly-lit and relaxing lobby. Outside, the streets are lined with Broadway theaters with fans filtering through tufted doors, but you can live out your very own show in the noir-themed Night Hotel.
#McCarren Hotel & Pool ($240)
The poolside mural of McCarren Hotel & Pool is worth taking a few snaps, and it's also one of the most unforgettable features of the hotel. The overall vibe is laid-back and clearly made for a hip generation, with a cool rooftop lounge that also calls for a pitstop.
Just remember that no matter how interesting a hotel might be, it's still important to factor in your budget. Staying in a quirky hotel is not worth it if you can't enjoy other wonderful things in New York. You can get budget to mid-range hotel rooms for under $200 a night, as in the case of all of these establishments, but that price is still subject to change due to several factors.
Season, for instance, can drastically alter the price point. New York's low season is from January to March. Any other time is typically full of tourists, and that could mean paying top dollar for accommodation because of the increased demand.
Location also determines the asking price. You will find that Manhattan buildings are more expensive than Brooklyn buildings, as the former is a premier real estate area. There are also factors less obvious to the average renter and one of those is ground lease. Yoreevo explains that a ground lease is when a building's owner pays for the land where the building stands, which belongs to someone else. This is charged monthly to the building's owner and might affect the pricing of hotel rooms depending on the size of the lease. Other things to consider are time of the week (weekdays vs. weekends) and of course, the type of the room you're renting.
If you have the budget, staying in any of these quirky hotels is only a question of which one to pick. New York specializes in 'one-of-a-kind experiences' and the right accommodation is the best place to begin.