The mysterious ash clouds and intense colors that nature unleashes here seem to belong to drawings made by a furious painter. This is because Bromo Tengger Semeru National Park in Indonesia hosts the remains of an ancient volcano which in time gave birth to 4 new active volcanic cones.
This unworldly place located southeast of Surabaya, East Java is also home to Tengger Sand Sea, a massive stretch of volcanic sand. 50 rivers and 4 lakes dot, twist and turn across this surface of sand, to make landscapes like no other unravel at an altitude of  2.100 meters (6.889 feet) above sea level.
The highest mountain on the island of Java, Mount Semeru, also co-inhabits the Park, standing 3,676 meters (12,060 ft) tall, with a clear view of everything.
Now that you know where 'Semeru' comes from, let's find out the origin of the other two toponyms in the name of the Park. Bromo is one of the most recognizable mountains in the region, being also the tallest (2,329 meters- 7,641 feet) active volcanic cone. Yes, you can hike Bromo, but we will get to that later in the post. Tengger is a tribute to the Tenggerese people, who have been inhabiting the area for hundreds of years.
# When to Visit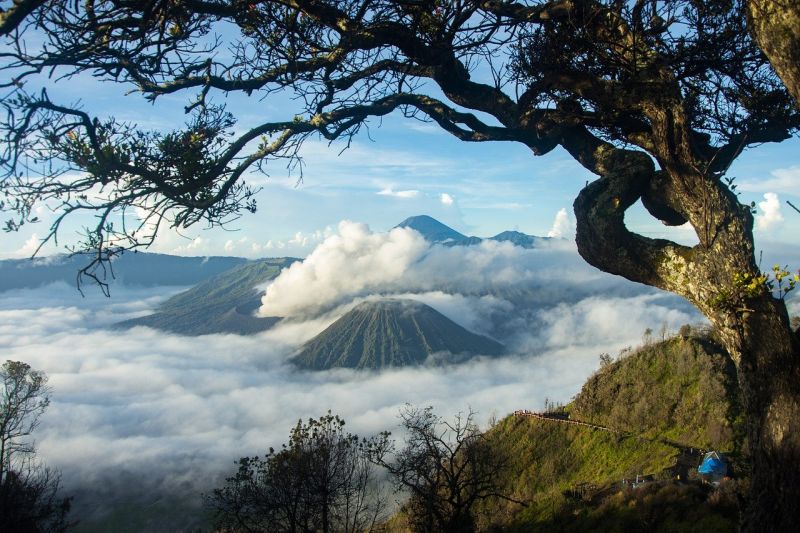 What a strange and uplifting feeling to stand on the edge of such a landscape. Although home to surreal, lunarlike  landforms,  Bromo Tengger Semeru National Park is accessible for travelers all year-long. Best time to visit is in May, though, when the "sekolahan" flowers are in bloom and the weather is perfect for a hike. June could prove a bit rainy, but the park is set on the Ecuator, so the weather is pretty much surprising. Be sure to check the forecast one-two days in advance and plan accordingly.
# How to Get to Bromo Tengger Semeru National Park
The easiest and most comfortable way is by plane. Head to the airport in Surabaya, which is well served by regular domestic flights from Jakarta, Bali and some other countries in Asia.  You can also choose to fly to a small regional airport at Malang with flights from Jakarta. Access from here makes sense if you intend to enter the park via the Tumpang/Ngadas route.
If you want to take the car, opt for a 4×4 to get you to some interesting viewpoints. There are 3 established routes into the park:
#1.  the Probolinggo → Ngadisari Route (on the north coast of Java about 45 km from the park and the most straightforward)
#2. the Pasuruan → Tosari Route is a little harder than the Probolinggo option and Pasuruan has the benefit of being closer to Surabaya.
#3. the Malang → Tumpang Route which approaches the park from the south east
By local train, from a departing city in Java to Pronolinggo station. This is where you can find hostels and start you ascent to the viewpoints in the park.
By local bus. This is the cheapest, but also the most time-consuming way of getting in the park.
# Where to Sleep
There are quite a few accommodation options available in and around Bromo Tengger Semeru National Park, from guesthouses and hostels to 4 and 5 star hotel units. A good base is Probolinggo, from where you can embark on several adventures, tours and hikes.
From your accommodation spot, you can either take your rented car and visit the park, rent a motorcycle or hike your way up, following the main road.
And yes, you can even hire the services of a well-trusted horse:
# Hiking Mount  Bromo
There are many ways and many tour guides available for hiking Mount Bromo, an active volcano. Be sure to check in advance with the local authorities if it's safe to travel (better said, if the volcano is active during the time you are there).
Best experience when hiking Mount Bromo? The magical sunrise.
An imaginary landscape from Mars or the creation of your inner world? When waking up at 3 a.m. to visit the park, it can feel either way.
Yep, there is no way around it. In order to get the most of Bromo Tengger Semeru, you have to be an early bird. So early in fact, that some prefer not to sleep at all the night/morning of departure. Sunrise is truly spectacular here, with misty clouds dancing around the craters and covering the Sand Sea. Here are some fantastic tours to Mount Bromo you can choose for a sunrise adventure in the park:
Hiking Mount Bromo with a local guide
If you are up to the challenge, you can also hike Mount Bromo without an organized tour, by simply collaborating with a local guide. The guys over at Travellers put together a list of recommendations, including how to enter the park for free by accessing the entrance for the locals and whose services to hire. In our opinion, finding a local friend to accompany you to the top is a much more sustainable and meaningful way of hiking Mount Bromo. It is also a lot more affordable (around $4 for a round trip to Seruni viewpoint)
What to Wear when Hiking Mount Bromo
You may not expect this, but the temperature is quite low in the region, especially in the morning. So bring warm mountain clothes and don't forget to dress up in layers (T-shirt, fleece and rainproof jacket if possible). Also bring a head-torch, hiking boots and sunglasses. Last but not least,  carry your camera and a tiny tripod along for stable photos during sunrise- you will get some memorable shots.