This New Zealand itinerary shared by one of our readers increased our appetite for adventure travel. Enjoy the read!
I have loved to travel since I was a young kid. My dad was a forest officer that's why we would have to move homes across the country after every few years. I would get to explore more and more of the wonderful sites nature offered and feed my desire of becoming a traveler even more. After completing high school I met Mike at a camping site and we bonded in minutes. He was already invested in the idea of becoming a full-time traveler and so was I. We made a pact on traveling together. After years of traveling across the globe especially Europe, we finally got a chance to experience the extreme beauty and adventurous sites of New Zealand. The breathtaking views were mesmerizing and we still cannot get over the extreme sports we got to enjoy. The journey is beautiful but can be dangerous if the right measures are not taken and the person is not aware of the safety gadgets and guides. I have listed down some of the places I traveled with Mike to guide you on how to travel across New Zealand the right way. Look at it as a New Zealand itinerary to inspire your adventure tours in the country:
#Quad Biking in Queenstown
Mike had already been to Queens town and was a big fan of quad safari biking. It was hard to admit initially but I wanted to be a part of this adventurous experience as well. I was a beginner and had no experience with Quad biking at all. I still remember the trainer equipping us with protective suits and bike helmets before beginning the training session. After proper training we were allowed to explore the muddy patches the rocky ups and downs of the track, huge puddles and if you are lucky you would also witness livestock especially sheep crossing. It was a wonderful experience with the thrill of biking I also got to enjoy the refreshing nature around me. This adventure bought both thrill and peace at the same time.
#Canyon swinging in Queensland

Not so far away in Queensland was a place specially reserved for people who would risk their lives with things like bungee jumping or canyon swinging. When Mike and I were heading towards it, I could already feel the adrenaline rush. My heart was racing as I was getting reading for the zip line. Afterward, I jumped from one of the world's highest cliff. If you are a fan of extreme sports you wouldn't want to miss this spot. But be very careful if you chose to go bungee jumping people with phobias and heart diseases are not encouraged for this sport. Moreover, make sure you are equipped with the best belts and proper clothing before you jump off.  I still can sense fear and excitement when I slide pictures from that day on my cellphone.
# Hiking in Abel Tasman National Park
This place had a separate fan base because of the heavenly scenes throughout the place. This park is located some miles northwest of Nelson and is like paradise on earth. When I went there I got to know that the forest not only had lush green trees, but also beaches, crystal clear creeks, and small coves were present in this park.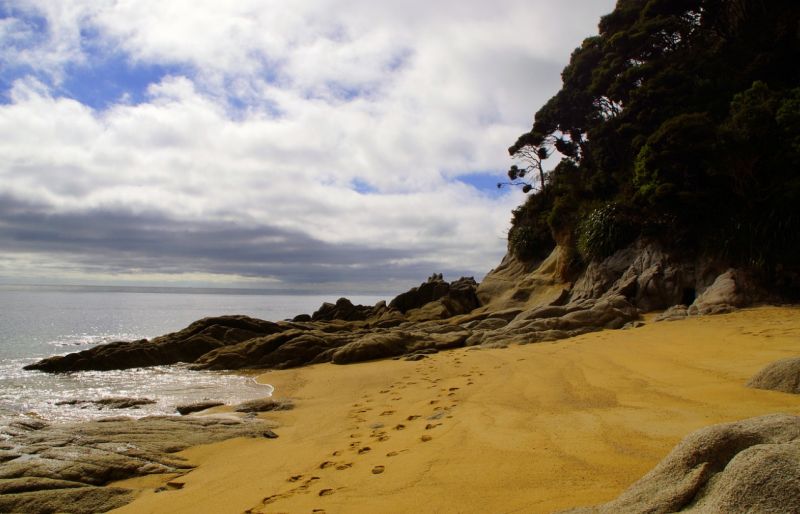 We had to take a water taxi. It would drop us at a stop where we could easily move around to explore and hike. For hiking I would suggest you have a sleeping bag and a tent in case you plan on camping, high bean mountain front lights/ torches, a GPS gadget and a lighter to ignite a fire in case of cold.  We could also go to the next or previous stop on the water taxi that arrived after every few minutes. It was very hot and humid when we got there so we hiked for only two hours but if you are an energetic person you could even hike for six hours. The trails were not very challenging but the hot temperature made us cross slippery creeks and reach out for the coves and water. We had to be extra careful because a slippery fall could result in an injury that couldn't be afforded.
#Helicopter ride over Fox Glaciers

Fox glaciers are one of the most famous glaciers in New Zealand and I wished to see them for a long time now. That's why we booked a four-hour-long helicopter ride that flew all across the snow-capped glaciers.
If we walked on our own we would never have witnessed such mesmerizing scenes. It would land at different points so we could move around and explore the place. The guide was very professional and showed us caves in that land of snow. All we had to do was make a helicopter reservation and the rest would be covered by them. I would say don't forget your winter clothing since it was extremely cold and I regretted not bringing 2 jackets until my tour guide offered me one lying around his office. It is a basic necessity as you can never survive the freezing glaciers without proper clothing. It cost us around 235 dollars per person to secure a seat in the helicopter ride.
#Lake Taupo of the north island
Being one of the biggest lakes in New Zealand, Lake Taupo had loads of activities to offer. I enjoyed fishing, aquatics, and parachuting but skipped hiking. The most interesting catch at Lake Taupo was jumping from a plane. It was my first time jumping off a plane it was a 60 seconds free fall from almost fifteen feet height. The plane has a flight of 15 minutes during which we got to enjoy some of the most exotic views of the lake and surrounding area. When the time of jumping came, I closed my eyes and jumped off. I couldn't breathe for the first few seconds since I was scared to death. But thank God it got better and felt like more of a roller coaster ride with amazing views as I dived in the sky. If you are traveling in New Zealand and have a daring spirit don't miss this once in a lifetime chance. They also give you camera pictures so you never forget your achievement. I had to hold my heart before jumping but Mike was not brave enough to risk his life for a minute of extreme sport experience, therefore, he only saw me jumping off the plane and landing safely from the ground.
#Swimming with dolphins in Tauranga

I missed this while traveling the south but got a chance to swim with the beautiful dolphins in Tauranga. If you are very lucky you get to swim with them otherwise you would see them swimming beside your boat and that itself is a very pleasing experience. When I got on the boat with others we saw a rare hammerhead shark on the way and it had scary fins. After 45 minutes of waiting for the captions, they finally sailed us towards the bottlenose and orca dolphins. These were one of the rarest kinds of dolphins, unfortunately, we could not swim with them as they had their whole breed with them. But while reaching the coastline we saw several other less rare dolphins as well. Watching them was an amazing experience in itself. However, if you plan on swimming you need to have a life jacket, goggles, and even an oxygen cylinder should be on board for deep-sea divers.
#Jetboat in Hannah
I booked a tour on the Waitoto River it was a jet boat tour starting from the sea into the mountains. It is not a slow sailing experience, you can speed a lot down the river so don't forget your life jacket at all. We also stopped by to discover the rain forest and hiked a little. I got to learn a lot about the incredible culture of the Maoris people which was so unique. You would not experience such a vast and colorful culture anywhere else. The people were very welcoming unlike the wild red Indians portrayed in Hollywood movies.
#Kayaking in Anakiwa

I wanted to go for an easier activity and calm down for a while that's when Mike and I decided to give our adrenaline rush a break. Kayaking was our pick for an easier activity. In New Zealand, this amazing experience is offered in the village of Anakiwa and is run by a small family. They offer you a custom kayaking package in the Marlborough Sounds. I had no experience of kayaking yet I felt safe because the people were very welcoming and understanding. I got to witness different breeds of animals and got to know distinct facts about the region. It was a trip Mike and I both enjoyed because we were together. It was a very relaxing experience. The company provided us with all the protective equipment and even a waterproof bag for our camera and cell phones. You don't have to have prior experience to enjoy. This one is a very relaxing trip. We also got to see some cute bears on our way. Overall I wanted to start my day on a lighter note and this place was just perfect for it. It had nature in abundance which was refreshing in itself.
#Horseback riding in Punakaiki

Although we had an option to go for horse riding both in Coromandel and Punakaiki, I chose the south for horse riding which is Punakaiki. Because I wanted to enjoy the best of nature and this was the perfect place. While dressing up I didn't forget my riding shoes, knee pads, and a safety helmet. I passed fields while riding through rivers and the forest until I reached a Glade without fear of getting injured as I was properly dressed. A small cabin was located there, I sipped some hot chocolate from and enjoyed the sun for a while. Since we were good at riding horse backs we speeded up at the gallops. The ride ended at the beach where you can see the pancake rocks. The horse owners were very kind and cooperative. Even if you are not a horse rider you would love to experience this as nature looks completely intense on the back of a horse and it's safe too. I would strongly recommend you and it just cost us 100 dollars for almost three hours. While in the south of New Zealand, check out this crazy human catapult over Nevis Valley as well.
#Huka Falls Jet Boat

The word Huka is in Maori origin it means foam in English. Almost 220000 liters of waterfalls down the rock face bottom per second which is 11 meters deep. The Huka Falls is an extremely popular tourist site so you can imagine the rush. The jets take you from exceptional cliffs and forests on the side towards the great Huka waterfall. As you are nearing the waterfall you can feel your heartbeat rushing as the excitement cannot be contained with peace. The amazing waterfall gave me thrills just as we got near as I could enjoy the water spray on my face but It was safe as we were provided with life jackets, heated rails, optional spray jackets were also available on demand. It felt like I was about to dive into the massive waterfall with a speed of 80 kilometers per hour. The minute the jet boat twirled a 360 degree shocked me for a split second but the excitement was overwhelming. The cliffs and forests we passed in the beginning only lead us to the starting point towards the great waterfall. Overall it was a very fun and exciting experience. A shuttle service from Taupo is also available if you chose the option.
In conclusion
My extensive trip to New Zealand made me realize that it was home to one of the most exciting and adventurous sports. Throughout New Zealand, I got to explore different hiking tracks, trekked a lot in the snow-capped mountains. The most exciting experience was jumping off a plane. But the quad biking in Queensland and the Huka waterfall were no less if you are properly equipped with safety helmets and life jackets. The time at the beach after horse riding in Punakaiki was very peaceful. While kayaking in Hannah gave me a very relaxing start. Nature is in abundance in New Zealand; the rivers, forests, jungles, lush green fields are so refreshing. If you want some natural detox for your stressed-out body, plan a holiday to New Zealand and all your money spent here would be justified. And you won't regret a single minute while staying here in this beautiful yet exciting place.