Walking through the streets of Seville at night is like reenacting passages from a fairytale. The center is vibrant and imposing, with each architectural detail beckoning to be discovered up close. When the grandeur of a beautiful city can be experienced side by side with the familiarity of a creative hostel, you get the ultimate traveling experience.
Today we would like to introduce you to an unconventional accommodation unit in Seville city center. During hot summer days, diving into this blue refuge can be bliss. Run by two very original female "bosses", their dog Morgan and a lovely team of volunteers, this is a place that will animate you whenever in need of a friendly ambiance.
Why should you pay Sevilla Kitsch Hostel Art? Why should you come to Seville? We asked the girls running the place a series of questions and hopefully some of the vibes here will be delivered to you through their answers.
#1. Why "Kitsch Art" (Hostel) ?
Marilo&Celia: We think of our hostel as our home. We have a great opportunity to express our creativity here, mixing the traditional culture of Seville with the modern Kitsch style of art, both of which we love.
#2. What is the story behind your hostel? When did the idea spark in your minds?
Marilo&Celia: A year ago we were traveling through Costa Rica. We were on the beach in Porta Viejo when we decided it was time to embark on the greatest adventure of our lives: to find the perfect antique Sevillian house and refurbish it into a beautiful hostel, to live in the hostel and spend our daily life with the travelers who come. In this way we feel live travelers ourselves, in a way, tending to every detail and every guest who comes with affection. In doing this we feel like we are living our greatest dream, and we continue to improve it every day.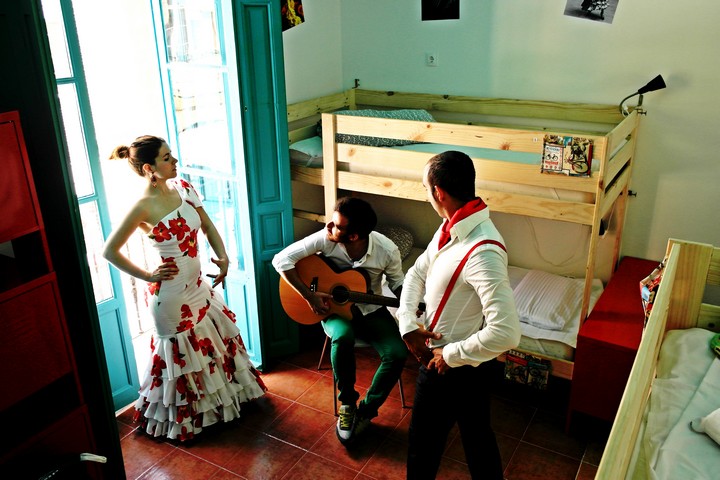 #3. How would you describe the atmosphere of your hostel?
Marilo&Celia: Without really noticing, we have created a warm, familial atmosphere that fosters creativity and lets the guests feel as though they are at home. It is very common for us to see one guest cooking for everybody; another playing the guitar, ukulele, or harmonica; and others all drinking together, singing along. This kind of scenario has come to be the defining characteristic of our atmosphere here.
#4. What is special about the location of your hostel in Seville?
Marilo&Celia: We are in the best part of the city, within walking distance of virtually everything (the cathedral, the Royal Alcázar of Seville, and many more attractions). During Holy Week in April the parades pass right under our balconies!
#5. What can guests do here during a long summer day?
Marilo&Celia: On unbearably hot days we recommend going out in the morning or late at night and spending the hottest hours of the day here in the hostel. To make this time as enjoyable as possible we offer numerous activities, all free: traditional sangría, flamenco classes (Sevillian and rumbas), karaoke, poker, international movie screenings, basic Spanish classes, spanish cooking classes, live music, temporary tattoos, Playstation, and yincana (a Spanish card game).
#6. Give us some details on your volunteering program. How can people who want to spend some time here contact you?
Marilo&Celia: A week ago we started using Work Away to find volunteers, and so far we are very happy with the experience. We were introduced to the site by a previous volunteer who we met by chance when he wandered into our hostel looking for volunteer work in exchange for a place to stay. We currently have four volunteers. It's a great experience for us because each person brings his unique skills and point of view in both his work and his personality. We feel closer every day and have come to think of ourselves as a family of sorts. Anybody who wants to volunteer with us can visit our profile here, or contact us via Facebook.
#7. Tell us three major tips you recommend your guests when visiting Seville
Marilo&Celia: For us the greatest things about Seville are the numerous beautiful monuments, the amazing and very cheap food (2€ tapas and 0,40€ beers!), and the ever-active night life. You really need at least three days to completely experience Seville!