Dear Traveler,
Should your journey take you exploring the sunny hillsides of Tuscany, you will find among its treasures the beautiful city of Cortona.
Situated in the heart of Italy, this ancient Etruscan dwelling offers you all its charm and diversity. Great food, stunning masterpieces, archeological artifacts, panoramic views, and amazing cultural festivals are waiting to enchant its visitors.
So full of magic this city is, that travelers often find it difficult to leave. There is even a local estate agency that offers personalized assistance in English for those who can't bear parting with this captivating place.
1. History and legends
As my feet carry me through ancient places, my heart longs to connect even for a moment with those long gone who have loved this place before me. What great deeds did this stunning view inspire in them? Did it raise their spirit like it does mine? There are so many layers to be found in Cortona, so many stories!
Legends
Nobody can know for certain who were the first people to fall in love with this enchanting hill, but it is said, among local legends and myths, that it was the home of ancient hero Dardanus, son of Jupiter, founder of Troy.
The Etruscans
The Etruscans, mysterious and ingenious people, respected predecessors of Rome, made it their own around 4th-5th century B.C. They built one of twelve known prosperous cities here, and today some of the houses still have Etruscan stones among their foundation.
Should you want to learn more about this enigmatic civilization you can visit the "Museum of the Etruscan Academy and the City of Cortona", considered between the most important museums of Tuscany because of its Etruscan artifacts.
You can also take a stroll among the majestic Etruscan burial mounds in the Archaeological Park, located about 5 km from Cortona.
The Romans followed, building their aqueducts and villas on the Etruscan foundation.
The Middle Ages
During the Middle Ages many religious orders, like the Franciscans, Dominicans, and the Augustans, chose this beautiful, sacred place, to build their convents and churches.
The beloved Saint Francis of Assisi built one of his first convents here. And his successor, Brother Elias, raised the Church of San Francesco.
As during those times knowledge and wisdom were treasured in convents and sacred places, Cortona flourished and expanded during the Middle Ages.
Each year, on the first Sunday of June, the city celebrates these glorious times through a medieval festival and archery competition called Archidado Joust. The whole town participates in this wonderful fest. The locals decorate the streets in medieval style and dress up as ladies, knights, flag flyers, and, of course, crossbow shooters.
2. Dazzling Art
During the Renaissance the town developed again under the rule of Cosimo I de Medici, gaining its current design and becoming a home for acclaimed artists like Fra Angelico, Luca Signorelli, and Pietro Berrettini.
Today you can admire some of their masterpieces at the "Diocesan Museum of Cortona".
Gino Severini (1883-1966), considered one of the most famous painters of avant-garde movements in the 20th century, was also born in Cortona, and some of his works can be admired at the "Diocesan Museum" and the "MAEC (Museum of the Etruscan Academy and the City of Cortona)".
3. Fairytale architecture
The Fortress
As you find your way up among olive trees and cypresses, a beautiful storybook city begins to reveal itself in front of your eyes. A majestic ring of walls gives you a feeling of safety, and the huge gates make you wonder what was the greatest thing they welcomed within.
The walls and the connected stronghold, the Fortress of Girifalco, have many stories to tell, as they guarded the town through all its known history. Raised around the 4th century B.C. by the Etruscans, they were revived during the Middle Ages, and again in 1561, by Grand Duke Cosimo I de 'Medici, who gave them their current appearance.
The Fortress can be visited and is a "must-see" for any self-respecting knight and lady, that find themselves in Cortona.
With four different bastions, a keep, a large garden, and an inner courtyard the Fortress of Girifalco is captivating in itself. But if you need more convincing this fascinating place also houses a  wine, culture and food bar – "Bistrot in Fortress" – and is the site for many cultural events and exhibitions.
Sacred places
So much already to raise your spirits and open your mind! And yet, it is only the borderline of this beautiful place. As you step inside the walls you begin to discover lovely medieval houses and renaissance villas, narrow streets, panoramic views of the magnificent Chiana Valley, romantic piazzas, and a stunning diversity of sacred places.
The Cathedral of Santa Maria Assunta, the Sanctuary of Santa Margherita, which shelters the body of the Patron Saint of Cortona, the Church of San Francesco, and the lovely Church of San Marco, with a mosaic by Gino Severini on its façade, are just a few of the most important spiritual buildings in Cortona.
About three kilometers outside of town, at the foot of Mount Sant' Egidio, dwells another awe-inspiring sacred place. In a fairytale setting, among beautiful woods, you will find the Franciscan Abby "La Celle", founded by Saint Francis of Assisi in 1211. The Monastery, inhabited today by Capuchin Friars, is a magical place, that is still calling to all those looking for serenity and spiritual inspiration.
4. Inspiring Cultural Events
With great respect for its rich history and stunning artifacts, the city of Cortona felt it was a duty to continue its tradition as a haven for culture and art. And so, each year, this magnificent town is the host of some impressive cultural festivals and events:
Cortona on the Move
Cortona On The Move is an international festival of contemporary photography, that looks to touch souls with its picture stories. Though many renowned photographers take part in this outstanding event, one of its main goals is to discover and promote new talents in the field of photography.
Cortona On The Move 2021 had as a theme "WE ARE HUMANS". The main goal was to portray the revelations and feelings that the global upheaval due to the Coronavirus pandemic generated in people.
The 2021 edition was held between the 15th of July and the 3rd of October, with exhibitions in various locations in town.
The Sacred Music Festival
The Sacred Music Festival is another fascinating event, that looks to raise people's spirit and consciousness, with a mix of sacred music, culture, and art.
Each year, in July, you are invited to step into another world and let yourself be inspired by amazing choir and organ concerts, chamber orchestras, Gregorian chants, religious theatrical performances, and intriguing photo exhibitions.
During the festival, those interested in a more personal experience are encouraged to attend liturgical music classes or special courses to learn the specifics of Gregorian chants.
The Sacred Music Festival is a wonderful occasion for those passionate about history to discover one of Cortona's most precious treasures from its medieval times. The "Laudario Cortonese", a collection of hymns of praise (Laude), was written in this enchanting city during the 13th century. The forty-six hymns that are set to music are often included in this magnificent event.
The 2021 edition had as main theme the last verse from Dante's Inferno: " …and thence we came forth to see again the stars", and was held between the 26th of June and the 4th of July, at Teatro Signorelli and other locations in town.
Cortona Mix Festival
Maybe the biggest cultural event in the city, Cortona Mix Festival combines music, cinema, theater, arts, and literature.
For a few days, during summer, the beautiful city of Cortona becomes the stage for amazing folk, rock, and classical music concerts, theater performances, literature workshops, live storytelling, and nightly screenings. The event aims to intertwine the arts in a way that will inspire, entertain and challenge worldviews.
The Festival was canceled in 2020 and 2021 due to the Coronavirus pandemic. The renewal of this amazing event is yet another reason to pray we will overcome this global challenge.
5. Amazing cuisine and Food Festivals
Nowhere have I seen such respect for cooking, almost as a sacred ritual, or such joy in offering the food, as I did in Italy. So if you find yourself in the beautiful city of Cortona you must try its lovely culinary masterpieces.
From delicious pasta to cheese stuffed tomatoes, Florentine style stake, and even wild boar stew, there is something for everyone. The lovely traditional pasta, called "pici", and the porcini mushroom tagliatelle are easily addictive.
If you have a sweet tooth, don't forget to try the exquisite gelato or the cantuci biscuits served with a glass of local Vin Santo.
Should you want to take your culinary experience to the next level, you can always time your visit to one of the delightful Food Festivals, organized every year in and around Cortona:
Summer Food Festivals
The "Pasta Festival" (Sagra della Pastasciutta) takes place in June in the village of Fratta, 7 km from Cortona.
The "Wild Boar Festival" (Sagra del Cinghiale) takes place in July, in the village of Pergo, 5 km from Cortona
The "T-bone Steak Festival" (Sagra della Bistecca), takes place every year on the 14th and 15th August in the "Parterre" public gardens of Cortona.

The "

Porcini Mushrooms Festival

" (Sagra del Fungo Porcino) takes place every year

the weekend after the T-bone Steak Festival

, also in the "

Parterre

" public gardens of Cortona.
Autumn Food Festivals
The "Fall Festival" (Festa dell'autunno), takes place in September, in the village of Fratta, 7 km from Cortona. The "Fall Festival" offers different dishes every day, inspired by the old recipes found in the villages around Cortona.
The traditional "Chestnut Festival" (Sagra della Castagna) takes place in October in the village of Teverina, 14 km from Cortona.
Another "Chestnut Festival" (Sagra della Castagna) is organized at the beginning of October, near the Fortress of Pierle in Mercatale, 17 km from Cortona.
Winter Food Festival
The "Fried Bread Festival" (Sagra della ciaccia fritta) takes place in December in the village of San Pietro a Cegliolo, 4 km from Cortona.
6. World-renowned wine
Cortona is known globally for its delightful wines, having a grape-growing tradition that started during the Etruscan time.
For those fascinated with this ancient brew, the city offers many guided tours at local wineries. Besides tasting some internationally acclaimed wines, these expeditions are a great way to see the beautiful countryside around Cortona.
There is, of course, a Wine Festival. Each year, on the 10th of August, the shooting star night of Saint Lawrence, you are invited to taste some of Cortona's most delectable wines in an event called "Goblets Under the Stars" (Calici sotto le stele).
7. Shopping – Handmade treasures and divine local produce
To passionate treasure hunters, that like to enrich their homes with relics from each wondrous adventure, Cortona offers its traditional handmade terracotta items, known as "cocci".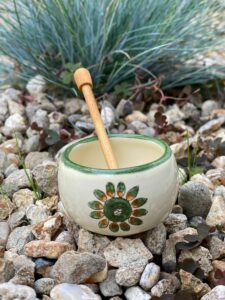 Using an antique method, artisans create wonderful terracotta pieces, decorated with green and brown flowers. The beautiful items can be used as decoration, tableware, or as original gifts to the ones you love.
Cortona hosts a brilliant "Mercati" each Saturday, in Piazza Signorelli. It is definitely worth a visit if you are looking for heavenly local produce and lovely handmade items. The market is an experience in itself, with joyful locals proudly presenting their goods and urging you loudly to try this or that. It's a great place to discover the spirit of the city.
Though I am not among the lucky ones who get to live in this enchanting place, it holds a piece of my heart. And I know I will return to it as often as I can. I hope to one day meet you there dear Traveler, so we can share our stories and our love for this magical hill, over a glass of its wonderful Vin Santo.
Yours truly,
Dănuța