Fancy the idea of slow travelling to a peaceful and charming European destination, away from the crowds? Somewhere to really dive into the local culture and explore nature in its most beautiful and varied forms? Just look east. 
From historic places and breathtaking landscapes to welcoming people and hearty food, Eastern Europe has a lot to offer to travellers. You will experience a very special facet of Europe, one that appears deceivingly simple to a carefree observer yet will make you see a whole new outlet of European history and culture and forever fall in love with its scenic views. All you need is a bit of time and plenty of curiosity. 
We've put together for you a list of our favourite 10 little towns and villages in Eastern Europe, perfect for slow travel. 
#1 Kotor, Montenegro
The seductive views from above Kotor's brilliant blue bay and its sheltering mountains magnetized people's eyes all around the world, especially after winning Lonely Planet's title of "Best City to Visit in 2016". The coastal town is hands-down Montenegro's best attraction until today, offering visitors a sample of the country's best – spectacular nature, rich history, culture and beautiful architecture. 
Even so, tourism didn't destroy Kotor's medieval charm and authentic spirit. A stroll down its labyrinthic marble laneways, passing under lines of laundry fluttering above your head and by Venetian palaces and pillories will prove you just that. The town is a delightful mixture of past and present. 
The Old Town is a UNESCO World Heritage site, strewn with ancient stone churches and cathedrals, lively squares where tourists and locals alike have their coffees, and plenty of museums. By the way, if you are a cat lover like most of the locals are, you shouldn't miss Kotor's cat museum. We know, it sounds like an incredible place to be. But don't settle just yet. 
Climb up the hills along the San Giovanni Fortress, which has been keeping the watch and ward of Kotor for centuries. If the 1350 stone steps don't take your breath away, then the incredible view from above surely will.
Our tip
There are many dazzling attractions nearby. Visit the picturesque small town of Perast and make a boat trip to the church "Our Lady of the Rocks" on its tiny island, or have a scenic 5 hours hike up the Ladder of Kotor. Going further you will arrive in the impressive Lovćen National Park, located right at Kotor's doorstep. Take it slow – it's a long ride, but an enchanting one. 
#2 Cetinje, Montenegro
Continuing our route from Kotor, right on the other side of the Lovćen Mountain lies peacefully the elegant town of Cetinje. The old royal town which used to be the capital of Montenegro from 1878 to 1944, is now an important cultural and historical centre.
Cetinje is pretty much the spiritual heart of Montenegro, so visiting it is all about understanding the country and its history. You can reach all main attraction points in walking distance, from the ancient stone monastery of Saint Peter to its many museums, churches and art galleries. 
Our tip
Cetinje's location makes it very easily accessible – it is only 31 miles (50 km) away from the Podgorica airport – and a great base point for exploring other breathtaking attractions nearby. One of them is definitely the Mausoleum of Njego on Mountain Lovcen's peak, declared the highest mausoleum in the world. The view from up there is at least as mesmerizing as the winding road that leads you to it.
Another picturesque panorama is from Pavlova Strana Viewpoint above curvy Lake Skadar, and from the riverside of the peaceful town of Rijeka Crnojevica, both located at around 10 miles (16km) distance from Cetinje. 
#3 Kőszeg, Hungary
Hungary's "Jewel Box" town is exactly that – a small chest filled up with surprising treats, that seems to be taken out of a fairy tale. Located near the Austrian border at the feet of the Alps, this medieval town promises its visitors a delightful and peaceful stay.
Despite its troubling history and periods of hardship ever since the Ottoman invasions, the walled town managed to keep almost unscathed its historical structure downtown. In 1972 it even received the Hungarian architecture prize (known as Hild Prize) for preserving its architectural heritage. Walking down Kőszeg's peaceful cobbled streets, a mixture of gothic, baroque and medieval architecture will lure your sight.
Our tip
Visit the Jurisics Castle, the lovely churches in the main square, and the interesting thematic museums of Kőszeg and let yourself slip back in time. Taste the local wine made from the grapes growing right on the surrounding hills. Go explore the oak and pine woods outside the town and take a look above them from the top of a watchtower. Drink the cold water of Hétforrás (the Seven Springs Well) and breath in the fresh air for which the area is so famous for. 
Kőszeg is a place where your batteries can fully recharge.
#4 Hollókő, Hungary 
The "Raven-stone" village, by its Hungarian translation, has been a UNESCO World Heritage Site since 1987. Famous for its characteristic peasant houses from the 17th-19th centuries and the well-kept traditions of the Palóc people still living there, Hollókő attracts curious tourists from all around the world. This ethnographic village in Hungary is the perfect place to better understand the country's customs, taste the incredible local gastronomy and simply relax. 
To have a better grasp of Hollókő's beautiful traditions, visit the museums (the Village Museum should definitely be on your list), and discover the history of the pretty wooden houses. See the craftsmen at work, and the colourful, richly decorated traditional costumes. Plan your visit during one of the main events during the year (like the August harvest) when the locals are dancing and singing on the regional folk music while wearing their traditional clothes. You won't regret it.
Our tip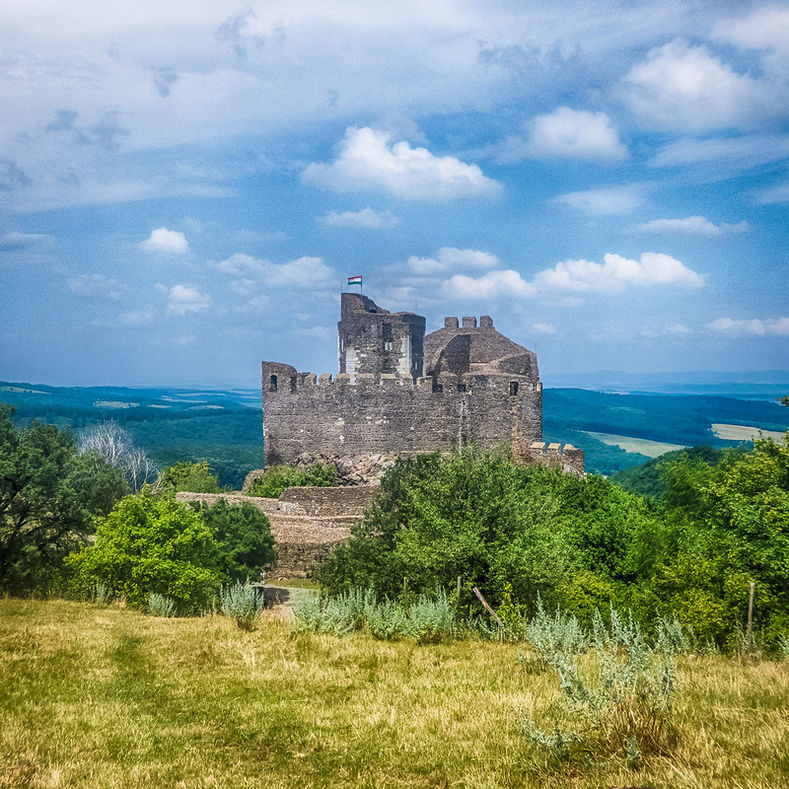 The most peaceful spot you will find is at the doors of the 13th-century castle of Hollókő, where you can see the whole village lying underneath and the brooding Cserhát mountains resting afar.
#5 Drvengrad, Serbia
Another ethno village that caught our attention is Drvengrad – the product of film director Emir Kusturica's vivid imagination. This Serbian village was the set of his award-winning film "Life is a Miracle" and the buildings were kept exactly as they initially were. 
The dream which lies at the origins of the village is also worth mentioning. Losing his hometown (Sarajevo) as it used to be during the war, Kusturica wanted to build a new home for himself and for "people who want to learn how to make cinema, concerts, ceramics, painting" and other artistic endeavours. His vision was to create "an open place with cultural diversity which sets up against globalization." and we believe he managed to turn it into reality.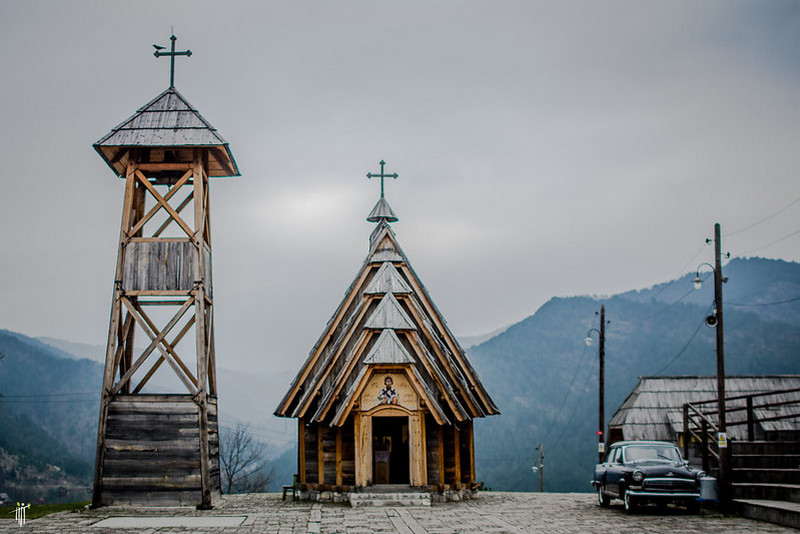 At least once every year, the village gathers young cinematographers and cinephiles from all around the world, during the international Küstendorf Film and Music Festival in January, when we most recommend you to visit the village. You might have the chance to see some famous faces there (Johnny Depp, for example, visited the edition of 2010). 
If you cannot make it to the festival, you won't be at all disappointed by what Drvengrad has to offer during the rest of the year either. There is an art gallery, a library, an underground cinema, a Stanley Kubrick theatre, traditional pastry shops and a super cosy restaurant. Strewn around the little square there are authentic timber houses and log cabins, relocated from other parts of Serbia and Republika Srpska. The main landmark though is the Church of Saint Sava, built in the manner of old Russian wooden churches. All in all, Drvengrad is widely appreciated for its architecture, even receiving an award from the Brussels Foundation for Architecture.
Our tip
Drvengrad ("The Timber Town", as it is translated from Serbian) or Küstendorf, as it is also known as, is located where Zlatibor mountains and Tara mountains meet, in the lovely village of Mokra Gora. To get there, take the old steam train "Ćira" – its renovated narrow track railway is an attraction itself. "The Sargan Eight" by its name, has the shape of a perfect number eight and it's swirling through 300m of rocky landscapes, crossing 22 tunnels and over a dozen bridges. From the train station of Mokra Gora, there is only a 3 minutes drive (or a 30 minutes walk) to Drvengrad. 
You can find accommodation in Mokra Gora and further explore the beautiful region. Options are countless; from hiking in the Zlatibor mountains or the National Park Tara (where you shouldn't miss its two mesmerizing lakes Zaovine and Perućac), to rafting on Drina River or visiting the Kadinjača memorial near the town of Užice. You will surely need more than a few days to take all of this in.
#6 Sighisoara, Romania
Humble and grandiose at the same time, the medieval town of Sighisoara is a feast of colours and authentic charm. You will find it right in the heart of Transylvania, the famous Romanian region well known for its spectacular nature and of course, Dracula. In fact, Sighisoara was the birthplace of Vlad the Impaler, the Wallachian ruler that inspired Dracula. Yes, his childhood house is still there and yes, you can visit it.
Included on the UNESCO World Heritage List, Sighisoara is also Europe's best-preserved inhabited citadel. It has been continuously inhabited since its construction by the Saxon colonists in the 13th century and even to this day. Its fortified walls enclose centuries-old memoirs of Transylvanian Saxon culture, illustrated through interesting and quaint architecture. 
Some examples are the nine observation towers of the citadel, each with its own architectural particularities, or the covered Scholar's Stairs, which connect the upper part and the lower part of the citadel. Near the Stairs, you will always find musicians playing in the hot summer evenings. The main landmark stays the Clock Tower though, with its colourful roof tiles and beautiful panoramic view over the town. 
Besides its medieval look, Sighisoara will also make you fall in love with its candy-box colours and tiny cobbled lanes. But its kind local people and talented artisans will be the ones to forever win your heart. 
Our tips
Located roughly halfway from Brasov to Sibiu, Sighisoara is easily accessible for day-trippers and can get pretty crowded during the summer season. We advise you to stay at least one night in order to fully experience its idyllic setting. 
While you are there, also consider a day trip to Biertan, located at only half an hour away. It's a fairytale-like village with a fairytale-like history surrounded by lush green hills. Its UNESCO listed Saxon Church throning right in the middle and its pastel-hued houses go hand-in-hand with Sighisoara's poetic sights. 
#7 Sic, Romania
Lesser known but equally magic as Sighisoara is the village of Sic in Romania. Located only 25 miles (40 km) away from Cluj, but not known even by many people living there, the village is a surprise for any curious wanderer setting his foot here. Why?
Because from your very first step here you will feel like travelling back in time. The majority of the 2,700 inhabitants are mostly wearing folk costumes on a daily basis, especially the old population. Their traditional clothes have 300 years of history behind and they are specific to this village, which used to be an important mining town back in the days. The shapes, colours and embroidery on their clothes are all telling different stories, to the ones that know how to read them. For example, you can tell if a woman is working on that day by the white colour of her headscarf. Also, the older a woman gets, the smaller and smaller become the dots adorning her scarves. 
On Tuesdays, which is a market day, you can admire plenty of different versions of their rich costumes in the main square. And during traditional celebrations, you can see different clothing, even more colourful and bouffant, with accordion-like sleeves worn by men and women alike.
The locals, which are 96% ethnic Hungarians, are very proud of their traditions and keep many of them alive. Unfortunately, you won't find many speaking English. If you'd like to find out more about Sic's background, find Michel – a jolly Dutchman that fell in love with Sic's dance houses tradition years ago and decided to move here for good and build a beautiful museum. After your insightful visit to the museum, go see the beautiful Calvinist Reformed Church and the old Wooden Church. 
Our tip
If you're up for a nature trip, drift away in a wooden boat on Lake Știucii nearby, take a healing bath in the Salty Pond, or have a walk through Sic's Reed – a natural reserve hosting dozens of species of migratory birds. Take a serene walk on the 1km long suspended wooden bridge and get lost among the reeds.
#8 Omiš, Croatia
Croatia's small pirate town on the mouth of Cetina River is dragging a lot of attention, especially for its mesmerizing combo of limestone cliffs and warm waters. 
Even though it's usually considered a destination for adventure seekers (activities include rafting, paragliding, canyoning and diving), Omiš can also be a very peaceful escape. Its beaches are much less crowded than its neighbour's 15 miles away – Split, and its mountains are just calling for you to hike them.
Take one of the paths towards the Starigrad Fortress (Fortica) or the Mirabella Fortress dating back from the 13th century and admire Omiš in its complete splendour. One of the highest points you can reach is the monument of Mile Gojsalic, the brave Croatian folk heroine who tricked the Ottoman army. 
Get a real feel of what Omiš is really about during the Klapa Festival in July, when the churches and the squares in the old town are filled by the music of Croatian acapella songs. The festival taking place every year since 1966 became an iconic event of the city. Other interesting events include the romantic Omiš Guitar Fest and the performances of reconstructed pirate battles. 
Our tip
Leave the city for a while to explore its beautiful region also. Options include panoramic boat tours or kayak trips, as well as the popular "cruises" on fish picnic ships. But don't hesitate to explore the incredible underwater world either. At an only 30 minutes idyllic drive along the coast is the tiny village of Brela. It is famous for its crystal clear waters and just perfect for snorkelling. 
#9 Gjirokastër, Albania
With stunning Ottoman-era houses and its majestic fortress dominating the skyline, all hemmed in by a well-chiselled chain of mountains, Gjirokastër is like quite nothing that you've seen before. This lovely old town lying just an hour away from Saranda is a UNESCO World Heritage Site, and for a good reason. Dating back to 1336, Gjirokastër is preserving to this day all phases of its long history.
As many visitors say, the best way to explore the enchanting town is without any map. Get truly lost on its labyrinthic cobbled alleyways, follow the hidden stone staircases appearing your way and let yourself be surprised by the unique architecture. The Old Town is strewn with lovely Ottoman-era houses, with wooden facades and original stone roof tiles. In many of them, you will find artisan shops and restaurants with delicious local food and a cosy atmosphere. In Albania many of the restaurants and coffee shops are family business and you will instantly feel it. 
After you enjoyed some local cuisine and absorbed the vibe of the city enough, get your map. It's time to really discover the cultural background of Gjirokastër. And trust us, it's plenty to discover. Some of your stopovers should be the Gjirokastër Castle (also the biggest in the country), the old bazaar, the Ethnographic Museum and the Cold War Tunnel. For some fine examples of Ottoman-era architecture, visit the majestic Skenduli House and the Zekate House, which now hosts a history museum.
Our tip
Get your hiking shoes on and climb the rocky path towards the Old History Museum. From here you will have a beautiful overview above the lovely town, sandwiched between the Gjerë mountains. Maybe not such an easy objective to achieve, but one that's fully worth it is to get there at sunrise. The view of the morning light softly flooding through the valley totally pays off for the early hour. 
Other equally beautiful hikes to slowly enjoy are to the Ali Pasha Bridge and through the Rrezoma Natural Reserve. Also, at an only one-hour driving distance there is the Blue Eye Spring, famous for its turquoise clear water. Honestly, it is hard not to fall in love with this town and its region.
#10 Počitelj, Bosnia and Herzegovina
For a truly peaceful and unspoiled experience, try visiting Bosnia's medieval fortress village of Počitelj. Its stepped placement just above Neretva River and its blend of medieval, oriental and Mediterranean architecture make it one of Bosnia's most picturesque sites. 
Built during the Middle Ages in a natural karst amphitheatre, the village later became a strategic stronghold between the Ottoman and Venetian frontiers, and after WW2 an attraction for many tourists and artists falling in love with its poetry.
But the once glorious town has unfortunately a tragic recent history. During the Bosnian war, it was severely damaged by Bosnian Croat forces in 1993 and has since become almost abandoned. Nowadays Počitelj has been partly restored and has roughly 700 inhabitants. You will sporadically meet its kind people in front of their houses greeting you with a smile, proud to serve you figs, almonds and other fruits cultivated in their pedicured gardens, or simply a fresh drink.
Our tips
Many people say that visiting Počitelj feels like walking through a life-sized museum, and we tend to believe them. On its winding open-air "hallways" sprinkled with pomegranate bushes and flowers, you will find captivating attractions that are worth your visit; the mesmerizing Hadzi-Alija Mosque, the Šišman-Ibrahimpašina madrasa (a school traditionally hosted in Islamic cultures inside a mosque), the Gavran Kapetanović house that used to host the artistic colonies of Počitelj and Sahat-kula, the 16m Ottoman clock tower.
Despite its undoubted beauty, Počitelj has only one accommodation option and not many tourists visit it yet. A short stay here, exploring its warren-like narrow streets and stairways and meeting the few remaining locals will surely slow you down from life's agitated rhythm and remind you how to enjoy the simple things.
Kind Reminder
Be it Eastern Europe or wherever on the planet, slow travel reminds us to look more deeply into what we thought we already know. It allows us to connect a bit more to a place and its people, discovering them beyond stereotypes.
Take advantage of your traveller status. Get curious. Get brave. Interact with the locals as much as you can, always keeping an open mind. It's the simplest and most natural way to understand what local culture is all about; people's costumes, their mentality, their views on the places they live in. Plus, locals will know better than any travel agency where those real secret gems are. 
Connecting with people is what makes travel really memorable, so take the extra step and engage with the local communities.