photo by Andreas Constantinou
It is said that great poets have sung its praises and that its majestic shape hides the secrets of Atlantis. This post is not looking to solve any mystery, nor judge poets, but will simply give you a clue about how it feels to travel to Santorini in a short travel guide.
By the way, did you know there is a tiny village in Antioquia, also nicknamed Columbia's Santorini? More details about this here.
Naturally, these are all professional photos, some of them edited, which means the reality is not quite as seen in the pictures …or is it?
Santorini…:
is a volcanic island in the Cyclades group of the Greek islands, famous for its breathtaking sunsets, dramatic landscapes and buildings of the color of white aubergine. Santorini beaches may not be the best in the world, but their privileged location makes travelers worldwide drawn to them.
picture via
according to the official Santorini website, the island is "essentially what remains of an enormous volcanic explosion dated back 3,600 years and which created the current geological caldera; a giant central lagoon, more or less rectangular, and measuring about 12 by 7 km (7.5 by 4.3 mi), surrounded by 300 m (980 ft) high steep cliffs on three sides.
photo via
Stairs in Santorini (detail) – photo by Marcel Germain
photo by Martin Wierzbicki
photo via
photo by Angelo Bosco
10 Things to do in Santorini:
Explore all the island, by foot, ATV, bus or rented scooter;
Take a tour to the volcanic island, visit the Santorini caldera;
Witness a legendary Santorini sunset from Oia;
Visit the Faros lighthouse near Akrotiri;
Get information on the trails on the island overlooking the beach and start hiking;
Check out the wineries and fish taverns;
Walk along the caldera from Fira to Oia;
Go horseback riding in Exo Gonia;
Scuba diving and snorkling. Even non-qualified divers can dive up to 14 metres down on a wreck next to the volcano. Careful though, it may get unpleasant for the first timers.
Take a ferry to the near-by islands.
photo by Hasselbach Photography
How to Get on the Island of Santorini
By Air: Santorini (Thira) National Airport is an airport in Santorini/Thira, Greece (IATA: JTR, ICAO: LGSR), located north of the village of Kamari. Flight duration from Athens to Santorini is about 30 minutes. During summer, Sky Express connects Santorini with other popular islands such as Crete (Heraklion), Rhodes and Mykonos. Seasonal domestic flights are also operated from Thessaloniki. From May till October charter airlines fly directly to Santorini from many European airports.(information via wikitravel)
By Sea: Take the ferry from Pireaus port Athenes. The Pireaus-to-Santorini trip takes 4.5hrs with a high speed ferry, comparable in duration to air, and the overall cost is about 30 Euros.
photo by MarcelGermain
Getting around: you can walk (not always recommended), take a taxi or a local bus, rent a scooter or a bike (also not recommended, as tourists all over the world drive by their own rules on the streets of Thira)
Town and Villages in Santorini:
Oia or Ia is known for its blue domes and amazing sunsets;
Fira: a beautiful cliff town, extremely crowded during the season;
Kamari, known for its black pebble beach;
Monolithos, a small village with shallow water, perfect for children.
Pygros, the highest located village in Santorini:
photo by rudi, via greeka.com
Perissa, best known for its inviting beaches and fish taverns. This is a good base in Santorini for long-term stays,
Birthdays and Weddings in Santorini
Whether you are planning on celebrating your birthday in the island of Santorini or simply throw a kick-as party for the hell of it, there are ways to do this with style. Pro-Support is a company offering assistance in these type of situations. The three photos below are an example of how to transform a quiet night on the beach between friends into a an unforgettable experience. The firm also offers a chance for tourists to purchase balloons, fireworks and other decorations. Unfortunately, we do not know the costs for such an event, but you can simply take the photos below as an example and let your creativity and improvising spirit do the rest.
photos via Pro-Support
Where to Eat:
If you are on a budget, you can try the local taverns for traditional menus based on fish, vegetables and various meat courses. For a view of the caldera, expect to pay as much as 40 Euros for two.  A good advice is to stay away from the crowded places, as they are usually the most expensive.
Vanilia Restaurant
"Doors to Nowhere" are special attraction in Santorini. Usually followed by steps that lead down to a bar or a restaurant, these doors frame the sea and mark the menus of the day.
photo via Amateur Traveler
Accommodation in Santorini
On the Western side of Santorini almost all hotels have amazing views of the caldera, volcano, the sea and sunsets. The only problem  is that in order to get to the hotel room, one usually has to climb a lot of stairs (a problem only for some : ) ). There are plenty of accommodation possibilities in Santorini, from highly modern hotels, to expensive hotels with beautiful traditional architecture. There are also more accessible alternatives, such as sleeping in campings and bungalows.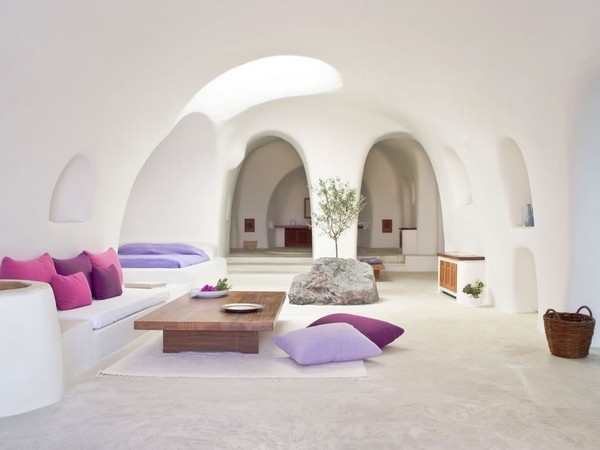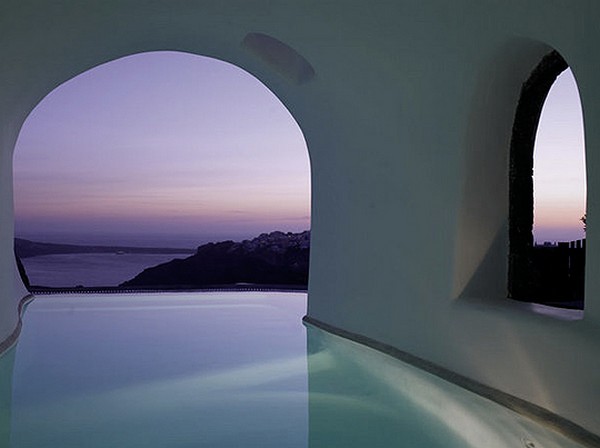 Perivolas Hotel Infinity Pool, Santorini
This raps it up. If you are a visitor or an "admirer" of this hypnotizing Greek island and feel we left something out, please leave a comment and share your experience. And if you are planning on going on a classy holiday to Santorini this summer, take advantage of its breathtaking landscape and enjoy every minute to the fullest!