Few things are left untold when it comes to the island of Santorini, Greece.
Whitewashed Cycladic buildings with blue-domed roofs dramatically permeating volcanic cliffs, infinite blue waters sprinkled with boats, sunsets like no other.
No matter how you choose to 'approach' this island when planning a stay here, prepare to be mesmerized. Despite its raw, volcanic and dry nature, Santorini has an innate charm which it tends to display in each of its bohemian towns and villages.
I personally visited Santorini twice, once in April-May and once in July-August. In April, I spent one week in Fira and one week in Oia. Few years after, I returned to the island and settled my base in Perissa for two weeks. The experiences couldn't have been more different, both in terms of weather and location.
In this post, let's explore some of the options for a base in Santorini. Afterwords, I will dive into the pros and cons of living in Perissa during your stay in Santorini.
To be honest, the article turned out longer than planned, so click the below links to take you to the paragraphs of your choice:
# Where should you stay in Santorini?
The island is relatively small (you can drive from one end to the other in about an hour), yet it hides plenty of beautiful gems.
Where you decide to stay on the island depends on some factors. Ask yourself these questions:
How long do I plan to stay on the island? For a short stay (1-4 days), consider Fira, Imerovigli, Firostefani or Oia (in this order). For a longer stay (4 days +), consider either doing some village hopping or settle in Perissa or Emporio. Read on for arguments.
Am I going to Santorini for its beaches? If so, you will probably visit the island in its warmest months (mid-June to end of August) and even though you could base yourself in any of its villages or towns, staying in Perissa or Kamari will give you the chance to be near the beach and the Aegean cozy warm waters all the time.
# Pros and Cons of staying in Fira, Santorini, as a base
Santorini's largest town is Fira, which is also considered the capital of the island. It oversees the Caldera and the blue waters of the Aegean, which makes it a lovely town for a stopover.
Fira is the largest of the towns on the island, which means there are more opportunities for spending your time. Bars, restaurants, galleries, they come in plenty of shapes and sizes. A downside to this is that it is also very crowded during late April-early September.
The capital of Santorini has beautiful views. However, it has no nearby beach, just a harbour for large boats.
Fira is expensive, at least compared with Perissa and Emporio
To conclude, Fira is a great place to stay in Santorini if you plan on staying for only a few days, no matter the season. If you come in late April or the beginning of May and you don't necessarily wish to take a dip in the sea, then yes, Fira is a lovely option for longer stays as well.
Visiting Santorini in winter? Then Fira is definitely your best option, as the rest of the villages are more or less empty, except for Emporio, which is permanently inhabited.



# Oia, Imerovigli and Firostefani
The next scenic places for a stopover or longer stay on the island are Oia (pronounced 'Ia'), Imerovigli and Firostefani.
Oia is packed full with tourists. When I visited in 2021, there were many crowds near the castle ruins, which made them impossible to reach.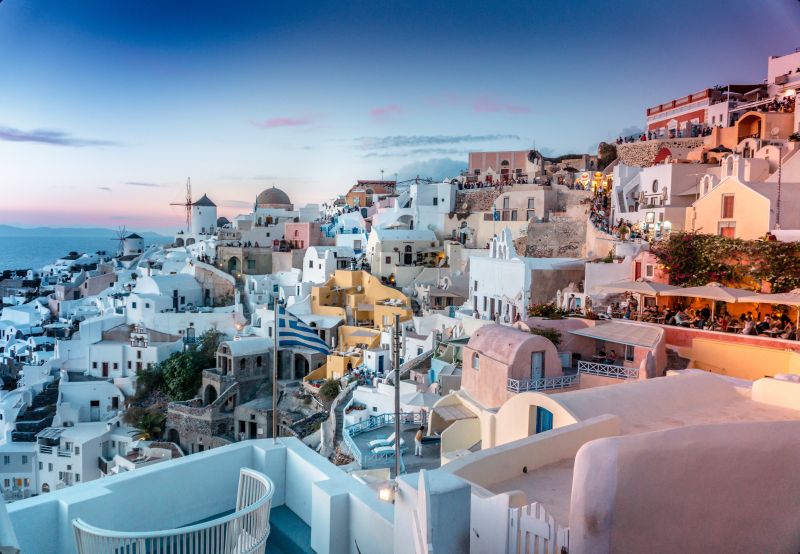 Consider visiting Oia (preferably from another base) in the morning, visit the lovely galleries and tiny inner courtyards. Sunsets here are beautiful, but if you want to witness them, try late April or early October. Otherwise, you will share the experience with hundreds of people literally stepping on each others' toes.
Imerovigli is a lovely village. Walking here is absolutely magical, with expansive caldera views. From Imerovigli, you can easily go for a short hike on the cliff of Skaros, for a closer view of the sea. Hotels is Imerovigli are usually carved in stone, which makes for some memorable accommodation.
Firostefani is connected to Fira in the North. You can walk to the center of Fira (it's a 15 minutes walk), which makes it a good place to stay if what you are after is a combination of both peacefulness and crowds. It makes for a good place for couples, but not so good for families, as you have to drive 20 minutes to the nearest beach. It is also one of the most expensive places on the island.
So Oia, Firostefani and Imerovigli as a base? Yes, off-season. From early June till late August, neither of them is an option if what you are after is a relaxing getaway. They are also a bit far from the beach, which means you will have to drive or take a bus in order to swim.
# Emporio as a base
Emporio is one bus stop away from Perissa and about 15 minutes driving from Fira. It is the island's largest village, still inhabited during the winter, when all the other major villages (Oia, Firostefani, Imerovigli) become ghost towns. Here are some reasons why you should consider Emporio as a base for your stay in Santoini:
Being a village that is populated year-round, Emporio has good services (including restaurants, bars, cafes, wineries and so on).
If you decide to book a stay in Emporio, you can easily go ask the locals for interesting things to do around the island.
The houses in Emporio are newly renovated and extremely beautiful. Walking the narrow streets of the village is relaxing, and so are the city views from the castle region.
If you plan on visiting Santoini off-season, then Emporio and Fira are basically your only options, since the rest of the villages are no longer open to tourists.
Access to beaches from Emporio. The village has no direct access to the beach. However, it is located within easy reach from Perivolos beach (about 25 minutes walking or 10 minutes by bus). Perivolos beach is lovely for both sunbathing and swimming. The best part is that it connects to the beach in Perissa, and together they make for a stretch of sand that is about 7 kilometers long.
Emporio is less expensive than many other villages and towns on the island.
To conclude, Emporio is a great base if you love to walk and explore. It is well connected by bus during the season with all the other villages on the island. Even though it doesn't oversee the caldera, it offers some scenic sights if you are willing to walk up the hill in search for them.



# Things to do in Perissa, Santorini
If you walk towards the end of the beach in Perissa, you can literally bump into this majestic rock which reigns over the beach. A pro tip? Right next to this rock you will find the best place for swimming in the entire island of Santorini.This is because the sand here is soft and the entrance in the water beautiful and smooth.
In all honesty, after seeing Fira and Oia, Perissa is not at all impressive… from the ground. Read on to see what I mean by that.  What Perissa offers though is a 7 kilometer-long black sand beach, great swimming and a laid-back atmosphere.
Here are some of the things you can do when traveling to Perissa, Santorini:
walk along the beach and listen to music from the many tavernas which dot the village along the sea shore.
go swimming. Perissa is probably the best place for swimming on the island. The entrance is not always smooth though, so consider bringing some rock sandals along. Many parts of the beach have slippery rocks as well. But fear not, you can find smoother spots for bathing as well. So if you forget your sandals, it's not a big Greek tragedy.
enjoy local food at one of the many fish tavernas. Sure, food in Santorini tends to be quite expensive. An alternative to all the restaurants around is the local bakery in front of Hotel The Best and your regular Souvlaki-to-go which you can buy for about 5 Euros.
hike over the mountain,  to Ancient Thira. From here, you can have a wonderful and extensive view over the entire island of Santorini.
explore the South part of the island, including the Vlychada beach and the Red Beach in Akrotiri
visit the Church, a beautiful blue-domed building. On Sundays, there is a mass which ends at around 10 a.m.
take  a boat and visit Kamari. You can take the boat from the place nearest to the rock and enjoy a 20 minute-ride towards the other side of the cliff. The Perissa to Kamari ferry ride currently costs $Euros one way per person and leaves from Perissa every 30 minutes or so. The first ride is in the morning, around 10 a.m. Kamari also has a cafe-lined walkway along the beach and an open-air cinema, however Perissa is more accessible by bus and more quiet and family-friendly.

Kamari, Santorini

enjoy the sunrise. Perhaps not as spectacular as the sunsets in Oia, catching a glimpse of the sun as it slowly comes up the horizon (Perissa is located on the opposite end of the island than Oia) is really beautiful if you are willing to wake up for the show.
try snorkeling… on your own. Santorini is not the greatest place for snorkeling (as there are not so many species of fish in the sea), but that shouldn't stop you from getting some snorkeling gear and try to spot some fish near the large cliff at the end of the beach.
# Hiking to Panagia Katefiani chapel in Perissa, Santorini
While in Perissa, look up.
You will see a majestic cliff and a sparkling white dot which seems to reign over the village. This is the Panagia Katefiani chapel and you can easily reach it by going on a short, yet memorable hike. Strangely enough, not many people that stay in Perissa venture in this 30 minute-long hike up the mountain. Which is too bad, because the views from the chapel are spectacular. From Panagia Katefiani, you can turn back to the main pathway that leads further up to Ancient Thira.
If you start from your journey from the church or from your hotel, simply go up and follow the path leading out from the village. At one point, you will reach a sign with the trail leading up to Ancient Thira. When I went, the wind was too strong, so my steps led me to the chapel instead.
Whether you decide to do the entire hike or stop at the chapel, it will be well worth the journey. Highly recommended in early morning or late evening to catch the warmth of the setting sun. Even though the hike is short, be sure to take some water and sunscreen along, especially if you are going in July or August.
# Pros and Cons of Staying in Perissa, Santorini, as a base
Perissa has a long and beautiful black sand beach, like no other on the island
The village is less expensive than many other places in Santorini
As you walk along the beach, there are plenty of restaurants and fish taverns to choose from, as well as places where you can get a good Souvlaki pita or a slice of pizza
Great for families, perfect warm waters during the summer, lovely swimming
A good base for easy hikes
A good base for public transportation. There are a total of 3 bus stations in Perissa, and they connect to the rest of the island. However, the buses are not always reliable, so make sure you put aside some time for that.
Perissa is located about 40 minutes walking from Emporio, which is better served by supermarkets, restaurants and so on.
On the downside, the village is a bit far from (40 minutes away by bus) from Fira, where most of the action takes place, especially off-season
Perissa doesn't oversee the caldera, which is the most scenic part of the island, meaning it can get a bit monotonous in a few days  if you don't move around
# Is Perissa a Good Base for Your Stay in Santorini?
Perissa is definitely a good base for your stay in Santorini, especially if you plan a longer stay during the summer months and want to enjoy some amazing swimming. Perissa is also perfect for bohemian evenings on the beach and genuine fish tavernas. Also, consider Perissa for a longer stay if you are willing to move outside of the village a lot by either car or bus.