As you start going south from Reykjavik, the small Icelandic town of Hveragerði should be your first stop. Aside from the famous greenhouses where even bananas are grown (!), the place is know for its high geothermal activity.
Probably the most striking "feature" of this hidden gem is the river that crosses the village. It is called "Varmá", and as its name suggests, it is very, very warm.
#How to get here
Getting here requires a one-hour hike through green-moss valleys and various-sized geysers. The path should be signalized, if not by actual signs, then by the flocks of travelers heading in the same direction. A map from the gas station or tourist office should be of great help.
The hike is a feast for the eyes, especially if you haven't seen this phenomena before. In between all the steam, you are likely to spot the lovely Icelandic sheep, not so tourist friendly, but charming nonetheless.
We also encountered small boiling lakes on the pathway to the hot river, that some tourists were getting dangerously close to. All this area is part of the Hengill central volcano, which is why all these nature spectacles occur. It goes without saying that one should be careful when approaching the geysers.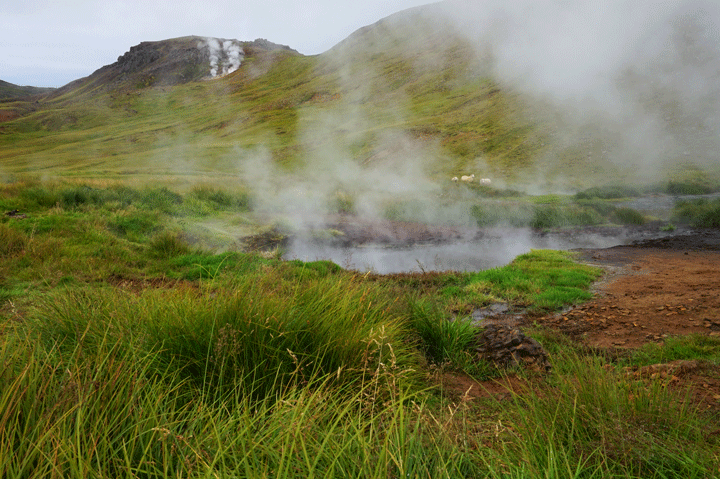 The river is a once-in-a-lifetime sight, but wait till you bathe in it! Its waters are fine any time of year (even though trying them out during the midnight sun is best). The hot river of Hveragerði must have about 40°C, or at least this was our feeling. In any case, you can not be inside more than 5 minutes, you will need to have a break and "cool off" before entering its waters again.
Some people call this place "the pot of gold", well worth the 1-hour hike to get there. From the few months we were in Iceland, the memory of this hot river prevails still and it's possibly one of the nicest experiences we've had in this country-of-trolls. We highly recommend it!
#What to bring along
Logistically, you will need some good shoes (the hills are partially steep), a towel and a swim suit. There are no changing booths, just some panels that you can hide behind and… improvise. Weather is unpredictable in Iceland even during short hikes, so waterproof clothing is also a wise choice.
#Where to stay
Accommodation in Iceland is very… special as well. Forget about low cost options, unless you are willing to bring a wind/water resistant tent and very good sleeping bags. Otherwise, Hot Springs Hostel is probably a good choice. You can also go here for more accommodation options in Hveragerði.