The Mountain Torq Via Ferrata is located at 3,776 meters above sea level and has been certified by Guinness World Records as the world's highest "via ferrata" (Italian for "road with iron").  It is positioned near to the summit of Mount Kinabalu (4,095 m), the highest point on the island of Borneo in East Malaysia which is protected as Kinabalu National Park, a World Heritage Site.
[adsenseyu2]
The Torq via ferrata was designed and established in 2007 by experienced mountain climbers from a local mountaineering company. To understand what Mountain Torq means, we have found the description of "via ferrata" on wikipedia which says that it is "a mountain route which is equipped with fixed cables, stemples, ladders, and bridges. The use of these allows otherwise isolated routes to be joined to create longer routes which are accessible to people with a wide range of climbing abilities. Walkers and climbers can follow vie ferrate without needing to use their own ropes and belays, and without the risks associated with unprotected scrambling and climbing." Actually, this via ferrata has two routes, each with its own charcteristics:
– Low's Peak Circuit reaches at 3,776 m and it's designed for adventure seekers with climbing experience and above-average fitness levels. The 4-6 hours route has a length of 1.2 km and a vertical height traverse of 365m, with one of the world's highest suspension bridge (at 3,600m above sea level).
– Walk the Torq is placed at 3,521 m and it is a much easier route, designed for begginers (with minimum age of 10.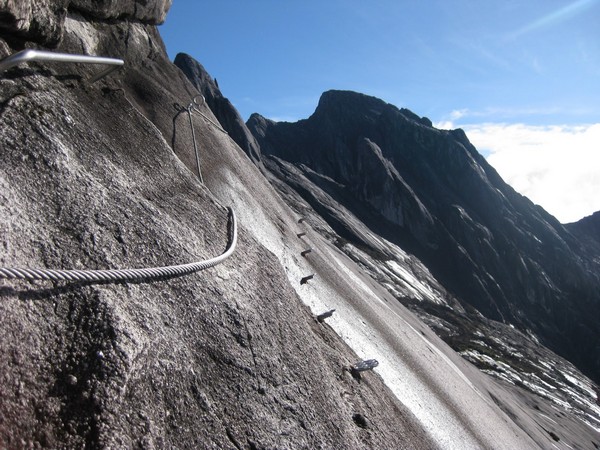 How to get there
You can get to the Kinabalu Park Headquarters which is  a 2-hour (88km) drive away from your hotel in Kota Kinabalu (the capital of Sabah on the island of Borneo, East Malaysia) by bus, taxi or private transportation. To arrive at Mountain Torq's Pendant hut (3,289m) from where the adventure starts, you need to hike up about 6 km through tropical and sub-alpine forests. For more information about booking, lodging or other details that you might want to know, go here.