Contrary to all beliefs, this is not snow, but a fantastic natural landscape called "White Sands", located in New Mexico, USA. White Sands is the world's largest gypsum sand dune field – 275 square miles of fine white sand, spread forming surreal looking white dunes.
Visiting Details:
"A car is pretty much the only way to reach the monument; no public transportation services White Sands. The visitor center is on U.S. Highway 70/82, 15 miles (24.15km) southwest of Alamogordo and 52 miles east of Las Cruces. The monument is open daily, except Christmas Day. Summer hours (Memorial Day through Labor Day): Visitor Center 9:00 AM to 7:00 PM, Dunes Drive 7:00 AM to 9:00 PM. Winter hours: Visitor Center 8:00 AM to 5:00 PM, Dunes Drive 7:00 AM to sunset.
Note that due to missile testing on the adjacent White Sands Missile Range, it is occasionally necessary, for visitor safety, to close the Dunes Drive for periods of up to two hours. U.S. Highway 70/82 between Alamogordo and Las Cruces is also closed during times of missile testing. Visitors on a tight schedule are encouraged to call the day prior to arrival for information on closures.
Entrance fees are $3 per person, valid for seven days. An annual pass may be purchased for $20 which allows free park entrance for one year, or the National Parks and Federal Recreational Lands Pass may be purchased for $80, allowing free entrance to all national park areas for one year.
Full Moon bike rides
The dunes drive is an easy ride for individuals on bike. During full moons the park service offers reservation-only full moon bike rides, during which the drive is opened after-hours to bicycles. A special use fee of $5 is charged.
Stargazing
During the summer and early Fall the park service has Friday Night Star Talks on most Fridays " (information via wikitravel)
Accommodation (including a camping area) can be found in the town of Alamogordo, 15 miles away from White Sands.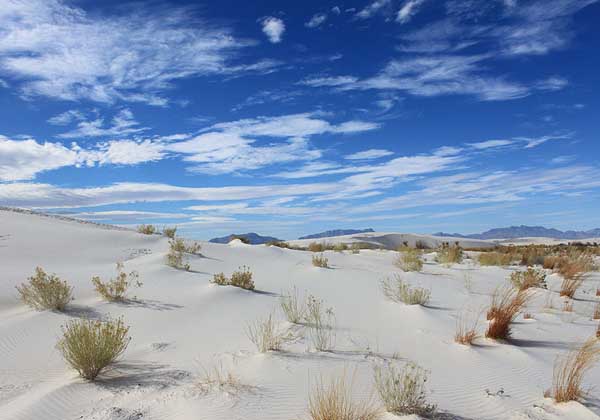 We found this funny and rather childish video on youtube which gives a more realistic impression of White Sands. Check it out.