It's the city where Prince was born and raised. That's surely a good enough reason, if one were needed, to take a trip to Minneapolis. You can even visit the singer-songwriter's private estate and production complex in nearby Chanhassen.
There are many sides to this intriguing city. It lies on the banks of the Mississippi with its creeks and waterfalls. If you like to embrace the outdoor life then you won't be short of things to do in Minneapolis.
#Parks and Lakes
The Minneapolis park system has been referred to as the best-designed, best-financed, and best-maintained in the whole of the USA. It's with good reason. The city's recreation board has not been afraid to be innovative and encourage visitors.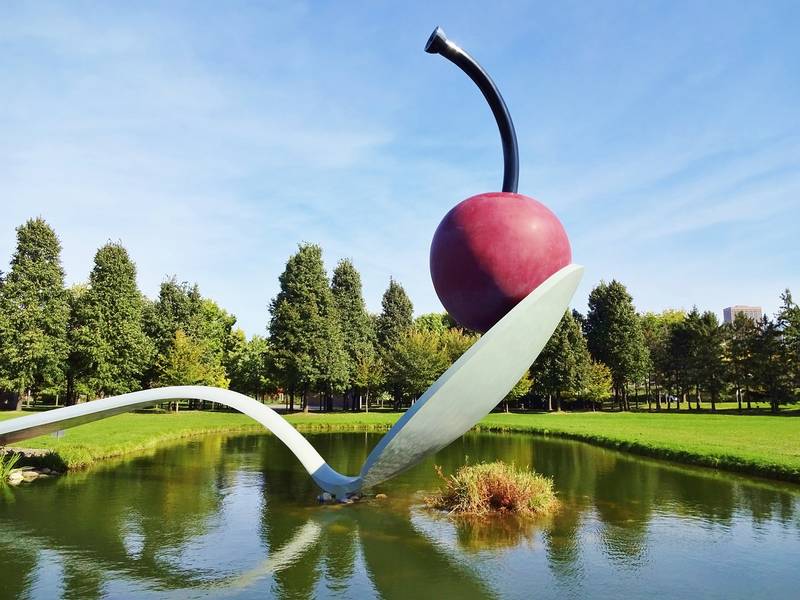 There are several places you can give disc golf a shot. For anyone who doesn't know, this is a flying disc sport. Players throw a disc at a target. The game is played using rules similar to golf. It is often played on a course of nine or eighteen holes. Minnehaha Regional Park offers disc golf. It's also one of the city's oldest parks with a majestic waterfall of more than fifty feet. It attracts almost a million visitors every year. The city's Chain of Lakes is connected by bike, running, and walking paths. The lakes are also used for swimming, fishing, picnics, boating, and ice skating. Some lakes even have beaches.
#The Minneapolis Institute of Art
The Institute of Art in Minneapolis is home to more than ninety thousand works of art spanning more than five thousand years. There are ancient Egyptian artifacts that sit alongside European masterpieces by artists such as Titian and Monet.
Kids are kept can be entertained with a special scavenger hunt organized by the museum.
#The Walker Art Center
Staying with the artistic theme, this center is well worth exploring for a few hours. It's renowned for its collection of modern and contemporary pieces. These include paintings, sculpture, and photographs from both American and European artists. A key attraction here is the adjacent Minneapolis Sculpture Garden. This is one of the largest urban sculpture gardens in America. It houses the famous Spoonbridge and Cherry. This piece has become an iconic symbol for the city.If you want a fabulous view of Minneapolis, take a walk across the nearby Irene Hixon Whitney Footbridge.
#The Mill City Museum
Minneapolis is a great fit for those who love the outdoors. But the sun doesn't shine all the time. Learn about the industrious past of Minneapolis by spending some time at the Mill City Museum. It's housed in what was the biggest flour mill in the world. The museum has recreated the past for an authentic mill experience. The building has its own baking lab for cooking demonstrations. You can also find a farmers market here located in the museum's train shed.
#Markets and other shopping venues
For a unique shopping experience, head to the Midtown Global Market. Here you'll find more than fifty vendors. They sell food that ranges from local produce to Somalian Pastries, Middle Eastern olives, and Asian spices.
For some retail therapy, head for the Mall of America. It's the country's largest shopping mall with more than five hundred stores. These make up two and a half million square feet of retail space. You really can shop till you drop here. This mall also has some family-friendly attractions. These include the Nickelodeon Universe amusement park and the Sea Life Minnesota Aquarium. Ready for some action? Head to the mall at Ridgedale, a smaller cousin of the Mall of America. Here, you can try out Breakout Games. These happen in themed escape rooms which have become something of a global craze. They're great for having fun with your friends or coworkers.
#The Weisman Art Museum
This intriguing building was designed by the great avant-garde architect Frank Gehry. It's home to some of America's most renowned contemporary artwork. You'll find pieces by artists such as Georgia O'Keeffe and Roy Lichtenstein. The museum also hosts touring exhibits. The building has a unique facade and boasts a scenic setting on the banks of the Mississippi River.
#Minnesota Zoo
This is just thirty minutes drive south of downtown Minneapolis and located in the suburb of Apple Valley. It's a complex of almost five hundred acres where five thousand animals have their homes. You'll be able to see everything from camels to flamingos. If you want to learn more about the animals native to Minnesota, then fit in a visit to the Medtronic Minnesota Trail exhibit. This includes wolverines, coyotes and the American black bear. You'll also find lots of exotic
species in the zoo's Discovery Bay. There's even a two hundred thousand gallon Shark Reef exhibit. There can be a lot of walking on this trip if you want to make the most of it. It's always wise to wear comfortable shoes.
#Fort Snelling
This is the place where history comes alive. A visit to Fort Snelling can feel like you're stepping back in time. It was established as a frontier outpost in the early 19th century. It's the oldest structure in Minnesota. It nestles where the Mississippi and Minnesota rivers meet. Fort Snelling acts as a living history museum, complete with costumed tour guides.
There are exhibits which offer information about the site's history. There are also activity centers dotted across the site to help visitors learn more. In the summer, the fort hosts lots of historically-themed events.
#Stone Arch Bridge
This is a must-see for those with an interest in architecture. This granite and limestone bridge features twenty-three arches and was constructed in 1883. It played a vital role in the city's development by increasing the flow of people and goods in and out of the city, You can walk or ride a bike between Father Hennepin Bluff Park on the east bank of the river and Mill Ruins Park on the west bank. The bridge offers impressive views of downtown Minneapolis, especially at sunset.
There Are Plenty of Things to Do in Minneapolis. This wonderful city is made for those who enjoy the outdoors. It's packed with lakes and parks. The fun doesn't end there because there are lots of cultural centers too. For more suggestions about interesting things to do in Minneapolis, please visit our comments section below.