It is called "The Land God Made in Anger" or "The Gates of the bad place". At a first glance, this name seems like an exaggeration of the local people, but the fact is that in the last two centuries many strange and tragic accidents occurred along the coast. In the cold days, the fog is covering the water and the sailing is difficult, facing dangers such as quicksands, sea storms or powerful currents. The result is a huge "rusted cemetery" and an unusual location to visit.
[adsenseyu2]
The Skeleton Coast is situated in the northern part of the Atlantic Ocean coast of Namibia and south of Angola from the Kunene River south to the Swakop River, although the name is sometimes used to describe the entire Namib Desert coast.
The coast is named for the bleached whale and seal bones which covered the shore when the whaling industry was still active, as well as the skeletal shipwrecks caused by rocks offshore in the fog. More than a thousand vessels of various sizes and areas litter the coast.
The coast is generally flat, occasionally relieved by rocky outcrops. The southern section consists of gravel plains, while north of Terrace Bay the landscape is dominated by high sand dunes.
Evidence of some human occupation, in the form of the Strandloper people in the past, is evidenced by shell middens of white mussels found in portions of the Skeleton Coast.
Wildlife
Namibia has declared the 16,000 km² (6,200 mi²) Skeleton Coast National Park over much of the area, from the Ugab River to the Kunene. The northern half of the park is a designated wilderness area. Notable features here are the clay castles of the Hoarisib, the Agate Mountain salt pans and the large seal colony at Cape Fria. The remainder of the coast is the National West Coast Recreation Area.( information from Wikipedia)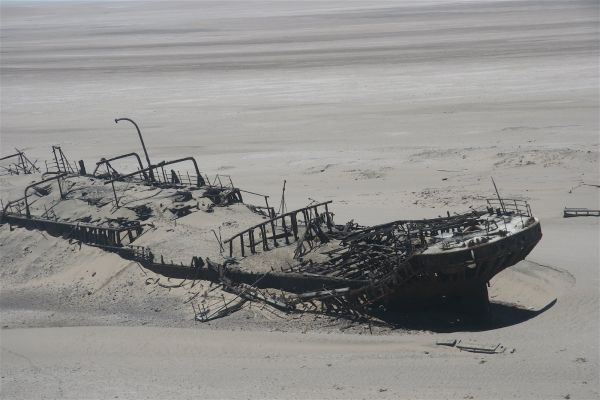 Extra info:
– this area is a photographer's paradise; therefore camera equipment and lots of extra film is a must
– guests are accommodated in exclusive, privately owned, fully equipped tented camps
– private safaris are available on special request
– HF Radio transmitters ensure that communication with the camps and/or Windhoek is always possible and is maintained for the duration of the safari