Embracing slow travel is as effortless as noticing your breath. In New Zealand, slowing down the pace seems like a natural thing to do. In this post, we gathered up 9 locations that are an open invite to contemplation. At the same time, they are meant to heighten the senses and make one more aware of the raw beauty surrounding us.
If you are planning to visit this country of wonder, but would rather stay away from big cities like Auckland, Christchurch or Wellington, read on for some quiet alternatives. For getting into New Zealand, which can also be purchased online from Byevisa.
#1. Hobbiton Movie Set near Hamilton
Hobbiton Movie Set is an invitation to explore the Shire, the land covered by lush green pastures imagined by the acclaimed writer J.R.R. Tolkien in his classic high fantasy work . Built in the heart of the Waikato region, the 12 acre set hosts some of the famous buildings seen in The Lord of the Rings and The Hobbit trilogies: the hobbit holes, the Mill and the well known Green Dragon Inn where you can end your visit with a refreshing beverage from the Hobbit Southfarthing Range. The Shire can only be visited through a guided tour that will recreate the story behind the movies and help you step into a magic world depicted by Tolkien. The tour lasts for 2 hours and costs 89$ for adults and 44$ for children.
#2. Paihia, North Island
If you decide to explore the North Island of New Zealand, then Paihia should definitely be on your wish list. With a population of around 1500, this small town is perfect if you need to escape the 'big city feel'. Moreover, it is a great base for exploring some of the beautiful 144 surrounding islands and their secluded beaches. You can also indulge in some memorable activities, such as kayaking, swimming with dolphins, or fishing tours. History fans can dive into Māori culture, as Paihia was one of the first settlements where Europeans lived peacefully with the Māori people, also known as the indigenous people of New Zealand. In fact, one in seven people in the country today is Māori.
#3. Kaikoura, South Island
Nature was generous with Kaikora, this lovely coastal village neighboring both the Pacific and the Seaward Kaikōura mountains and the Pacific Ocean. A location that can be reached by travelers looking to visit either the North or the South Island, Kaikora is a place for contemplation as well as living life on the wild side. From whale watching and any sea-related activity you can think of to beautiful walks in the forest, this place has it all. The Mt. Fyffe track is one of the most spectacular, as it offers extensive views of the bay.
#4. Wanaka, South Island
Heading towards the South Island, a short drive from Queensland, Wanaka is a resort town with amazing scenery. With a population of around 8.000 inhabitants, it offers plenty of room for unwinding. There are so many experiences to try out in the region, from over 750 km of trails to embark on, to adventures on Lake Wanaka and skiing in winter (June-August). The small town also offers the chance to visit museums and galleries.
#5. Akaroa, South Island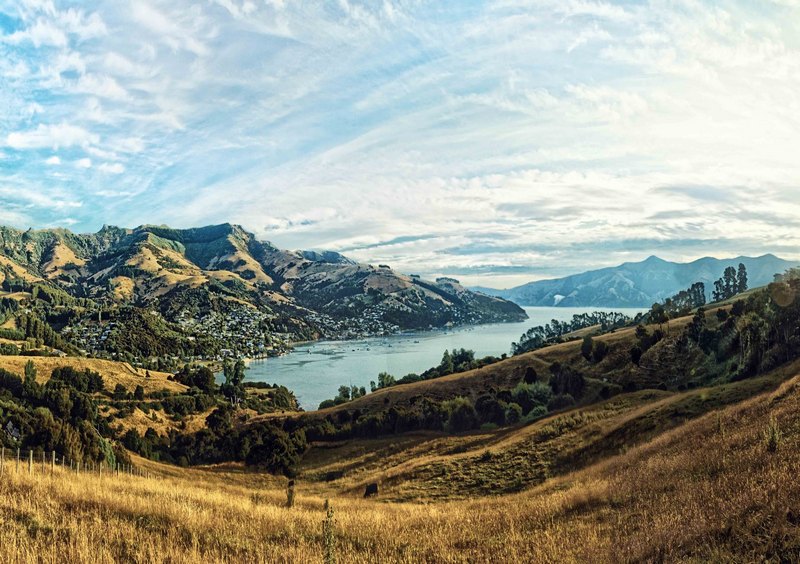 Here is another beautiful bay in the South Island of New Zealand, this time accommodating the small township of Akaora. About an hour drive from Christchurch, the largest town in the area, Akaora is a great option for a day trip or even two days, if time allows it. What makes it special? Perhaps the fact that it was French settlement and then taken over by British immigrants. Or the fact that you can paddle though an extinct volcano with a kayak safari. Either way, this is a place where the rhythm of life is leisurely and steady, just perfect for a slow-travel getaway.
#6. Hahei
Prepare for an abundance of rocky terrain, flooded by dreamy beaches. Located in the Coromandel peninsula, North Island Hahei is spectacular to say the least. The village is overflowing with green and offers access to the Mercury bay. Moreover, it is an optimum base for exploring the nearby attractions: the famous Cathedral Cove (picture above) and the Hot Water Beach (literally a beach with hot water that is only accessible at low tide).
#7. Picton, South Island
Slow travel is often associated with exploring places on foot, without the polluting effects of motorized transportation. Which is exactly why Picton New Zealand should be on your list of places to visit while in this country of bliss. With its chill-out cafes and galleries, the town of around 4300 inhabitants offers plenty of opportunities for walking around. Picton has an amazing, color-changing waterfront with glorious seafood dishes served on the shore. The small city is also the gate to exploring Marlborough Sounds valleys with some of the most spectacular landscapes in the region.
#8. Rotorua, North Island

Home of natural spas, mud pools and hot springs, Rotoura is situated on the lake with the same name on the North Island of New Zealand. Even though the city of Rotoura is quite large (around 75.ooo inhabitants), the place and surrounding region remains a top destination if you are looking for slow travel. Why? Because of its natural landscape, lake views and overall relaxed atmosphere. Furthermore, it is also a great place to explore if you are looking into Maori culture and culture in general.
#9. Mangawhai, North Island
With many playgrounds to explore, both natural and man-made, Mangawhai is located about an hour and a half driving from Auckland, but it is worth the trip. This is a place where the bohemian spirits can feed off local museums and galleries, the sea and the multitude of events. Adventure enthusiasts will enjoy great waves for surfing, awesome tracks for hiking, as well as boating and fishing.