Maho Beach is situated on the Dutch side of the Sint Maarten island in the Caribbean Sea, one of the four constituent countries of the Kingdom of the Netherlands.
The location is famous worldwide because of the Princess Juliana International Airport which is situated right next to the beach. Due to the airport's relatively short length (2,180 meters), the incoming air traffic has to touch down as close as possible to the beginning of runway 10. This special landing measure makes the aircraft (including large passenger airliners such as the Boeing 747)  fly very low in its final approach to the beach.
Photo by Jean Louise
Because Maho Beach is such a popular destination for plane spotters, the bars and restaurants came with the idea to display the daily arrivals and departures on a board. Moreover, the tourists can listen to live transmissions between pilots and the airport's control tower from a speaker on a deck. Although it seems like a fun experience, such "encounters" could generate dangerous situations due to aircraft jet blast. In this case, staying at a significant distance from the plane area, in order to avoid injuries or other unexpected situations is recommended.
You will find more information about Maho Beach here.
Photo by Chalabala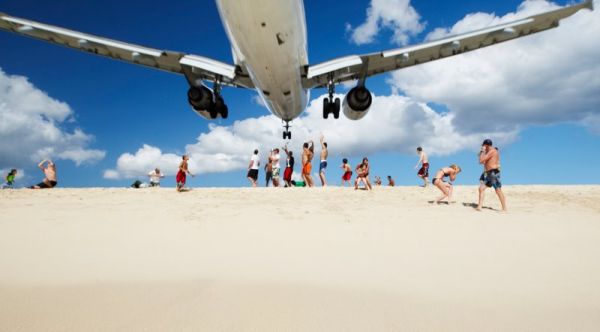 Photo by Chalabala
Photo by Thomas Prior
Photo by Zaninger Jonathan
Photo by Kent Miller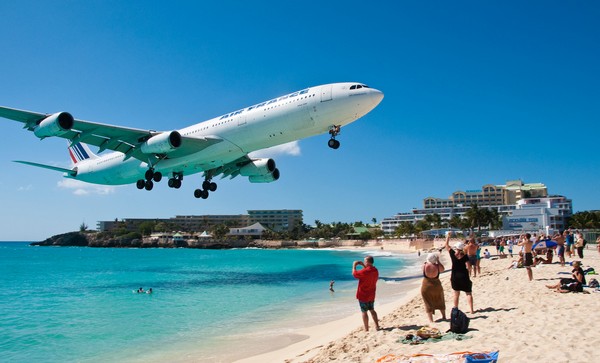 Photo by Arian Durst
Photo by Mikhail Gobichev
Photo by Thomas Prior
Photo by Thomas Prior
Pictures via 1, 2, , 3, 4, 5, 6, 7, 8, 9, 10, 11, 12, 13, 14, 15