While Dubai is a stopover city amidst the Emirates for travelers, it is also place of unique architecture, development, and a special combination of the 'old' and the 'new'. It is also on the path of becoming one of the smartest cities in the world, with new buildings including the Dubai rotating skyscraper, making names for the city worldwide. Here are 10 places to visit in Dubai for first-timers:
#Burj Khalifa and Observation Deck

Burj Khalifa is the tallest building in the world standing at 829-metres high. For 100 AED (that is the equivalent of approximately USD28), you can visit the 128th floor for panoramic views of city and desert from Burj Khalifa. There is also the option to pay 500 AED (USD 136) for views from the 148th floor.
#Dubai Miracle Garden
The Dubai Miracle Garden is 72,000 square meters and home to over 109 million types of flowers and plants. For an entrance price set at 40 AED (USD 11 ), you can have a relaxing escape from the city hustle. Main attractions of the largest garden in the world include Disney Avenue, the giant Floral Clock and the Floral Castle. The oasis is open every year from mid-November to mid-May.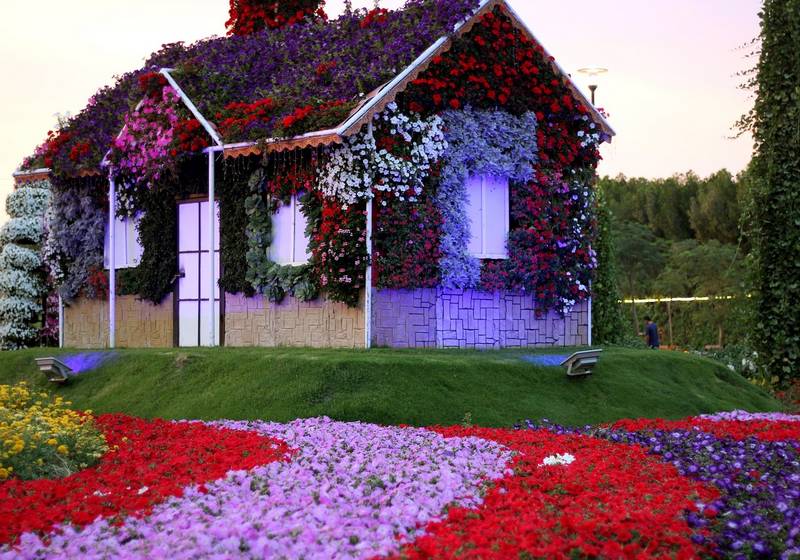 #Old Dubai
Old Dubai is an untouched part of Dubai with markets, traditional restaurants, an art district, and winding alleyways. To experience the 'old' of the 'old and new' of Dubai, this place is a must-visit.
You can travel above water with boats called 'abras' which leave every ten minutes. The cost for a ride is around 27 cents. The local markets are extremely colorful and worth a trip, however the shop owners are extremely persistent. Be sure to check out the Dubai museum, where you can have a look at two of the typical primitive housing in the region, named Al Kaimah and Al Arish. The entrance is only about USD 1.50. It is here that you can witness glimpses of old life in the region. And did you know that Dubai is a very young city? Its history only goes back to 1930.
 #Global Village
Global Village is a leisure and entertainment center filled with shops, restaurants and live performances in between. For 15 AEF (USD 4) access is granted to a series of live performances, some of which could turn out to be memorable.
#Kite Beach
Kite Beach is a popular spot for kite surfing and water sports. If you want to try one out or simply just watch and relax on the beach, Kite Beach is a great place to spend some relaxing time.
#The Desert
As soon as the city of Dubai ends, you are met by endless desert. And for first-time travellers, it is certainly worth a visit. You can go on a safari, go quad biking or join one of the other many tours.
 #Dubai Creek
Dubai Creek is a saltwater lake that separates the north and the south of the city. Walk along the Deira side towards the sea end in order to be surrounded by fishing crafts and an overall genuine atmosphere.
#Dubai Mall
The Dubai Mall is no typical mall. Here you can go shopping for high-end jewellery, visit the aquarium, see the Dubai Fountains, or even withdraw a one-ounce bar of solid gold from a "Gold to Go" ATM.  
 #Ripe Market
Ripe Market is an outdoor market where you can find local goods. It is held in a park so it is a great activity to do where you can enjoy the outdoors and your surroundings.
There is a lot to see within the city of Dubai, and if and when you have time to explore outside the city, a cultural day trip to Abu Dhabi is well worth it.
#Grand Mosque, Abu Dhabi

The Grand Mosque is a sight to see. It is often referred to as one of the most impressive mosques in the world. Located in Abu Dhabi, it is about 90-minutes by car from Dubai and is a half-day trip that is worth it!