Is there still a way to have a dreamy always-to-remember vacation in 2020? Can we still hope to explore and discover new wonderful places, while staying safe?
Well, your long-awaited exotic trip might've been cancelled and your ideal plans ruined, but don't despair, you can still make ends meet. You just have to reconsider your options!
Famous attractions, crowded capitals, and far-away overseas travels are probably not the greatest idea for the upcoming months. Anyhow, as we see it, it is the perfect time to retreat in the comforting yet spectacular depths of nature. 
It is a great time to recharge and reconnect, to appreciate the simple things, and to live simple. In a period of such distress and unpredictability, what can be more soothing than rising your own temporary fortress (aka tent) in a secluded place? Just imagine waking up to the trills of the birds in the morning and breathing in the fresh cold air. Imagine hiking the whole day or relaxing in a camping hammock with a good book, and gathering around a campfire at night. Simply taking life reaaaally slow. Didn't we forget lately how satisfying and fulfilling these simple things can be? 
And the best part is, you don't need to spend a lot, nor to travel far far away to have this kind of experience. Just find a patch of wild nature nearby, pack your things, get your dog, your family, or few close friends and… set off!
We gathered for you a few useful information about how you can step up your usual camping trip, getting in touch with nature, and with your survival skills. Here is our little guide to bushcraft basics!
So what is bushcraft anyway?
First starting as a trend in Australia, bushcraft is a skills-based approach to not just surviving, but thriving in the wilderness. Often, bushcrafters will look towards skills used by aborigines and primitive men before the modern era re-shaped our lives. 
At its core, bushcraft is simply about getting closer to nature. 
Bushcraft basics that will help you thrive in any natural environment
#1 Research about the area
Before you start off any camping trip, this is one of the important steps that you shouldn't skip. 
What are the temperatures there during the day and at night? Is your sleeping bag thick enough so that you will sleep comfortably? Keep in mind that in nature temperatures drop with a few degrees compared to inhabited areas.
What animals live in those areas? Is there a big population of bears, wild boars, or other potentially dangerous animals?
The season also plays a role in this. Camping during winter will make it less probable to meet bears, which are hibernating, but other animals like boars are still very active during cold seasons too. Also, keep in mind that animals are particularly agitated in their mating season.
Even if it is not very usual for wild animals to come close to humans, we suspect you will prefer to avoid by all means encountering one in the wilderness. 
#2 What to pack
The basics.
You will see that the more you practice your bushcraft skills, the lesser tools you will need. You don't want to pack your backpack with tons of small things which "maybe will come in handy" but essentially will just make your bag heavier. Stick to what you know you will use – tent, sleeping bag and a mattress, warm cosy clothes, a waterproof jacket, enough food and cooking recipients, a gas cylinder, a good knife and axe, trash bags, and a lighter or matches to help you start a fire. Here is a detailed infographic that you can use to make sure you won't forget anything essential when packing. When choosing what tent to bring, keep in mind that you should consider the option that's suitable for most people – lightweight and easy to set up. In that regards, give a read to this guide selecting the best pop up tent on the market.
This is all you need in order to be comfortable. If you want to dig deeper into the skills of bushcraft though, you might want to also pack some ropes, hooks, and other nice tools. Check here what other gear experienced woodsmen are using in 2020 and for what.
#3 How to choose a perfect location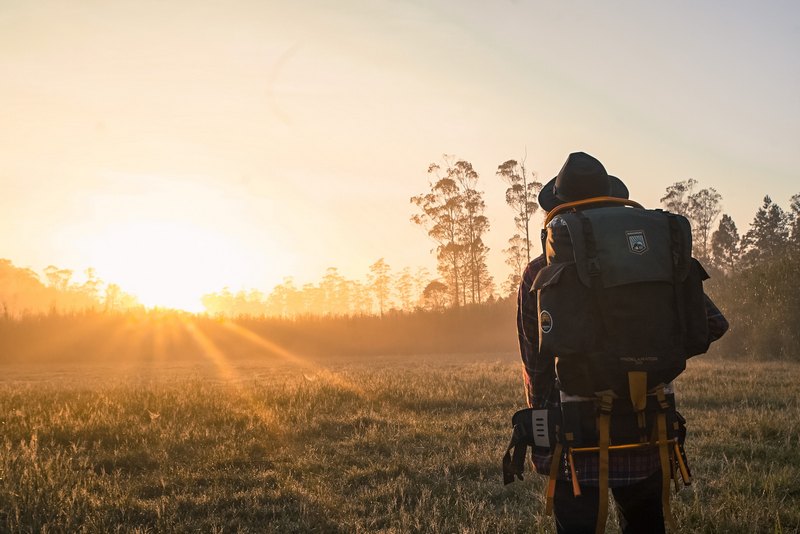 Ok, you researched about the area, you packed your things and you got to your destination. Now, you will need to find the perfect place for setting up your temporary home.
Safety comes first, so make sure that you will be far from any possible hazards like falling rocks. Always look up! Check if there are any dead trees above or large branches that have fallen off but are still hanging loosely. Instead, look for those healthy, solid trees – morning shade is a very welcomed bonus.
Avoid loose ground ledges and placing your camp very close to water. Look for a space that is flat, even, and away from flooding waters. An area with a good vantage point will be ideal for safety, as well as for catching those nice sunsets or sunrises. 
Pro tip: consider the wind direction. If you place the entrance of your camp or shelter opposite the predominant wind you will prevent rain from blowing inside and you will have good ventilation.
#4 What materials to gather
Now that you've decided where to set up camp, it's time to collect some useful materials. 
Materials for building a fire shelter and for starting a fire, for instance. Fallen trees, debris, leaves, twigs, and barks are precious gems both in starting a fire and, if you're up for it, building a shelter. Which leads us to…
#5 Knowing your knots
This is vital if you are about to take it one step further and build your own shelter. Check this nicely done tutorial on what knots to use and how to make them. Oh and, lashing is also important here. By this, we mean how you link and rigidly secure items together, by using ropes and linking devices.
#6 How to Make a Fire and a Fire Shelter
Survival expert or not, we need not elaborate on how essential fire is for survival. It provides clean water, food, warmth, defence from wild animals, and so much more. With no doubt, the most important outdoor skill is fire-lighting. Start there. Learn the basics and build on them. 
Don't get discouraged if you're having a hard time in the beginning. Building a fire can be tough even for survival experts. Keeping it going, especially in the rain, is even more challenging. 
Pro tip: To avoid the frustration of seeing your fire being put off by rain learn how to build a fire shelter. This will be very helpful especially in areas where precipitation is highly likely and will save you from lots of hassle.
Bottomline
Bushcraft is not all about surviving in the wilderness. It teaches you so much more than that. Not only about nature and the environment, but also about yourself, about your strengths and weaknesses. Staying far from all our modern amenities on purpose and choosing to slow down instead, going back to our "primitive" skills, is not an easy job to do, but it is oh, so liberating!
The best part is that anyone can learn and enjoy the art of bushcraft, no matter the age. That is why it can be such a great family activity. 
Plus, the connection you feel in nature is hard to compare with anything that modern life has to offer. It's a very fulfilling satisfaction you get – both mentally and physically – when you use simple skills to create your environment in nature. 
But this is something you have to experience yourself to understand fully.
Have you done any bushcraft before? How was it? We would love to hear about your experiences.