Brousse-le-Château is a picturesque French county located in the Aveyron region, South-West of France. Some people like to refer to this medieval settlement as the most beautiful village in France.
With a rich and well preserved history, Brousse-le-Château is a place for exploring traditions and architecture of past centuries. At the same time, it offers a nature haven for the fatigued-no-matter-how-restless traveler.
And where else would nature find a better place to feel at home than in this amazing village flanked by two rivers (Tarn and Alrance) ?
Dominated by a castle which dates back to the 13th century, the landscapes in this area are medievally-charming, featuring homes that preserve their ancient architecture, rocky paths and beautiful mountains.
The village of today heir to a rich past of significant events. Its standing houses portray the region's architecture and its environment is a reminder of a way of life  organized around terraced agriculture and itinerant trade that was once intense in the Tarn valley.
Things to See and Do in Brousse-le-Château
The village can be accessed through Rodez, Millau and Albi, three beautiful cities with a well preserved architecture, each located about 50 kilometres away. Here are some of the main things you can do in Brousse le Chateau, France:
1. Take a Walk in Jardin de la Colombie
Open from April to June, this serene botanical garden offers a chance to get to know much of the local flora and to enjoy a pleasant walk in nature. The garden is well organized and offers plenty of explanatory panels. A small pathway will lead you to a belvedere point, where you can see the castle and a large part of the village. The entrance fee is 4 Euros (year 2022).
2. Visit Château de Brousse
The Castle that names the village is open for travellers, with visiting hours varying depending on the season. Entrance fee is 6 Euros/adult and includes "a journey through time, from Medieval Ages to the Renaissance", from varied architectural buildings to its lovely landscape garden, temporary exhibitions of paintings and photos and even a stature-menhir sculpted at the end of the Neolithic period.
3. Visit the Potterie Terre en Feu
The 'Earth on Fire Pottery'  in the superb village of Brousse-le-Château is a creative workshop which exhibits utilitarian or decorative stoneware pieces.
4. Take a Photo of t

he Old Brousse-le-Château Bridge
This old rocky bridge is one of the most picturesque images of the village. Its architecture is of Roman inspiration.
5. See the village from a vantage point: The Church of St. Cyrice
The Church of St Cyrice offers a magnificent panoramic view of the Tarn. In the village you can also visit the 15th century Church of St Jacques the Major.

6. Enjoy the

Brousse-le-Chateau summer market
Every Tuesday morning during summer, starting with the 5th of July,  local producers gather up to sell tasty treets. You can continue your day with a combination of walking through the intimate cobbled streets of the village and tasting delicious local cheese in the meantime.

7. Catch some Fish
The surroundings of Brousse-le-Chateau offer the chance for fishing and there are several courses available that you can enlist in.
8. Go Biking the Circuit of Saint Izaire
There is a lovely bike circuit that you can start in Saint Izaire, a commune located close to Brousse-le-Chateau.  It is here that you can also visit Château de Saint-Izaire, a fort dating back to the XIV century.
Take you bike and head towards Faveyrolles then turn right to enjoy a beautiful view overlooking the village. Pass in front of the abandoned farm of Graudenc then cross an undergrowth. Now descend towards the Gos valley. On the way, admire magnificent panoramas over the Dourdou valley to the east and the Tarn valley to the north.Than follow the path back to Saint-Izaire.
9. Enjoy the Hiking Paths along  the Tarn Valley
There are some lovely walks you can take along the Tarn Valley. And there are also hiking trails available; you can gather some info before hand at the information office in Brousse-le-Chateau.
10. Brousse-le-Chateau, a good base for Nearby Attractions
The village is close to some of the most beautiful village in the French department of Aveyron. From Brousse-le-Chateau, you can easily visit the regional natural parks of Aubrac or Grands Causses, and the architecturally impressive cities of Albi and Rodez.
Where to Sleep in Brousse-le-Chateau
There are many accommodation options available in Brousse-le-Chateau and its nearby surroundings, ranging from hotel rooms to campings, trailer parks and sphere, bubble-type accommodation.
The Eco-tourist hotel Somn'en Bulle in Najac and the campsite Etang du Camp offer unusual accommodation in either bubbles or safari tents.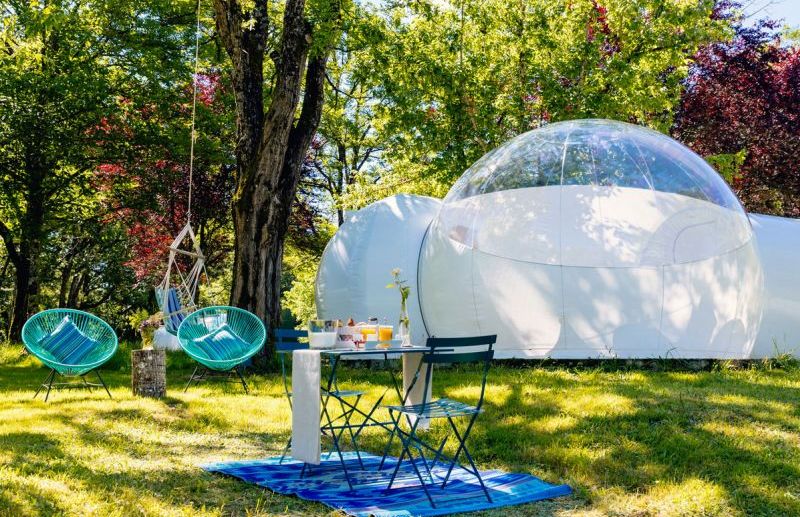 What to Eat in Brousse-le-Chateau
Some of the regions' specialties include the Roquefort cheese (bare in mind you can also visit the Roquefort caves, which are located not far from the village), the farçous, which are small pancakes ideal to take away for a picnic (you will find them on the markets of Aveyron, including the summer market in Brousse-le-Chateau), or the delicious cheese soup. There are also a variety of delicious cakes and desserts on display in the region's village shops, be sure to try out le gâteau à la broche, which is France's rotissory cake, mould over an open fire.
Brousse-le-Chateau is perfect as a day trip from any of the neighboring larger cities, but it's also lovely to stick around for up to a week or more, if you enjoy slow travel. The tiny village is a great spot for hiking, fishing, biking and some quality relaxation in between, all tucked up in the heart of Southern France.