Aside from being an intense cultural experience, visiting Turkey can also become synonymous with ultimate relaxation. After doing some research, we compelled five beautiful places to see in Turkey, if that travel impulse ever takes you there.
#1. Butterfly Valley 
Located in southwestern Turkey, Butterfly Valley (in Turkish it is called Kelebekler Vadisi) is a picturesque canyon which reveals its massive 350 m walls down from the blue waters of the Aegean Sea and serves as a natural habitat for many butterfly species. The closest town is Ölüdeniz (about 15 km north) from where you can take a boat to get on the shore. If you are a mountain passionate, you can choose a more adventurous route by following the Lycian Way, a 540 km long path that passes above the Butterfly Valley in its way to the other side of Turkey. The most interesting fact about this canyon is that it became an attractive hideout in the 1990s, when some hippies decided to find an alternative to the Blue Lagoon in Ölüdeniz which lost its charm due to mass tourism. There is also a little village in the valley where you can sleep in wooden huts and meet the local hospitality.
 #2. Dalyan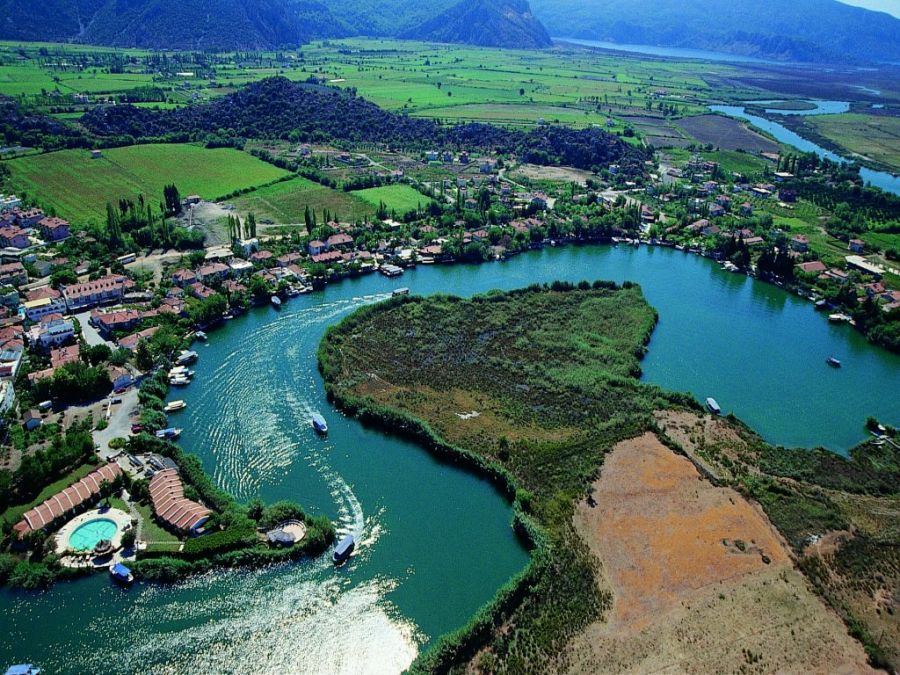 Dalyan is a town in Ortaca District, Muğla Province, on Turkey's south-western corner. It is about 20 km inland, while other large resorts such as  Ölüdeniz or Marmaris are on the coast. The Dalyan River flows across the length of the town and it represents the main way of transport for the locals, mainly because it connects the town with the Mediterranean Sea. It is also a link between the remote Dalyan and other tourist attractions in the area such as the Lycian ancient tombs and Iztuzu Beach. With  its 4,5 km long sands, we must say that Iztuzu Beach is considered one of the most beautiful beaches on the Mediterranean Coast, being declared by several international magazines as best open space or best beach destination in Europe. Here you can find the loggerhead turtles that build their nests on the beach, so the area is declared protected and strict regulations have been imposed.
#3. Marmaris
Marmaris is a port town and main tourist destination on the Mediterranean coast, in Muğla Province. Considered one of the oldest settlements on the actual Turkish Riviera, its name means "marble" in Turkish language. Although it had an intensive development during the last decades, Marmaris kept its old fishing village appearance. Early in the morning, witness white little boats that start their everyday sail and fishermen silently swirling their nets. Beside the fishing tradition, Marmaris has two major and several marinas and is well known for its yachting and diving activities.
#4. Cappadocia
For anyone in love with tradition in its purest, organic form, Capadoccia is a place likely to leave a mark. Hidden labyrinths and lunar landscapes are just two of the features that could describe the unworldly Cappadocia, a region located in the heart of Turkey, "hiding" centuries of unwritten history. 320 kilometers away from Ankara lies this fascinating scenery, created by lava layers deposited over time and consisting of caves, tunnels and underground towns. Do not miss Göreme, a town which dates from the third century when these lands were part of the Roman Empire and when Christianity prevailed. Here can be found an impressive number of churches and chapels in Byzantine style that are well preserved.
#5. Ölüdeniz
Ölüdeniz or Blue Lagoon  is a beach resort in the Fethiye district, where the Aegean and Mediterranean seas emerge. It is one of the most photographed beaches on the Mediterranean Sea and one of the top destinations of the Turkish Riviera, so in the high season it could be pretty crowded. The secluded beach is surrounded by various turquoise and aquamarine water shades, making it a unique experience. An interesting fact is that Ölüdeniz  is located very close to Rhodos Island, so spending a day in Greece while you're here is a great option.