Here is a fascinating example of nature frenzy: prepare to see some of the world's most colorful sand beaches. Red, green, pink, purple and even black are some of the colors featured in this breathtaking display of nature serenity. Enjoy!
GREEN
Papakōlea Beach is also known as the Green Sand Beach or Mahana Beach and it is located near South Point, in the Kaū district of  Hawaii.
It is a beautiful green sand beach, one of the two such beaches in USA. The other green sand beach is named Guam. The reason? Olivine crystals found in the surrounding lands.
RED
Red Sand Beach (also known as Kaihalulu) is located in Maui, Hawaii and is a pocked beach, partially isolated from the ocean. Because this area is rich in iron, the sand has a red-black color which makes a great contrast with the water.
PINK
Harbour Island is located in the district of Bahamas and is famous for its pink beaches (due to the red corals in the waters), spread all through the eastern coast. Known as Briland to the local population, the pink beaches are a very popular tourist attractions for the Americans and not so known in Europe.
BLACK
Punalu'u Beach is located in Hawaii and is also known as the Black Sand Beach. The unusual black sand was created by lava flowing into the ocean. The basalt reaches the surface and forms this beautiful black beach. In case you are interested in visiting the area by car, we found a practical website – Hawaiidrive-o.com – They offer discounted rates on car rentals in Hawaii.
WHITE
Hyams Beach is a village located in New South Wales, Australia and surrounded by three brilliantly white sand beaches. Hyams Beach is present in the Guinness Book of Records as having the beaches with the whitest sand in the world.
A lot of locals who live in Canberra and other neighboring cities recommend taking a day trip to the this beach. It is about a 3 hour drive from Canberra, a ride that goes through Morton National Park.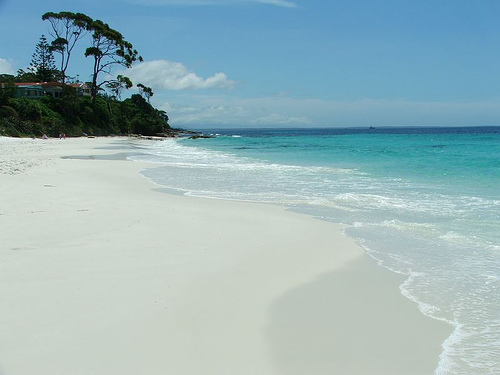 ORANGE
Ramla Bay is an orange sand beach located in the island of Gozo, Malta. It is a very interesting area, with a soft reddish sand and many ancient Roman objects.
PURPLE
Pfeiffer Beach is located in California, USA and is said to be hard to find, but worth the while.Its sands have a violet color, which makes the beach a very attractive tourist destination.
BROWN
Rockaway Beach is locate a few miles away from San Francisco, in southern Pacifica, California. Its sands have a beatiful brown color which some people resemble with that of chocolate.