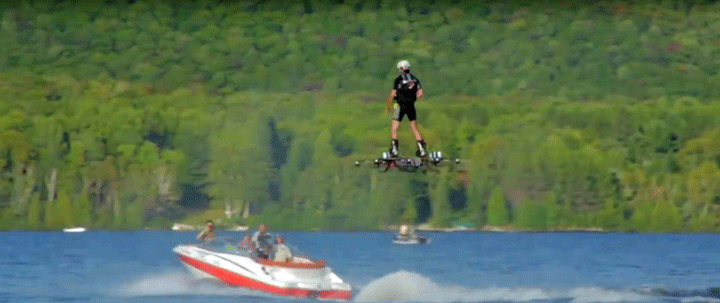 Canadian
Catalin Alexandru Duru
officially broke the
Guiness World Record
for the farthest hoverboard flight, marking a revolutionary step in the field of 'transportation devices for the future'.  Have a look at the video below to see Catalin in action:
Speaking of his record breaking achievement, the inventor said:  "I wanted to showcase that a stable flight can be achieved on a hoverboard and a human could stand and control with their feet."Earlier this week, Guinness World Records shared a video of Duru flying 250 metres across Quebec's Lake Ouareau, a flight five times further than the previous record.
A Guinness World Records spokesperson added: "This is a truly mesmerizing and incredible feat in the world of engineering and transportation.  It's always pleasing to see individuals such as Catalin Alexandru Duru achieve a Guinness World   Records titles such as this in which personal endeavor continues to amaze us all."
Catalin Duru and his business partner, Philippe Maalouf, are working together to create a hoverboard prototype that could eventually be sold across Canada.