Milan is a must-visit destination when touring Europe and Italy in particular. Before embarking on your journey, it is a good idea to know what to eat, where to shop and where to go. With the right guide, you will enjoy the best that Milan has to offer in terms of fashion, art, history and food. Here is a brief overview of what you can do in Milan over a 1-week stay.
#What to Eat in Milan: Best Foods
Milan boasts of many restaurants and a wide variety of food to choose from, as it is famous even among Italians as one of the capitals of fine dining. To enjoy delicious food you have to visit Eataly. Here, you will find popular Italian foods to buy and eat in one of the many restaurants there. From chocolate atelier, veggies, fresh fruits and tons of wine and cheese, this is the place to visit. You can also quench your thirst with your favorite wine and exclusive drinks at an affordable price. Getting an "aperitivo" is a must and in many places with 9 to 15 Euros, you can eat and drink as much as your belly can take. In other places, you can indulge in as much finger food as you like because it accompanies the drinks ordered.
#Designer Boutiques

Milan is known as the capital of fashion and design of all times. If you are a shopaholic and have taken a 1 week trip to Milan, we advise you to visit the quadrilateral of fashion. It is composed of 4 streets that include Via Montenapoleone, Via Sant'Andrea, Via Della Spiga and Via Manzoni: here you will find all of the main fashion designers' boutiques. If you are looking to spoil yourself, this is definitely the right place: you can find famous Italian designers from Versace, Gucci and Valentino, you name it. Although, if you're more the budget conscience type, you'll want to look for sales. In stores like these they are quite hard to come by and in Italy, marked down designer clothes is mostly only available in stores called "Outlets".  These stores are usually located far from the city center and can't always easily be reached without a car. A great tip is to check out online stores, such as  Luisaviaroma, that has an impressive selection of Gucci for men, one of the most requested designers at the moment.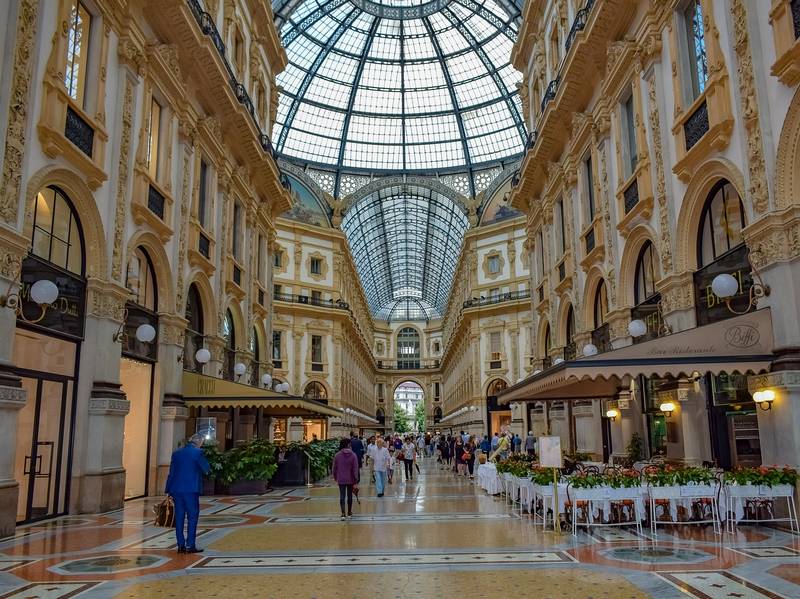 #What to See in Milan
Among the places that you must visit while in Milan is the superb Duomo Cathedral. The marble-faced structure boasts of an out-of-this-world interior design and impressive details. While here, you have to take a perfect shot. From the cathedral, you also need to check out Sforzesco Castle, a structure built in the 15th century, and the adjacent Parco Sempione. Being a museum, you can tour the structure to learn more about its history and admire ancient designs. Visiting its stunning garden is free, but you will have to pay for visiting the expositions that change seasonally. To crown your trip, make sure to go see Da Vinci's Last Supper in Santa Maria delle Grazie.
Getting around the city of Milan is easy because the city is well connected with multiple metro lines and trams. The best way to explore specific sections of Milan is by walking because it allows you to discover more amazing places along the way. Cabs are also a reliable means of transport, especially after nightfall but keep in mind that in Italy only Uber Black is available.