[adsenseyu2]
#Canyonlands National Park
Is located near the city of Moab in the eastern Utah and it covers over 1,366 km2. Canyonlands is divided into three major districts (by the Colorado River and the Green River): the Island in the Sky, the Maze and the Needles. Although the areas share the same tough weather conditions, every district preserves its own characteristics and amazing landscapes.
Whether we are talking about unusual rock formations, rivers powerfully splitting the earth in half, imposing cliffs or wild sights painted by a beautiful sunset, Canyonlands is a lifetime experience.
As you can see in the photos below, the geography of the park is well suited for a number of different recreational options. Hikers, mountain bikers, backpackers and four-wheelers all enjoy checking out the rugged, remote trails. Rafters and kayakers can choose the calm stretches of the Green River and Colorado River above the confluence, in order to explore the area by water.
You will find more about Canyonlands Park's climate, accommodation and other useful information here.
#Capitol Reef National Park
Is situated in south-central Utah, near the city of  Torrey. The park preserves 979 km² and is open for visitors all year long, although May through September are the most popular months, due to great weather conditions.
Capitol Reef is characterized by sandstone formations, ridges, buttes, colorful canyons and a 120 km long rugged spine called Waterpocket Fold, extending from Thousand Lake Mountain to Lake Powell. The park's name comes from a spectacular segment of the Waterpocket Fold near Fremont River, a line of white domes and cliffs which look like the United States Capitol Building.

A scenic area and one of the most intriguing monoliths in the Capitol Reef National Park can be found in the Cathedral Valley. Unique shapes are dominating the desert's loneliness, amazing sandstone monoliths that can be resembled with Gothic cathedrals from Europe. Many of these structures have interesting, highly descriptive names such as the Temple of the Sun, the Temple of the Moon or The Walls of Jericho.
You can experience a variety of thrilling adventures in the Capitol Reef Park, from easy walks and admiring the surroundings to strenuous overnight hikes. There are also biking trails all over the park and most of the are not very difficult, although it is dangerous to go off-road. As a bonus, if you really want to try professional mountain biking, you can take part in one of the local biking competitions.
In regards to accommodation, you can either choose to stay in the nearest town or you can spend the night in one of the camping sites in the area. You will find additional information about the park here.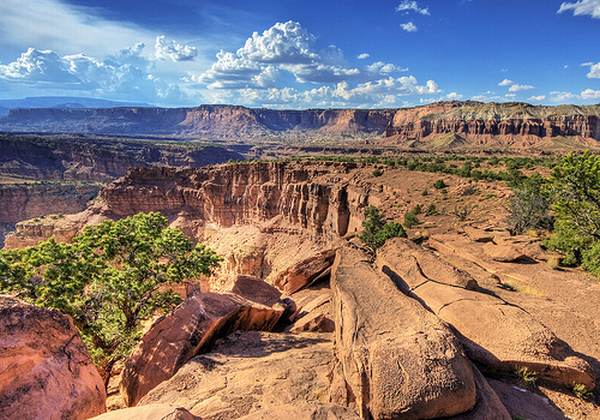 [adsenseyu2]