What if your street became an art gallery? You think that isn't possible? Go to London, Los Angeles, San Francisco or San Diego. If you live there, you already know what we are talking about. If not, you are just about to find out.
First is first! Let us talk a little about street art. This is a common term used to define any kind of visual art created in public places. There are also other  terms used to describe different types of visual art, such as urban art, guerrilla art, post-graffiti or neo-graffiti. Street artists usually send a message to anyone that see their work. Others only try to amuse people. All of them use different techniques (sticker, stencil graffiti, wheat-pasted poster, sculpture, street installation) which in time get to define their style. Here are some interesting street artists and their work of art. Enjoy!
1. Banksy
Although Banksy is the most known street artist, his identity is still unrevealed.  His technique has evolved in time from freehand to stencils. According to Artsy.net, Banksy has gained his notoriety through a range of urban interventions, from modifying street signs and printing his own currency to illegally hanging his own works in institutions such as the Louvre and the Museum of Modern Art.
Banksy's art often engages political themes, satirically critiquing war, capitalism, hypocrisy and greed. Common subjects include rats, apes, policemen, members of the royal family, and children.
2.  Hayli Alyce and Moss Graffiti
Hayli Alyce is a graphic designer, known for creating a project entitled There is Hope for the Hopeless. Let's just say our faith in humanity has been restored after seeing the next images.
Here are her thoughts regarding this project: "I wanted this piece to be big, and exist in the environment for anyone and everyone to see. I wanted to affect people on a deeper level, especially the ones in the community who are depressed, suicidal, or just having a time in life where they need to hear the word hope. Hope is so important in life. Without it, we will crumble".
3. Natalia Rak
Another graphic designer and a great Polish artist, Natalia Rak impressed everyone with her large-scale painting named The Legend of Giants. This mural is part of the "Folk on the Street" art festival in Białystok, Poland, 2013.
4. David Zinn
Ladies and gentlemen, meet Sluggo and his friends! If you want to meet them for real, we`ve heard that they keep popping up on the streets of Ann Arbor, Michigan, US. Advice: pick a sunny day, they are not huge fans of rain (since they are drawn with chalk).
5. OaKoAk
If you think Sluggo is funny, wait until you see OakOak`s street work. This french artist has found a new meaning for the word "fun" and he managed to expose his work of art all over Saint-Etienne.
6. Wang Yue: The art of Tree Painting
Meanwhile in China, someone has decided not to paint on canvas anymore. Why not paint on trees instead? We certainly believe it's a good idea. Wang Yue, a 23 year old art student decided to brighten up the city of Shijiazhuang (capital city of Hebei Province) in an original way. She calls her art "Meitu", a Chinese word for "Picture" or "Beautiful Path"
7. Slinkachu and his "Little People" Project
Considering that we are talking about unusual street artists, we think that Slinkachu must be mentioned. The main feature that makes him different from other street artists is that you will need a magnifying glass to see his art work on the streets. That`s why he takes pictures of them and posts them on his website. If you think you are good enough as a detective, we have a hint for you (in fact three): Amsterdam, Barcelona and Manchester.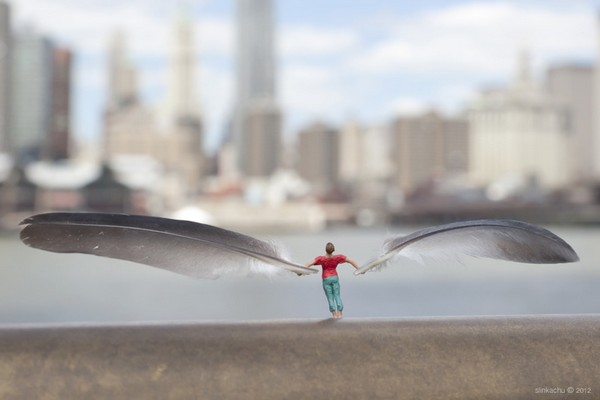 Bonus: Japanese Sewers
Still want proof that you can wake up with works of art under your feet? Checkpoint: Japan. According to Odd Stuff Magazine, common sewers were creatively reinvented, thus converting the streets of some Japanese cities into works of art. Just take a look.