When you're in the land of Oz, the opportunities to be part of the magic are endless. You can be skydiving one minute, then swimming with dolphins the next; it is the land of possibility in every way.
But why should you try scuba diving in Australia? Apart from the fact that it sounds like a pretty rare opportunity, there are plenty of other reasons. For one, Australia is considered the top country to go scuba diving.
And if that's not enough to convince you, here are just a few other reasons scuba diving in Australia is an unmissable opportunity.
Australia offers the Chance to Become a Qualified Scuba Diver
If you're feeling brave enough to try diving in Australia, then you should consider scuba diving courses and getting qualified. This means that after a full qualification course you'll be able to take part in more dives, and you will feel more confident than a first time diver.
You will be fully certified to dive before you even leave Australia, especially if you choose an reputable course provider, like Abyss Scuba Diving.  Depending on the course, you can finish your water training as quick as two days' time  and you'll be able to continue diving for the rest of your life.
Some of our readers have asked a few questions regarding scuba diving in this beautiful country and we will do our best to answer:
At what age can you begin scuba diving in Australia?
The minimum age for a full scuba diving 10 day course certification in Australia is 10.
Is scuba diving in Australia dangerous?
The simple answer is no, scuba diving in Australia is generally safe and extremely rewarding. However, you should take all the precautions needed for scuba diving in general. That is always to scuba dive with a friend, make a plan in advance, double check your gear and so on. You will learn all about the preliminary planning from your instructor as you go through your training.
Unbeatable Scuba Diving Locations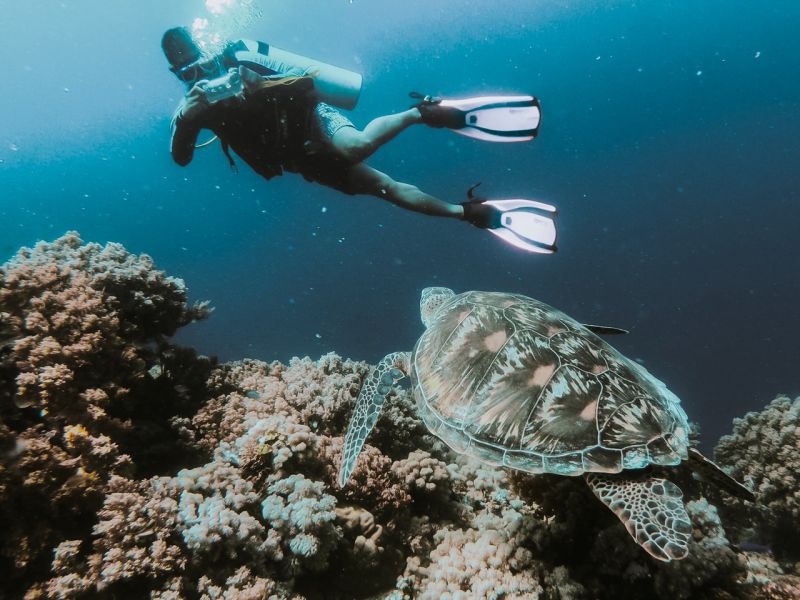 As you might have already guessed, scuba diving in Australia is an exhilarating experience. That is because the country has some of the world's best dive locations, which are home to a wide range of underwater sights. When not diving, the country offers a wide array of natural wonders to explore.
The best time to scuba dive in Australia is October, as there is less chance for rain, it is warm and there is good visibility. However, Australia offers diving conditions all year round, with August to December offering the best visibility.
Whether you're diving the Great Barrier Reef, the Ningaloo Reef, the Coral Sea, or the Rowley Shoals; you'll never be short of options. It's not just the variety of locations that you can choose from either. You'll also be spoilt for choice when it comes to the different types of dive that you can take part in.
For example, you might want to try cave diving, where you can explore an underwater cave system. Or, if you're feeling more adventurous, you could try a drift dive, where you simply let the current carry you along with it. If you're feeling a little more adventurous, why not try diving with sharks?
A Unique Underwater Experience
As we've already mentioned, there are plenty of unique experiences to embark on in Australia. However, it's fair to say that diving is one of the more unusual and memorable one.
Whether you're diving in Australia or anywhere else, you're guaranteed to see something extraordinary. From the moment you jump in the water, you'll be surrounded by a world of activity, which is fascinating, to say the least.
The Great Barrier Reef
The Great Barrier Reef is the world's largest coral reef system. It is located off the coast of Queensland, in the Coral Sea. This incredible structure is home to an amazing variety of marine life. It's also a UNESCO World Heritage Site, too.
The Great Barrier Reef is home to around 1,500 species of fish, 340 types of coral and about 4,000 species of molluscs. It also has a diverse range of different invertebrates, such as whales, dolphins, turtles and marine snakes.
However, you don't even have to be diving in Australia to see the Great Barrier Reef. In recent years, people have had the opportunity to dive in the remnants of the reef, which have been preserved in a tank in Australia's Sea Life Sydney Aquarium.
Diving with Great White Sharks
Diving with great white sharks is a pretty rare opportunity to have. However, you can now do just that if you're visiting Australia.
As you might already know, the great white shark is the largest predatory fish in the world. These iconic creatures can be found throughout the world's oceans, but they are most commonly found in the waters off South Africa and Australia.
Over the years, great white sharks have been responsible for some horrific attacks on humans. However, it's worth noting that there have not been any fatalities for the past 20 years – and that's definitely something worth celebrating.
You can dive with these magnificent creatures at Neptune Islands. This is on the South East coast of Australia and it's where you'll find some of the best diving in the country. Here, you can take a boat out to the Neptune Islands, where you can then jump into the water and start your dive.
With the help of a professional guide, you'll be able to enjoy a dive with one of the most iconic creatures in the world.
To Sum Up
If you're planning a trip to Australia, or you've just moved to the country, why not treat yourself to a scuba diving experience? There are plenty of great diving locations to choose from, which are home to a wide range of marine life. As you can see, there are plenty of reasons to go diving in Australia.