Salar de Uyuni (or Salar de Tunupa) is the largest salt lake in the world, having 10,582 square kilometers (4,086 square meters). It is located in southwest Bolivia, near the Andes and it is a place of breathtaking and unworldly views. The salt here can reach up to 10 meters in thickness. Visiting Salar de Uyuni is a memorable experience and below you have a few information to get your plans on the roll.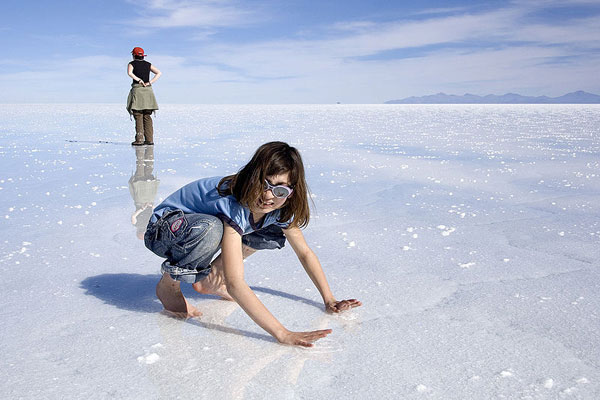 This incredible place is a mixture of stacked layers, as water and salt alternate. This means that if someone were to dig, he would find a lot of surprises along the way. We have an explanation for the amazing images below- which are as real as it gets. There are two seasons with distinct characteristics in Salar de Uyuni. one that is dry, when this landscape looks like an immense plain of salt and one that is wet, when the salt is covered with a sheet of water which doesn't affect driving.
In this stunning surroundings it is hard to see the exact spot where the sky touches its reflected image in the salt lake. In some images it looks like they are one and the same.
When to Visit. Depending on your preferences – you must first decide either you want to see the lake in the dry or wet season- there are tours available from May to November when the water evaporates, but also until the month of May, when the water is at its peak. Tours to Salar de Uyuni are available, most of them having Uyuni- a small town in the middle of nowhere- as a starting location. Getting to Uyuni is possible by plane (there is a small airport here) or by taking a ride from La Paz, Bolivia's capital.
The organized tours usually involve 6 or 7 people and they are conducted in large vehicles (land-cruisers) like in the pictures below. They last three or four days, depending on the wishes of the travelers.  The tourists usually sleep in refugees- avoiding the salt hotels is recommended, as they are illegal and they are said to pollute the area. The world's largest salt flat is also the place for the world's largest lithium reserve (50%-70% of the total quantity of lithium on the planet is extracted from Salar de Uyuni).
Here is some very useful information we found on Wikitravel about what to bring with you in a tour of Salar de Uyuni, Bolivia:

"* Flashlight (torch) – the lights go out when the generator runs dry.
* Coins and small bills – The bathrooms aren't free.
* Sunglasses – the salt planes are blinding.
* Camera and loads of film – There are no better pictures than here.
* Extra Water – The tour usually provides an inadequate supply.
* Sunblock – there is no atmosphere to block this sun's rays up here.
* Sleeping Bag – You can rent one with the tour. Down is best, and check to see that the zipper works.
* Warm Clothes – Layered is best.
* Hot Water Bottle – The nights are freezing & you will be so happy to have it."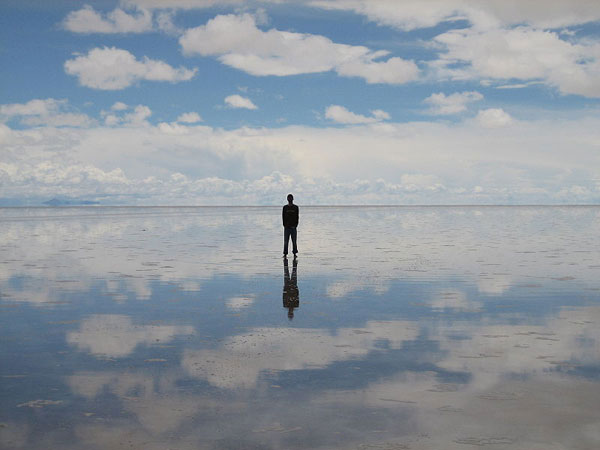 Costs : We found a source which stated that the price for a one day tour to Salar per person is $25 from Uyuni. However, you can go here for booking and other information. The site is rather flashy and tiring, but you can get a general idea of the tours available.
Some interesting information about the origins of the lake found here: "Some 40.000 years ago, the area was part of Lake Minchin, a giant prehistoric lake. When the lake dried, it left behind two modern lakes, Poopó and Uru Uru, and two major salt deserts, Salar de Coipasa and the larger Uyuni. Uyuni is roughly 25 times the size of Bonneville Salt Flats in the United States. Salar de Uyuni is estimated to contain 10 billion tons of salt of which less than 25.000 tons is extracted annually." In case you have visited this place, please drop by and tell us if it looks like this in reality also : )