Thinking of sailing along the Southern California's beaches? The crisp, blue water that sparkles under the glow of the summer sun calls both vacationers and locals to the shore. Here are the best beaches in Southern California that promise relaxing and enjoyable days by the water.
#2. Coronado Central Beach
Coronado Central Beach spans 1.5 miles down Ocean Boulevard and has a breathtaking view of the iconic Hotel de Coronado and the nearby mansions. Boat tours, swimming, paddleboarding, surfing and boogie boarding in the crystal clear water are popular activities, and there is also fishing at the southern end near the Hotel de Coronado, tidepools, a dog-friendly area on the beach's northern end and fire pits. There is something for everyone at Coronado Central Beach, so bring your family and friends for an unforgettable experience.
Coronado Central Beach prides itself on having a welcoming, safe and accessible environment and has the following amenities:
Lifeguards on duty from 9 a.m. until sunset
Free wheelchairs for checkout at the Central Beach Lifeguard Tower
Clean showers and restrooms
Free parking
Reserved parking lots for guests staying at certain resorts and hotels
Alcohol- and tobacco-free
#2. La Jolla Cove
La Jolla Cove is one of the smaller yet most beautiful beaches in Southern California. This hidden gem sits in the middle of scenic sandstone cliffs and boasts calm, bright blue water and towering palm trees. Snorkeling and scuba diving are the main attractions because of the abundant marine plants and animals, thanks to the protection of the San Diego La Jolla Underwater Park Ecological Reserve. You can also swim, paddleboard or kayak. La Jolla Cove is also in a top area for whale sightings today in San Diego, so be sure to pack your binoculars.
La Jolla Cove provides several services to make your visit pleasant and worry-free.
Spotless restrooms and showers
Permanent lifeguard posts
Picnic tables
Alcohol- and tobacco-free
Public transportation access
Nearby restaurants
#3. El Matador State Beach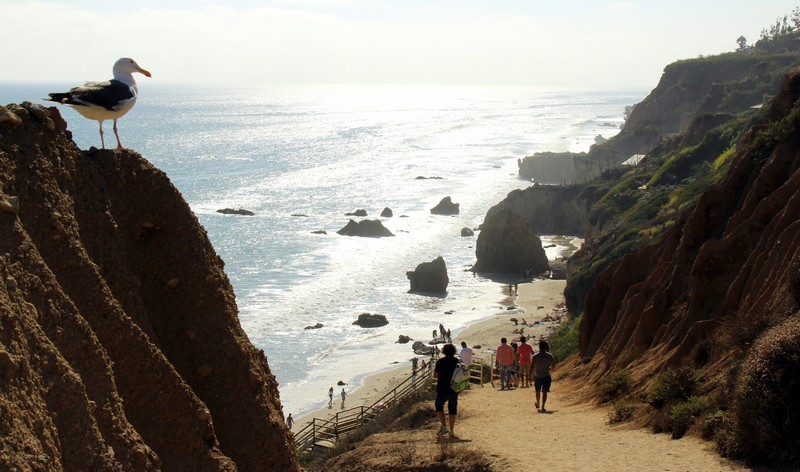 El Matador State Beach is unique as it is part of a three-beach system within the Robert H. Meyer Memorial State Beach, one of California's state beaches. Known for its spectacular sunsets, magical sea stacks and intriguing rock arches and caves, El Matador State Beach attracts visitors of all ages and offers a wealth of entertaining activities. Beachgoers can explore the caves and rocks, swim, snorkel and find the perfect spot for stunning photographs. The beach's large and diverse bird population makes for great birdwatching, too.
Picnic areas and clean restrooms are available to all guests. Children love El Matador State Beach and are always welcome, but it is a good idea to plan ahead because strollers cannot be taken down the stairs leading to the beach. Additionally, note that there is a $9 fee to park; however, the cost is well worth it, and you can park for free in the street if you arrive in the morning before the crowds.
If you dream of sailing along the picturesque Southern California coastline, contact a representative today and ask about booking a private charter in San Diego.