[adsenseyu2]
An ancient legend tells that a god planned to marry a beautiful aborigine named Naipi, who fled with her mortal lover Taroba in a canoe. When the god heard about that, he became very angry and with an unmeasurable rage, he sliced the river creating waterfalls, condemning the two lovers to an eternal fall.
This river with its waterfalls is called Iguazu River, and it has been named by the Guarani people who associated the words y (water) and ûasú (big).

Iguazu Falls or Iguaçu Falls are waterfalls of the Iguazu River located on the border of the Brazilian state of Paraná and the Argentine province of Misiones. The falls divide the river into the upper and lower Iguazu. Iguazu Falls are shared by the Iguazu National Park (Argentina) and Iguacu National Park (Brasil) who were designated UNESCO World Heritage Sites.
Also, the Iguazu Falls was a candidate to be one of the New 7 Wonders of Nature by the New Seven Wonders of the World Foundation.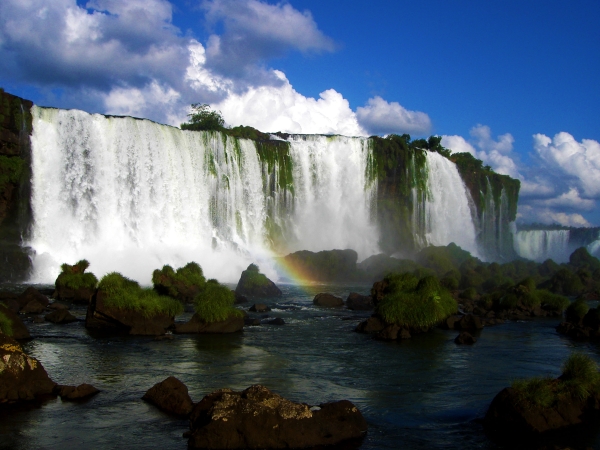 The waterfall system consists of 275 falls along 2.7 kilometers of the Iguazu River and some of them are up to 82 meters in height. The most impressive fall is called The Devil's Throat with its 82 meter high, 150 meter wide and 700 meter long cataract, which marks the border between Argentian and Brazil.
Along the waterfall were constructed many touristic resorts and many activities are offered. For example, on the Brazilian part there  is a walkway along the canyon that reaches the base of Devil's Throat, offering some amazing views. In the Argentinian part, an ecological train brings tourists directly over the falls, after a-one-kilometer long trip.
The falls can be reached from the two main cities on either side of the falls: Foz do Iguaçu in Brazil and Puerto Iguazú in the Argentina province of Misiones. Once you get there, you can find many walkways and routes for hiking and exploring the wilderness of the park.
You will find more travel information here.
[adsenseyu2]