Traveling to London just got a bit more interesting with this Hot Tub Cinema we recently stumbled upon. Adding a little craziness to the game makes it memorable and viewing a movie in a hot tub might be just what most visitors expect from a remarkable night out.
Hot Tub Cinema took off in the summer of 2013.  More rooftops in London are soon expected to be conquered by these unconventional cinemas. The next step will be expanding the idea in Europe and worldwide:  "Evolving from a private party with one hot tub seven years ago, the first public rooftop screening was on 7th July 2012. Since then the event has grown to include up to 20 hot tubs, two screens and a bespoke surround-sound system, creating a totally unique and fully immersive cinema experience", explained the project developers.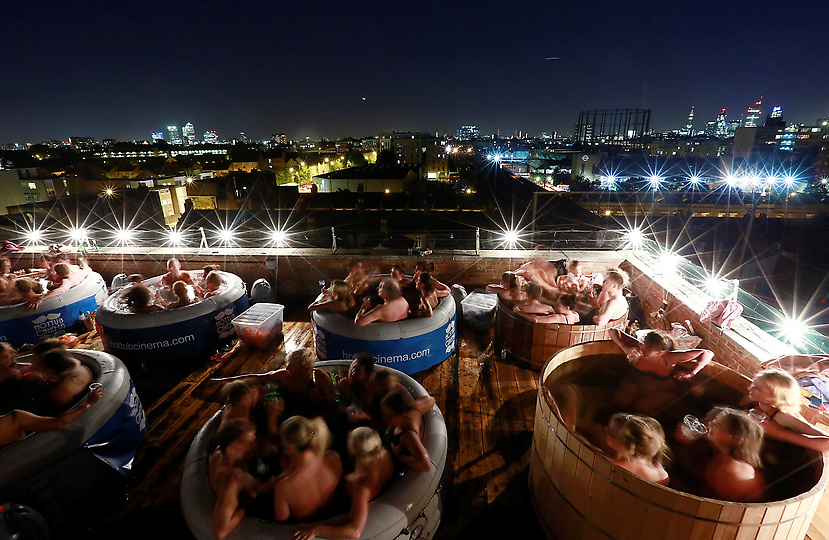 Summer takes the cake with partying outdoors, enjoying not only movies but also spectacular city skylines. During winter, the experience is "teleported" indoors, with venues especially envisioned for unforgettable events. The array of projected movies includes "classics" like "Home Alone", "Pretty Woman" and "Love Actually". With the holidays coming soon, "Christmas Classics & Movie Nostalgia" is the current theme.
The cost for a single ticket providing access to a shared hot tub is £32.00. The one for a private hot tub for a maximum of seven attendees is £192.00. [Photos courtesy of Hot Tub Cinema]