Guilin stands for "cassia forest", a special tropical tree with yellow flowers that can be found here in abundance and which is what we "naive" Europeans refer to as  "cinnamon". Cinnamon is the natural scent of this fascinating Chinese city, as from August to October the tropical tree "cassia" is in blossom.  Guilin is said to be one of the most beautiful cities of China, different from the rest of the country due to its unusual history and natural isolation. Today we will post a few photos of the Guilin hills, natural wonders that seem broken from a typical Chinese engraving.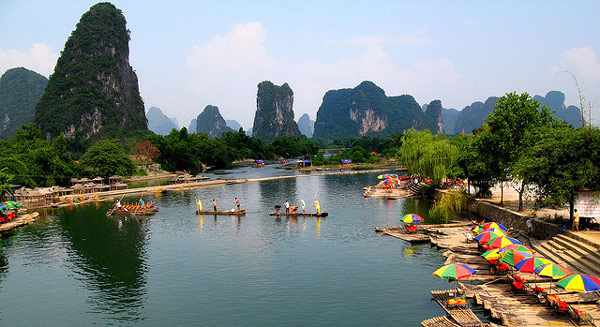 GETTING HERE. In case you are planning a trip to Guilin, a lot of information is available for this area, as it is one of the most visited tourist attractions in China. You can get there by plane, by train, by boat and of course by bus or car. Guilin has two train stations that can be reached via major cities such as Beijing or Hong Kong.
WHAT TO DO? Bunch of things. Here are a few suggestions: Li River Cruise, visit Reed Flute Cave, see the Forbidden city in Jing Jiang Princes City Park, go biking, check out the near by villages and many many more. For more information you can start here.
WHEN? Best time to visit: April – October. Just keep in mind that it rains a lot and pack accordingly.
ACCOMODATION. There are plenty of hotels in Guilin, some of them very expensive, others more affordable. You can start your search here.
photo by Guilin Photo Guide