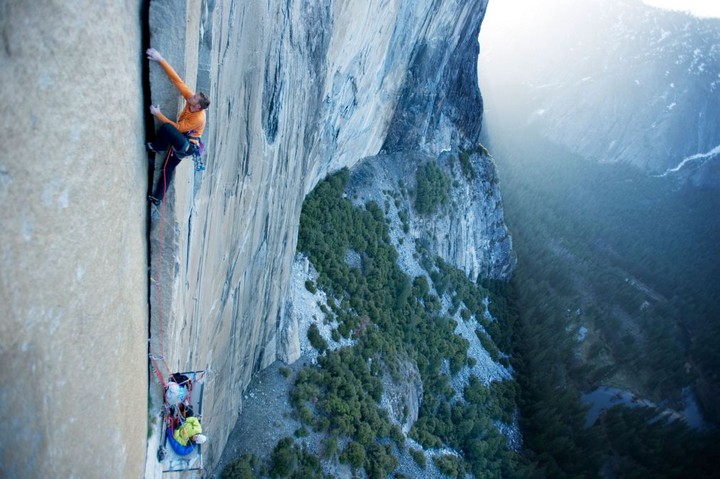 "To anyone writing about Dawn Wall, this is not an effort to conquer. It's about realizing a dream.": — Kevin Jorgeson
Tommy Caldwell and Kevin Jorgeson are the new climbing phenomenona after they succeeded in making the first free ascent on the 3,000 feet (915 meters) Dawn Wall, the most difficult side of El Capitan in the Yosemite National Park, United States.
Their outstanding quest to reach the top of the world's largest granite monolith lasted 19 days. During this time the two climbers never left the wall, trying to move forward through difficult pitches even in the night time. Their perseverance and ambition made their dream come true, a dream that was out there for years, as they had tried to free climb El Capitan several times before.
[adsenseyu2]
All the suffering (their hands were injured due to the sharp edges or free falls) gave them the feeling of the continuous ascent of Sisyphus, but it also triggered the stubbornness to win every battle against the rock, the harsh weather conditions and ultimately their own bodies. It is redundant to try to describe the experience these amazing guys had, so I will let Tommy finish this post with one of his thoughts:
"Here on El Cap I felt as though I had stumbled into a world where I thrived." – Tommy Caldwell
Video 1: In this bonus clip from the new film Valley Uprising, Tommy describes his Dawn Wall obsession, and the parallels with one of Yosemite's pioneers, Warren Harding, who first aid climbed the route in 1970.
Video 2: Tommy climbing pitch 15 (5.14c) in this first footage released by the film crew on the wall.