Unspoiled nature, joyful solitude and a sense of freedom- just some of the giveaways of the open road.
If you're a driving enthusiast, you're constantly on the lookout for new places to explore. But where should you be going with your vehicle, exactly? In this post, we explore some of your options.
# Namibia
Namibia is one of the most beautiful and least-explored countries on the planet. This desert land is home to some stunning mountain ranges and game parks that make driving a joy.
Most people start their trips to Namibia from South Africa. They follow the highway north and then take turns off the beaten track to drive through the wilderness. Namibia is home to a vast steppe with untouched landscapes and wildlife. If you've never experienced the wilderness before, this is the place to get a taste.
If you want to stay on the road, then that's fine too. Namibia has excellent roads for a country in sub-Saharan Africa.
# Iceland
Iceland is a completely different driving experience from Namibia, but just as epic. Instead of desert and brush, Iceland is a country of tundra and high peaks. Most people who go there for road trips drive around the entire island on the road that runs the periphery of the country. This route provides exceptional views of the coast and also some mountains.
You can also travel inland as well. If you do, you'll come across geological hot springs and geysers, some of which provide hot water for outdoor swimming pools. There are also beautiful lakes and valleys to explore, and some interesting villages that dot the landscape.
# Faroe Islands
The Faroe Islands are a part of Denmark that sit a few hundred miles off the north coast of Scotland. They're among the most beautiful islands in the world – a kind of mountainous ice kingdom that you only read about in story books.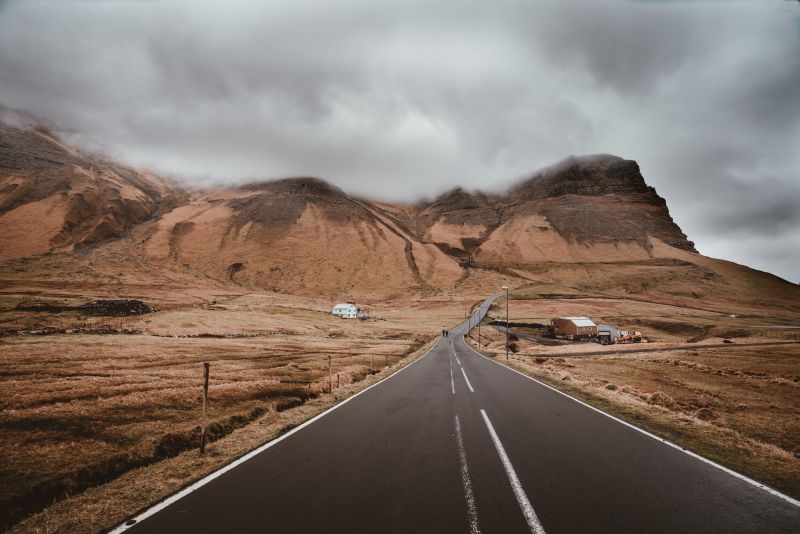 Because the Faroe Islands are wealthy, the road system is excellent. There are many routes that you can take that will treat you to spectacular scenery as the land meets the sea. It's a great place for people who want easy road tripping. It's also a destination where you see a lot of private number plates.
# Switzerland
Because of the Alps, Switzerland is home to some of the world's most epic roads. Strips of tarmac here weave their way up and down mountains, providing stunning scenery and a chance for you to test your driving skills.
The Furka Pass is one of the most scenic routes in the country. It passes over a 8,000-foot mountain and requires drivers to go around dozens of hairpin bends to reach the top.
# New Zealand
New Zealand is perhaps the most beautiful country in the world. And yet relatively few people – other than New Zealanders themselves – know about the glory of the place. It's simply stunning.
Domestic flights in New Zealand are quite expensive because of the country's regulations. But travelling around by car is a joy. They certainly know how to build roads.
If you go road tripping in the country, you'll want to visit the southern island. Here is where you'll find the New Zealand alps, featuring some of the highest peaks in the southern hemisphere. There are plenty of places to stop off and admire the views at the side of the road. And in the summer months, it is great for picnics.
# Australia
No blog about road tripping would be complete without mentioning Australia. This red land is perhaps the best place to go in the western world if you want to get away from it all and enjoy landscapes to yourself. The vast majority of the interior of Australia is utterly uninhibited. It means that you're often hundreds of miles from the nearest settlement and perhaps more than fifty miles from the next vehicle.
Many travellers underestimate the size of Australia by eye-balling it on the map. The continent is actually much bigger than most people think – far larger than Europe's land mass. And so there is a wealth of country to explore.
Generally, because of the dry conditions, tracks tend to be reasonable. However, you will definitely need a 4X4 if you plan on going offroad. Your standard ride just won't suffice.
# Mongolia 
Mongolia is another wild country – and perhaps the least urbanized in the world. What makes Mongolia so special is the fact that it is utterly unspoilt. When you are driving in the wilderness, there are no tracks, roads, or pylons or anything else to spoil the scenery. You are truly at one with nature when you visit this incredible land.
Why is it so amazing? Most people who live in the country are nomadic. They use horses to shepherd their livestock to new pastures and they don't rely on roads.
Of course, if you decide to visit the country, you'll need to prepare. You'll need a quality off-road vehicle, a winch and plenty of supplies. You'll also need to take your own gas. There are no service stations here.
# India
Driving through southern India isn't much fun. Traffic is appalling and the scenery is quite standard. Northern India is a different story. Here, traffic is much lighter and the scenery is more spectacular.
If you can, go north from Delhi to the Himalaya region. You should encounter the foothills after a couple of hundred miles. As you drive through the mountains, you'll notice that they get higher and higher. Eventually, you'll reach the snow-capped peaks – an impassable barrier where most roads end. These offer some of the most spectacular scenery in the world.
# Chile
Lastly, Chile is another wonderful mountainous destination that makes for great road tripping. Once you get out of the cities, you'll find very little traffic – just mile after mile of highway. You'll find popular road circuits signposted and printed on local tourist maps. You will find incredible nature all around and plenty of places to stop and plan various hikes.
This are just some of the countries that offer memorable experiences when it comes to driving. It's a subjective list, of course, as there are so many beautiful places everywhere one can enjoy hitting the open road.
When was your last perfect road trip? We would love to read about it in the comments section below.