Did you know that Christmas markets originated in Germany and Austria? The first Christmas markets ever were held in Vienna (1294), Bautzen (year 1384 ) and Dresden (1434). In time, the festive spirit took over the entire world, with numerous city squares being converted in the month of December.
Ginger bread, wine, cinnamon and oranges, local artisans displaying their crafts, carol singers and an abundance of little colorful lights- some love the show, others would rather lock their selves indoors until the "turmoil" is put on hold till next year. Christmas enthusiast or not, one can not remain indifferent to the idea of people trying to escape the real world for a month (except, of course, for those who love their world, but that's another story). With the hope that most of you will succeed in making December perfect, here are 15 of the most spectacular Christmas Markets in Europe:
#1. Cologne, Germany
Cologne has a total of four Christmas markets spread throughout the city and attracts about 2 millions of tourists per season. Köln's massive Gothic cathedral dominates the central square, creating a fairytale-like scene.  A time-warped feel is given by the wooden stands, filled with various festive objects and warm food.
#2. Bolzano, Italy
The Christmas Market in Bolzano in South Tyrol is considered one of Italy's most important Christmas markets. Every year usually has a theme (for example, "Meeting of Cultures" for 2012) and various events are held accordingly.  The celebrations are held in Piazza Walther, a picturesque setting, as you can see in the photos above.
#3. Braunschweig, Germany
The Braunschweig Christmas Market has a fantastic backdrop, including the cathedral of Henry the Lion, the Dankwarderode Castle and the Vieweg House. Promising a culinary delight, not just a visual one, this year's events in the German town are expected to gather hundreds of thousands of visitors.
#4. Bruges, Belgium
This beautiful belgian city of Bruges also comes alive in winter, with its medieval center being transformed into a Christmas parade, partially sliding on its large ice rink.. The chocolate lover's paradise is difficult not to enjoy, especially during the holidays. Here is more information on Christmas and New Year in Bruges.
#5. Erfurt, Germany
A 25 meter tall Christmas tree is just one of the highlights of the Christmas Market in Erfurt, held in the Cathedral Square of the medieval old town and surrounded by impressive buildings. Other "points of interest" are the 12 meters high Christmas pyramid and a magical fairytale forest, with hand carved almost life-sized figurines sheltering the nativity scene.
#6. Lucerne, Switzerland
The Lucerne Christmas market is held in Franziskanerplatz and reunites plenty of stands with Christmas decorations, sweets, food and drink, hobby workshops and handcrafts.
#7. Colmar, France
We covered a post on the beautiful small town of Colmar, one of our favorite Christmas destinations out there. With its lovely architecture, light shows and many events, the Old Town of Colmar comes alive during December and the atmosphere it generates couldn't be more… magical.
#8. Innsbruck, Austria
There are four Christmas markets in Innsbruck, each of them with its unique vibes: "From the traditional Christmas market in the Old Town to the modern Christmas market in the Maria-Theresia-Strasse, there is something for everyone here. There is also something for the very young visitors at the Innsbruck Christmas Market at the Marktplatz and if you want to enjoy a wonderful view of Innsbruck, the Christmas market on Hungerburg is the one to see". (info via )
#9. Leuven, Belgium
Leuven's Christmas Market only lasts for ten days, during which the inhabitants of the city and tourists alike can enjoy good tasting and good shopping. An extensive animation package and a handicraft market complete the festive scene.
#10. Prague, Czech Republic
The Christmas markets in Prague are famous for their unique ornaments, traditional Czech Christmas cookies, tablecloths, Frankincense or the Czech Christmas potpourri called purpura. And Prague is a lovely city all together, so being there for Christmas just can't go wrong.
#11. Riga, Latvia
The Old Riga Christmas Market awaits visitors in a unique architectural setting, in the lovely Town Hall Square. Special events are intended for children's audience, such as the "children`s beloved carousel of wooden figures, riding ponies and a horse drawn carriage, animal corner with sheep and rabbits from country. At the cat house there will live cats from animal shelter "Ulubele", who will seek for new friends. Children will be able to watch small Dolls' theater performances as well to participate in the games, which will be headed by favorite storybook characters". You can find the entire cultural program here.
#12. Sibiu, Romania
Walking through Sibiu's city center is a great experience in itself; Christmas just makes it… lighter. About 65 wooden huts display their goodies here and trust us, some are truly irresistible.  Here is an official page of the Christmas events in Sibiu.
#13. Stockholm, Sweden

There are four main Stockholm Christmas markets: namely Skansen, the Old Town, Djurgàrden and the markets at Kungstradgàrden. The Old Town of Stockholm with its glorious architecture is a great setting for the traditional market with handicrafts, Christmas delicacies and wine.
#14. Tallin, Estonia
Contrary to general belief, when snow comes to Tallin's city center, it makes it feel much… warmer. The Christmas Market in Tallin held in the Town Square comes with its many highlights: "At the heart of it all – apart from Santa and his reindeer, who are eternal favorites with the kids – is Estonia's most famous Christmas tree, surrounded by little huts selling their wares. Here you will find handicraft specialists and their work, Estonian food and drink of the season, snow sculptures and a mini-zoo for the little ones".
#15. Vienna, Austria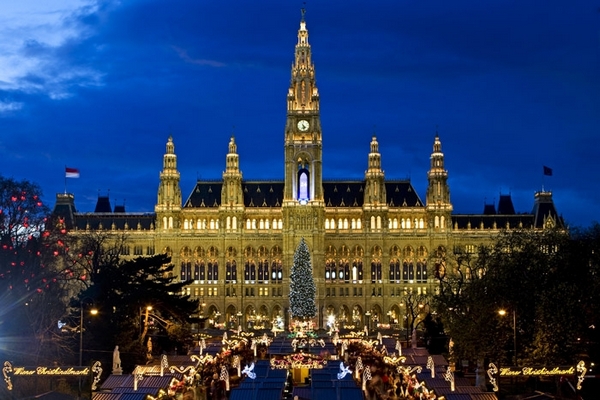 All the streets in Vienna are filled with light during Christmas, and each of its squares is more beautiful than the next. There are a total of eight Christmas markets in Vienna, and you can check out information about each, here.
Merry Christmas, everyone!