Hello, adventurous travelers and wildlife enthusiasts! This one is dedicated to you.
If you are the type of person that craves for more than just sunny beaches, big cities and 5 stars hotels in your travels, and you have an attraction for nature and the wild, you have sure thought before about going on a safari.
Well, we have gathered here a collection of places in the splendid Botswana which will leave you thinking about it even more!
Botswana is renowned as one of the best safari destinations in Africa, as it has a high and diverse concentration of wildlife and some of the most scenic landscapes. With 17% of land set aside for National Parks and Reserves and another 22% for Wildlife Management Areas, Botswana's Government is one of the most dedicated in conservation of wildlife and promotion of eco-friendly tourism.
So , where to go? Plenty of options.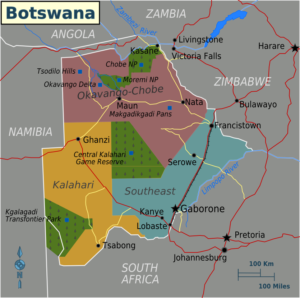 Moremi Game Reserve and Okavango Delta
The Okavango Delta is listed as UNESCO patrimonial heritage and was named as one of the Seven Natural Wonders of Africa. What makes the inland delta system truly special, besides the rarity of not flowing directly into the sea or the ocean, is the annual floods. Water and wildlife come to interact in a spectacular way, as animals synchronize their cycles with the one of nature. Best time to visit is between July and September, right after the flood, when all the wildlife gathers around the water pans and holes, abundant in vegetation, in one of the richest and most lively sceneries you could witness.
Moremi area is covering about 40% of the entire Okavango Delta Game Reserve and became officially a Game Reserve in 1963 thanks to the local Batawana people. As a sign of gratitude, the reserve is named after Chief Moremi III and his wife, of the Batawana tribe. Today Moremi and the Okavango Delta are together the home of the biggest concentration of African wild dogs, but also host the southern white rhino, Cape buffaloes, Angolan giraffes, black rhinoceros, lions, elephants, hippopotamus, zebras, cheetahs, hyenas, jackals, impalas and the red lechwe.
For an even more adventurous experience, try a horse-riding safari, either by day or night. There are plenty you can choose from in  The Okavango Delta.
Not 3 hours driving north-west, you can also visit the mystical Tsodilo Hill, where proofs of the possible earliest human rituals have been discovered. The mysterious ancient red paintings on the rock formations give them an unexplained beauty. Walking around them and touching them will sure give you some shivers on your spine.
Makgadikgadi and Nxai Pan
Combining the 39,000km2 Makgadikgadi and 21,000km2 Nxai pan reserves from the north-eastern Botswana you get a national park about the size of Portugal, but most of the park and the lodges are concentrated around the Boteti River area.
Makgadikgadi's landscapes consist mostly in white endless salt pans, large areas of flat ground coated in salt and other minerals, the two largest being Sowa and Ntwetwe. Makgadikgadi Pans are considered to be the remains of the ancient great lake Makgadikgadi. Nxai Pan meets the Makgadikgadi Pans National Park on its northern border. The pan, which is in fact a fossil lakebed about 40 square km, is home to the millennia-old baobab trees. Baines' Baobabs, as they are known today after their discoverer, are one of the special sights of this park.
Not to miss is also the Kubu Island, "just about the most astonishing place I've ever seen" as  Top Gear presenter Jeremy Clarkson mentions in one episode. The island is luckily accessible by four wheel vehicle and has basic camping facilities. When going, keep in mind that the entire island is considered a national monument and the indigenous people see it as a sacred site, so treat it with respect.
During the wet season the pans become an abundant sanctuary for migrating animals like wildebeests, zebras, tens of thousands of flamingos and other birds, and of course their predators – hyenas, lions and leopards. The most captivating inhabitants remain though the friendly meerkats, which accustomed so much with their human visitors, that you should not be surprised if one of them will climb up your shoulder, using you as a vantage point.
Kgalagadi Transfrontier Park
Kgalagadi, which literally means "place of thirst", is a natural reserve which spreads both across Botswana and South Africa and the first of its kind in Africa. The previously Gemsbok National Park (in Botswana) and Kalahari Gemsbok Park (in South Africa), known under the name of Kgalagadi Transfontier Park since 2002, is jointly managed by both countries. Its name is surely fitting well, as temperatures can rise above 100⁰F in summer and the rivers are said to flow only about once in 100 years. Anyhow in winter temperatures go below freezing and there are also big variations from night to day, so be prepared with some cozy warm clothes.
Comparing with other parks, Kgalagadi's does not have to offer such a variety of wildlife, but the arid landscapes and open space make game viewing a way better experience. The stars here are the predators – lions, leopards, cheetahs, hyenas, cute Cape and bat-eared foxes – but you can find also migratory herds of large herbivores such as the blue wildebeest, springbok, eland, and red hartebeest, and over 200 species of birds, including vultures, eagles, buzzards, and secretary birds.
The red sand dunes are a trademark of Kgalagadi's landscapes, but there are also grasslands and acacia trees surviving on the park's underground water, which create spectacular views. Best of them can be seen in Botswana's wilderness trails, in the Nossop River Valley along the Botswana/South Africa border and in the northeastern part of the park.
The great news is that Kgalagadi's tourism management limits the amount of cars and visitors per day and that self-drive tours are allowed in the region. This makes for a great combo if you and your traveling partners prefer exploring on your own without all the group hassle, especially with the remote wild beauty of Kgalagadi.
Kwando-Linyanti River Area
The Kwando-Linyanti safari area in Botswana is home to four large reserves, which offer remote, private safari tours, even during night time.
Kwando Reserves covers 232,000 hectares (just to get an estimate of how much land this is, think 30 times the size of Manhattan) and is located in northern Botswana. The west area of the park consists of mopane trees, but there are many good places for safari along the Kwando River, with open planes and not so high vegetation.
Selinda is a reserve that offers the advantage of being away from major tourism routes, yet offers great viewing hides for bird watching, as well as for predators (lions, leopards, cheetahs).
Chobe Enclave is home to just one permanent lodge, which makes the area remote and wild
Linyanti Reserve, mainly offering the chance to see elephants, hippos and wild dogs
Chobe National Park
Chobe National Park is Botswana's first national park and also the most biologically diverse, with the greatest concentrations of game in all of Africa. The park is renowned for having a big population of lions which prey on elephants. Other animals you might spot are Cape buffaloes, cheetahs, leopards, hippos, crocodiles, zebras, hyenas; some of the less common animals such as eland, sable and roan antelopes; and a variety of birds – cormorants, pelicans, herons, egrets, bustards, cranes, plovers, lapwings and storks.
One of the best advantages of Chobe is definitely the possibility of boat-based game viewing, which you should not miss as you can get closer to the animals and you can observe them from a totally different perspective than on land. But there's more – with the park located in the north of the country, you will be just a short drive away from the beautiful Victoria Waterfalls. It is not a surprise that Chobe is one of Africa's top safari destinations.
If it is your first time experiencing a safari, our recommendation is to go during the dry season (May to November). Because of the less bushy landscape and the limited sources of water -which force the animals to go to certain places probably already known by your guide- chances are that you'll be able to spot more animals. Furthermore, the nights are usually above freezing and the days are seldom too hot, which is a plus for your comfort. And trust us, in the harsh conditions of a safari, bearable temperature conditions really do make a difference.

As a final advice, enjoy your experience to the fullest, but take it slow! Botswana's nature is a splendid treasure which will reveal to you completely only if you offer it appreciation and observe it with patience.
Try waking up when the sun does, take your time to watch over the savanna during the sunset and be prepared for harsh conditions which will get you out of your comfort zone and sharpen your senses. But take into account, it is only to prepare you for its wild beauty. 🙂