Travelling unlocks some of the most beautiful experiences and memories that you will want to capture forever and revisit when you get home. However, backpacking requires you to travel light and think carefully about how you store your equipment, presenting quite the challenge for budding photographers. Here are a few tips that you should consider when planning a photo trip for the first time:
#Invest in a good quality protective camera bag
First and foremost, the best thing you can do to ensure you get great pictures is to protect your photography equipment. There are many different types of lens cases, backpacks, pouches and more on the market, with a good example being a Crumpler camera bag. The brand design bags for high performance and durability, which is exactly what you need when you are traveling around the world.
#But carry your camera bag in a lightweight backpack
Once you have sufficiently protected your camera with a strong case, you can store it in a lightweight backpack. This then allows you to carry more equipment or other items without your bag itself weighing you down. As long as your camera is contained safely, you can afford to save weight elsewhere with your backpack or case. This means you can travel for longer periods and with more supplies, thanks to the weight you have saved.
#Visit landmarks before or after peak tourist times
If you are hoping to get some beautiful scenic shots without any tourists in them, try to plan your photography. Research ahead of your trip about when the peak times are for tourists – this could be based on daylight hours, discounted ticket prices or organized tour timings, for example.
The best thing you can do to avoid most of these is to get there as early as possible. Most people like to have a relaxed morning and breakfast at their accommodation before heading off, but if you can set your alarm for first thing, you will be rewarded with fewer crowds in your shots.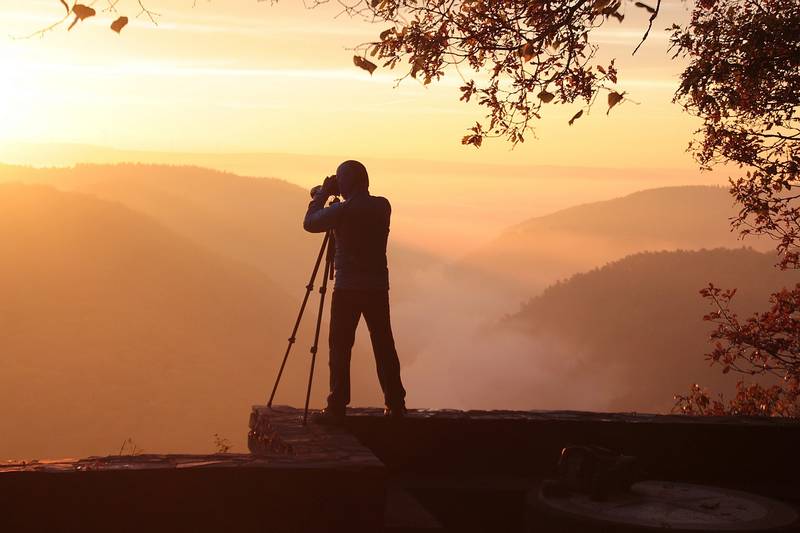 #If you can, plan a longer trip

The benefits of staying in a place for longer are obvious. Firstly, you get to enjoy the area for longer, meaning you can immerse yourself in the food, culture, local people and the overall experience even more.
However, from a photographer's point of view, it also means that you have longer to explore the landscapes and landmarks to find the best possible vantage points. It will also enable you to find spots where tourists are less likely to be, at which times, plus when you will get the best lighting and which angles will deliver the best compositions.
Having a few extra days stay to do this will set you up for fantastic results that you would be snatching at trying to achieve if pushed for time.
#Download easy to use apps for camera phones
These days, you can employ specialist effects and refinements to photos taken on your mobile phone both instantly and easily. Giving the impressive effect of accomplished photography; yet with a simple swipe of your hand over your phone to choose the levels you desire, photo apps have revolutionized amateur photography.
Therefore, even the most accomplished photographers will likely take photos using both their professional camera but also their mobile phone. It is a great way to compare different effects of the same scenery so that you end up with totally different photos that you can enjoy afterward.
#Stay off the Beaten Track
You're a backpacker, so this should come natural. Staying off the beaten track has its major computational advantages on the photography market. Weather you are thinking of selling your photos or not (on platforms such as Adobe Stock, Shutterstock, 500px and so on), going to less traveled places will ensure some unique shots and different perspectives.