Even though Cyprus beach season (mid-May to mid-October) is almost over, let's take a moment and breath in to the sound of the waves. In this post we will present some of the most beautiful and remote beaches in Cyprus, which make for a good alternative to the island's popular beaches like Ayia Napa, Paphos, Protaras and Larnaca.
Some of them are hidden gems waiting to be discovered, while others (more to the end of the post) are closer to the tourist areas, yet remote enough for a blissful escape. Enjoy!
# Petra Tou Romiou Beach
Welcome to a spectacular beach bathed in legend. Petra Tou Romiou is located in Kouklia village South-West of Cyprus, on the road connecting the cities Paphos and Limassol. It is also known as the birthplace of goddess Aphrodites. The unusual rock formations and the foaming waters of the waves as they crush near the shore make this place a mystical escape. As far as accommodation in the area goes, you can rent a place in one of the two neighboring cities.
The name 'Petra Tou Romiou' refers to the largest rock on the beach, also known as Aphrodite's rock. This is not the only legend you will hear when visiting this beach. Part of the Aphrodite cultural route, this magical place is close to the Sanctuary of the goddess of beauty in Palaipafos (Kouklia), a world heritage site. So be sure to do an extended visit when in the area. Due to the strong waves, both swimming and climbing the rock is forbidden.
Pros: Spectacular rock formations, located on Aphrodite Cultural Route with the possibility to visit other landmarks in the area, great for photographers, within relatively easy reach
Cons: Strong waves, swimming forbidden
# Paramali Turtle Beach
Another lovely beach between Papahos and Limassol is Paramali, located 25 kilometers away from Limassol. This is a great alternative to the more popular beaches in Cyprus, such as Protaras or Ayia Napa. However, there are no facilities here, so be sure to bring your own sun umbrella and food to last you for the day.  Just as the name suggests, you are likely to find sweet turtles at every step here. Paramali is just one of the turtle hatching beaches on the island. The beach is usually animated by kite surfers.
Pros: Large, sandy beach, remote
Cons: Deep waters, best for kite surfing, strong winds
# Lara Bay Beach
Let's travel a bit more to the West, towards a peaceful and more remote beach in the Paphos district. About an hour and a half drive away from Paramali, Lara Bay Beach welcomes visitors with its complex geology, crystal clear waters and smooth, glowing sand. There are no facilities in the area, so only consider visiting if you are looking for a nature paradise to get away from it all.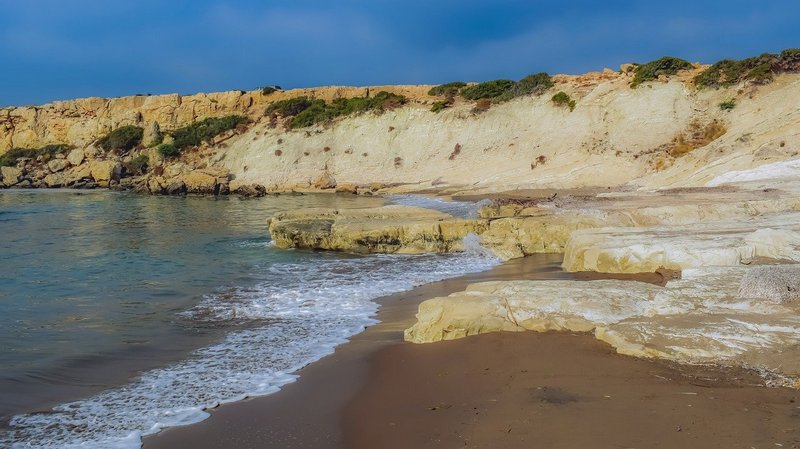 While sunbathing, be sure to say 'hi' to the area's most slow-paced inhabitants, the loggerhead turtles. In fact, there is even a turtle conservatory here, making sure these little creatures don't go extinct.
Pros: Beautiful clean beach, clear waters, remote area
Cons: There is no road leading to the beach, so you will need a 4X4 or a off-road buggy to get there. No facilities either.
# Golden Beach, Dipkarpaz

If you are planning to visit the North-Eastern stretch of land in Cyprus, also known as the Karpass Peninsula, make sure you take a turn towards Dipkarpaz (also known as Rizokarpaso), a small town with a rich culture, located about 80 miles away from Syria. You will find the Golden Beach nearby, an unspoiled stretch of land with fine sand bathed in clear waters. There are a few modest restaurants around, but the best thing about this beach is it its wild feel and…wild donkeys.
Pros: Remote, wild, blissful swimming, wild donkeys
Cons: lack of services in the area, located in the country's most Eastern point, not in easy reach
# Zapalo (Tripti) Beach
Some call it Zapalo Bay or Apollo beach, other simply call it Tripti. Either way, this is a blissful stretch of land (about 800 meters long), remote and paradise-like. You can find it in the Bay of Episkopi, close to Limassol, just beneath the Sanctuary of Apollo Hylates. This is just one of the beautiful secret beaches Cyprus has in store for the off-the-path explorer.
Pros: Beautiful, remote beach, spectacular rocks, wild charm
Cons: Difficult to reach, no services
# Nissi Beach
If you are looking for something closer to the main popular sites of Cyprus, yet still not-so-crowded, then Nissi beach is a perfect choice. Stretching 500 meters, this golden beach has fine sand and mesmerizing blue waters. Nissi is just 3 kilometers away from Ayia Napa and borrows its name from the tiny island nearby. There is also a resort nearby if you are looking for 5-star accommodation.
Pros: sport activities in the area, beautiful blue waters, an array of services to choose from
Cons: may get crowded at times
# Governor's Beach
Just five kilometers East of Pyrgos, and we are still in the Limassol district, you will find the lovely Governor's beach. Swimming alongside spectacular cliffs while still safe enough in shallow waters in one of the best features of this seashore. This is also a haven for photographers, as the beautiful colors of the sky and sea are heavily contrasted by the black sand and white stones.
This is a perfect beach for family escapes and there is also a traditional restaurant at the base of the beach for refreshments. In order to get here, there is a small hike from the road, but totally worth it. This is a hidden gem with private small beaches to enjoy.
Pros: spectacular beach, shallow water, great for children, good for snorkeling, sunbeds free from the nearby tavernas if you eat there, reasonable prices, wonderful for a day trip
Cons: not very accessible, small hike from road (which can also add to a memorable experience)
So there you have it, a tiny introduction into the spectacular seashore of Cyprus. This list remains open, we would be happy to hear from you and add more remote beaches along the way. Do let us know which is your favorite in Cyprus and if you visited any of the above.