El Caminito del Rey (English: The king's little pathway) or Camino del Rey is a captivating walkway pinned along the rocky walls of a narrow canyon located in El Chorro, close to the city of Álora, in the province of Malaga, Spain.
This ingenious construction was envisioned in 1901 when the workers at the  hydroelectric power plants at Chorro Falls and Gaitanejo Falls thought they would need a way to transport materials or to inspect the channel. After a construction process that took four years, the result was a walkway of one meter width suspended at about 100 meters above the river. The present name of this "on the edge" path was born in 1921 when King Alfonso XIII crossed the walkway to arrive at the inauguration of the  Conde del Guadalhorce dam.
Photo by Ana Ignateanu
Unfortunately El caminito del Rey is not too friendly because many sections suffered severe damages (resulting open air gaps that are bridged by narrow steel beams), with large concrete parts collapsed from its top during the last century.  Although it is a dangerous attraction, the thousands of tourists who choose to face it every year are attracted by the spectacular sights and by the thrilling feeling of stepping on one of the most extreme walkways ever made by man.
More information about El Caminito del Rey here.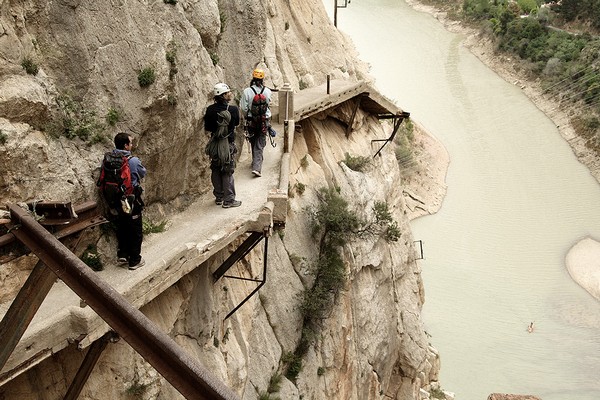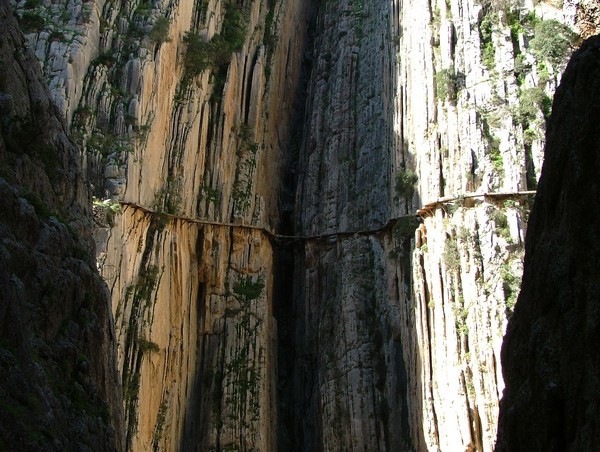 Photo by Ana Ignatescu