Bringing nature into your home can be easier than you think. It`s not about planting trees in the middle of your hallway, but more about creating that feeling of freedom you have when you are somewhere out there, with no worries to cloud your day. With no further ado, here are some original ideas that will turn your home into a cozy refuge:
#1. A backyard cinema
This could be the perfect place for an outdoor movie session with your friends. All you need is  movies and popcorn. And a backyard, of course.
#2. Chandelier that turns your room into a forest
Designers Hilden & Diaz figured out how to bring trees in your own room. This forest-like sculpture out of twisted roots, bushes and tree branches creates an effect beyond our imagination. 

#3. A backyard fire pit
A simple way to enjoy some pleasant nights, especially during spring or autumn (you can use a blanket if it is too cold). You can even put this idea to the test in winter, in order to warm up after building  a snowman. A bunch of friends and a hot cup of tea could complete the idyllic scene.
#4. A living room filled with sand
If you like spending time by the sea, you will definitely enjoy this one! Why not extend your vacation by bringing the beach into your house?
#5. Aquarium bed
A sophisticated piece of furniture and also a great way to relax and sleep peacefully. Counting fish…because sheep are too mainstream.
#6. Beach sand under your office
We would like to share with you designer Justin Kemp`s thoughts regarding his idea: "The sand is relaxing, but for me, its more a symbol of my permanent vacation.  It's the design of a lifestyle where work becomes so satisfying that vacation and retirement become undesirable.  It's a permanent state of chill."
 #7. Hammock bed
Relaxation at its finest. A mixture of simplicity and functionality that will lead your thoughts to the most beautiful corners of the world.
#8. Tree house room for kids
Your child wants a tree house but you live in an apartment? it seems that this is not a problem. All you need is imagination.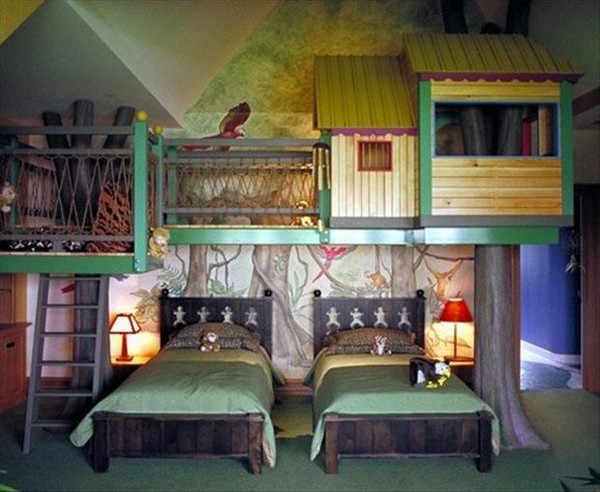 #9. Swing set table
You are never too old to remember about your childhood. Not even when you are at work. This table could reinvent your boring staff meetings. Sometimes you become more productive when you have some fun.
#10. Hammock over the stairs
Need ideas for unconventional reading spots? We have some coming up. Take this crazy safety net for starters, allowing you to swing gracefully over the stairs and enjoy a perfect lurking spot.
#11. A cozy reading corner near the window or by the terrace
It is important to have a special place where you can read a great book and relax, especially if you also have a window nearby. If you are lucky enough to have a nice view it`s even better.
12. A creek that runs trough your hallway
We are aware that not everybody has a creek that runs under their home, but you can improvise. Maybe some weirdly shaped stones, sea shells and some sand from last summer under a glass floor could also do the trick.
13. A wall that plays music when it rains
This could be a little hard to build but you can find one in Dresden, Germany. According to Atlas Obscura, it is part of the Kunsthofpassage series of courtyards, an art experiment envisioned by the tenants of the apartment buildings on which the works are installed. Created by sculptor Annette Paul and designers Christoph Rossner and Andre Tempel, this piece blending music and architecture was inspired by Rube Goldberg Machine, converting the mere patter of rainfall into a spectacular orchestral symphony.
14. A spiral staircase slide
An innovative staircase that will allow you to move faster when welcoming your guests. And a miniature adventure slide for anyone visiting you.
15. Vertical herb garden in your kitchen
Cooking enthusiasts would be more than pleased to use some fresh herbs in their food. If you don`t want to spend time at the store, plant your own herb garden. It`s easy, fun, sustainable and healthy.