If you have never walked on a glacier, then you are missing out on a lot. Glacier hiking has turned out to be a go-to option for many people around the world who are looking for an adventure escape in the middle of nature.
Why Should You Visit a Glacier?
A glacier is a gigantic ice mass that moves slowly like a river – which explains why some people refer to it as a river of ice. The biggest percentage of the ice on a glacier is usually piling up than melting, which allows it to get bigger over time. Glacier walking is one of those must-try adventures, even you are not so physically trained. In other words, doing regular mountain hikes is not mandatory for glacier walking.
Glaciers are beautiful and hypnotic to watch even when you are not hiking, which explains why many people love glacier glazing. In this article, there are 10 of the best glaciers worldwide that you should visit up close:
10 Must-Visit Glaciers Around the World
EQI Glacier:
The EQI glacier is among the most popular glaciers on the planet and in Greenland. Greenland has been a tourist attraction for many years, mostly for how ice sheets cover it. This glacier is always growing bigger and sometimes drops big blocks of ice inside the fjord water below it. The splashes after that are usually an amazing thing to see and will leave you feeling small.

If you want to hike to the ice cap then you are free to do so, but you might need to book a lodge nearby or come along with your roof rack tent to spend the night because it might take you the whole day to finish.
Vatnajokull Glacier, Iceland
There are so many great adventure to try out in Iceland, that many people forget about glacier walking altogether. Nonetheless, Vatnajokull is an amazing sight and worth a detour from the Ring Road, Iceland's main tourist route.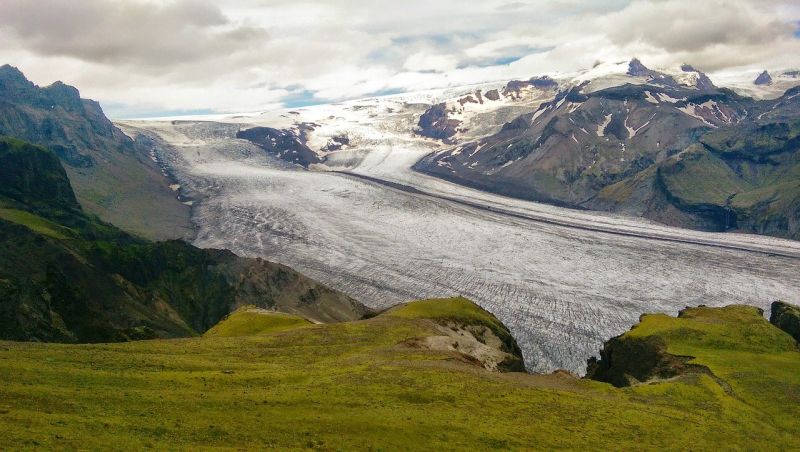 Vatnajokull is Europe's largest glacier and a fun journey to try out with crampons attached to your hiking shoes.
The Aletsch Glacier, Switzerland
The Aletsch glacier in Switzerland is among the largest ice caps in the Alps. This glacier is about 14 miles long and stretches out over a huge distance too. You might think it's a frozen highway.
You will discover new rock formations with every step you take in the glacier, which is very exciting. That is if you will have the courage to hike because it is considerably tall.
Perito Moreno Glacier, Argentina
This large freshwater reserve is also a UNESCO World Heritage Site. You will find this glacier in the Los Glaciares National Park, and it is about 73 meters tall. You should expect to hear the sound of ice blocks dropping inside the turquoise water.
Unlike many glaciers, the Perito Moreno glacier grows daily, which explains its huge size. So, you should consider visiting this glacier that does not get shaken up even by temperature changes.In addition, you will also get to enjoy some boat rides across the ice, allowing you to see the entire glacier and even take some cool pictures.
Jostedal Glacier, Norway
If you live in or are travelling to Norway and you love ice, then you need to visit this glacier at least once. Jostedal is among the largest ice caps in Europe as it covers about half of the Jostedalsbreen National Park.
Glacier hiking tours usually happen on the Nigardsbreen Glacier, which is a part of the huge jostedal. However, it is usually advisable to have a guide when hiking to ensure maximum safety, especially if it is your first time here. The blue ice on this glacier will definitely be something you will fall in love with.
Baltoro Glacier, Pakistan
Baltoro is among the longest glaciers on Earth, measuring an impressive length of 63 kilometres. Its route leads to the terrifying K2, which is the second-highest peak on the planet. It is also unique compared to other glaciers because it is found in a non-polar region. Although you might not get the chance to reach and hike the Baltoro glacier, you'll undoubtedly enjoy the mental satisfaction sight it offers.
Taking a trip here will allow you to explore some of the biggest landscapes on the planet. Some peaks here rise up to around 8000 meters. Additionally, it has recently become a major tourist attraction because you can see the K1 and the K2, which are some of the most popular mountain ranges.
Mendenhall Glacier, Alaska
Mendenhall glacier receives over 400,000 every year. Located just outside Juneau, Mendenhall, the area is within easy reach, with regular shuttle buses and taxis from Juneau taking tourists all the way to the base of the hike.
You can see the beauty of this glacier from the Mendenhall Glacier Visitor Center. However, you should get closer to, and even explore the ice cap. This glacier melts most of its ice to Mendenhall lake, which is a perfect for boating and kayaking. On this note, you should also check out Jokulsarlon glacier lagoon in Iceland, for similar experiences.
Pasterze Glacier, Austria
This one is the longest glacier in Austria and Eastern Alps and is also a high-alpine beauty land. It lies at the base of the Grossglockner, the highest mountain in Austria and rises to approximately 3.798 meters.
Huf Eisenbruch is the most spectacular point on this glacier that you would want to check out because it is where you will find the most majestic ice towers. This glacier also allows you to go back in time because some of the ice here was formed thousands of years ago. If you are a hiker, then you will love the Pasterze glacier.
Besides it, the funicular railway to the pasterze glacier is also a major tourist attraction here hence the huge audience. Unfortunately, this glacier is reducing by around 10m each year which means that you should visit it as soon as possible to help you see it when it is still gigantic.
Franz Josef Glacier, New Zealand
This glacier in New Zealand is named after Franz Josef I, an Austrian Emperor, hence the popularity. The Franz Josef glacier is also the steepest in the entire country, making it a major attraction.
A visit to this glacier starts with a helicopter ride over the huge ice falls. It can be quite expensive but worth it because it enables you to walk on the hard ice terrain that could have been impossible to get to. You can take both unguided and guided tours. However, the helicopter rides are usually recommended more because they are safer as some parts of the glacier are not so stable.
Once you are dropped in the middle of the ice, you will be amazed by the icy expanse you will see in front of you. Also, this glacier is ever-changing. Therefore, every time you visit it, you will have a different experience. This glacier will give you a great chance to take some amazing photos here as it has lots of captivating features.
Hubbard Glacier, North America
Hubbard is a very long tidewater glacier that extends up to about 76 miles from Mt. Logan. This glacier is advancing over time which explains its calving nature. It is possible to reach its ice shelves by foot or boat where you can also enjoy the sight of water exploding as ice blocks fall. The ice blocks that this glacier carves off are sometimes as big as a ten-story building, so the sight is always unbelievable. You will also hear the creaking noise as all this happens, which is usually a nerve-wracking experience. Some people call it white thunder.
This glacier offers an amazing sight, but you are not allowed to walk on the glacier. The ice on this glacier's foot is also more than 400 years old as it has been getting bigger consistently.
Although you can't trek on the Hubbard glacier, helicopter rides are usually available here to allow you to see some very captivating views from different angles. That does not mean that walking on this glacier is totally prohibited. You can walk on the glacier but with a professional guide and special permission from responsible persons.