Giethoorn, also known as "the Venice of Holland" or the "Venice of the North", is a beautiful village in the Netherlands. There are no cars or roads here; tourists leave them out of the village and have to travel by water or on foot over the lovely wooden bridges.
Located in the Dutch province of Overijssel. Giethoorn village is surrounded by a vast natural reservation entitled De Wieden, often included in tourist brochures. The travelers who adventure here are usually mesmerized by the familiar atmosphere, bohemian canals, small wooden bridges, vivid flowers and colorful 200 year old homes.
Facts:
Population: around 2620 inhabitants;
No roads available- just well marked paths, access by boat or by foot;
The tourism industry is developed: guided tours, accommodation available, museums, many city attractions;
Boat rental is also possible;
More info
:
Bikes are also available for rent. More information on the costs and routes here.
Giethoorn is located in the North West of the province Overijssel in the middle of the nature reserve De Wieden, in an area called Waterreijk: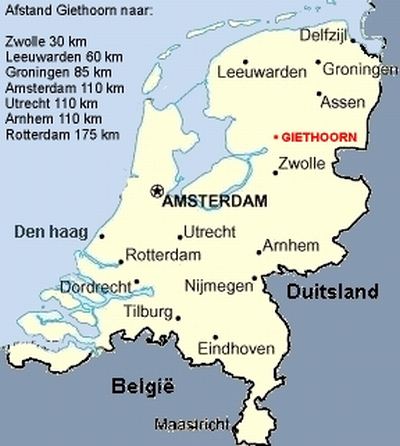 Even though Giethoorn remains a location pour les connaisseurs, the village became famous after the Dutch film maker Bert Haanstra completed his famous comedy "Fanfare" here.
Here is a short video about Giethoorn and its atmosphere during summer: