Hallstatt, Austria's Most Beautiful Lake Town
Located between Salzburg and Graz, in the Salzkammergut Lake District of Austria, Hallstatt is a little town of breathtaking views. Considered to be the oldest still inhabited settlement in Europe, Hallstatt is a UNESCO heritage site and an important Austrian tourist attraction.
Its name is "borrowed" from the Hallstatt culture, the predominant Central European Culture during the early Iron Age. An old cemetery was found in the little town which is said to date back to those times.Also known as "the Pearl of Austria", Hallstatt is truly spectacular, due to its "guardian of the Hallstättersee lake" status and the beautiful mountains surrounding it.
Half an hour is more than enough time to walk through this town from one side to another. This might also turn out to be a "must", as cars are not allowed here from May to October, 10am to 5pm.
Hallstatt is also known for its World's First Salt Mine and the stunning salt caves which can be visited by tourists. The ice caves are also fascinating.
When in Hallstatt, be sure not miss out on visiting the Cultural Heritage Museum and the Beinhaus ("Bone House"), in order to get familiarized with the History of the place.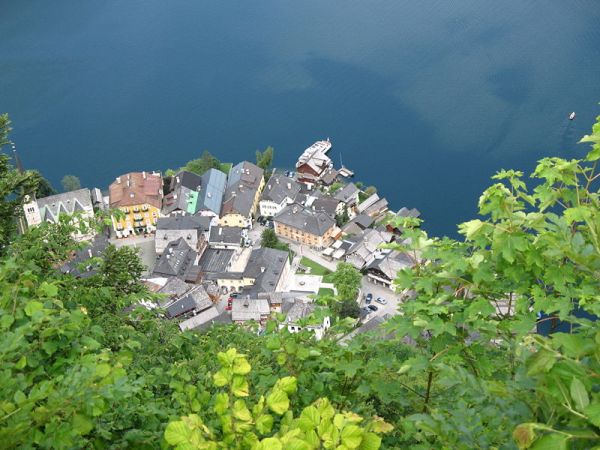 There are many things to do in Hallstatt and we will only name a few: boating, hiking, surfing, visiting the salt mines and the ice caves. During the summer, FKK nude beach is very popular.
Getting there is possible by train ("From the main line between Salzburg and Vienna, get off at Attnang-Puchheim. Take a train from here towards Bad Ischl and Obertraun. The Hallstatt station is south of Bad Ischl and one stop north of Obertraun; it is on the east bank of the Hallstättersee (Hallstatt Lake) and consist of just a boat dock next to the tracks. A regular ferry service will meet each arriving train and take you to the town across the lake. One of the best views of Hallstatt is from this ferry ride across the lake, especially in the morning when the sun is shining on the town"- wikitravel), by bus, taxi or car.
Accommodation: In case you are traveling "off-season", remember to book in advance. A place to get you started here.
ferry from train station to Hallstat